Pugh's Earthworks
Spring Is A Great Time To Plant
While spring is already in full swing, we know that here in Memphis and nearby the spring season has been a little delayed this year. We are now looking forward to warmer weather and enjoying the rest of spring.
That's why it's not too late to consider what you may want to plant during this spring season. Shrubs and flowering shrubs are great ideas for your yard. No matter what size yard you have, shrubs are a great way to add depth, texture, and color to a garden.
Location, Location, Location
When you plan on planting shrubs, it's important to consider where you are going to put them. Consider any zoning or Homeowners Association rules as well as be aware of property lines. While you may love the shrubs you are planting, your neighbors may not.
And, the last thing you want is to have to pull it out after all that hard work. Then, there are sunlight and shade requirements to think about. Also, check to see how big the shrubs may get to ensure you've picked a location that will accommodate how big the shrub will get.
How to Plant Shrubs
When you take the time to plant a shrub properly, it will grow faster. Plus, it may even enjoy a longer life. The mild temperatures in spring are the right time to give the shrub the chance to take root and grow. The soil is the right temperature to help the shrub.
Shrubs are typically purchased in containers. The shrub has been growing in the container for some time, which also gives it a better chance of survival. There are numerous sizes of containers and shrubs that allow you to pick the size that is appropriate for your planting area.
To plant a shrub, first, dig a hole that is twice as wide as the root ball. Make sure to loosen the soil around the hole so the roots can start to penetrate it and make a home for themselves. Remove the shrub carefully from the container and put it in the hole as soon as possible. The bare roots are vulnerable to light and air so they need to get back into the dirt as soon as possible.
Lightly push the soil down around the shrub to get rid of any air pockets. You can also add water to settle the soil. This also helps the root ball to start receiving the water it needs to stay healthy. Add mulch around the shrub to start giving it nutrition.
Shrub Maintenance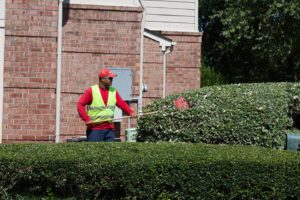 Even after planting it in the spring, there is still much to do to maintain your shrubs. You'll need to keep an eye on your shrubs over the course of the first year to make sure they are getting enough moisture as the weather heats up. Signs of moisture distress include wilting leaves or hard soil. Continue adding water and mulch around the newly planted shrub.
You won't need to prune a shrub for a while. This will only be necessary as the branches grow and there is a need to remove dead limbs from the trunk. You will not need to top the shrubs either because this only makes them susceptible to disease.
Need Shrub Assistance?
We can help! Contact us now to get professional assistance with shrub planting and maintenance to ensure your garden or commercial area is blooming and healthy for spring and summer.