Pugh's Earthworks
Hello readers, if you are looking for a great Office Landscaping Service in Memphis, TN, look no further than Pugh's Earthworks. We have been in business since 1992 and have worked with many different clients to create beautiful landscape designs for businesses across the city and all the markets we serve. If you are interested in learning more about our services or would like to schedule an appointment with one of our experts, give us a call today!
Office Landscaping
The landscaping projects Pugh's Earthworks works on, often include the removing of old shrubs and trees, as well as installing new ones. We also add mulch beds for privacy and aesthetic purposes, as well as new sod to replace the existing grass that may have been worn away by foot traffic from employees coming in and out of their offices every day. Our new landscaping designs add a lot of color and vibrancy to the buildings, as well as providing some much-needed privacy for employees and visitors.
Our projects are backed with a full satisfaction guarantee. Our success is our customers success, and we want nothing short of a pleased client. We have numerous client testimonials which we are always honored to receive. Our projects are successful, and our building owners are always very pleased with the results. Many customers have requested for us to come back for seasonal landscaping projects. Below is a short list of projects that are commonly requested.
Landscape Maintenance
Maintain your office lawn.
Maintain your office flower bed.
Maintain your office patio.
Maintain your office retaining wall.
Maintain your sprinkler system.
Maintain your window cleaning.
Maintaining your yard and office grounds is an important part of running a successful business, but it can be hard to find the time. We have years of experience with landscaping and maintenance services, so if you need help keeping your offices looking great, we are here to help. We can do everything from landscaping to repairing your retaining wall. We will give your property the attention it deserves, so you can focus on what matters most which is running your business. Concrete work is also an area we are trained to do. Below are a few examples.
Remove and Replace Concrete Patio
Excavate the concrete patio to be replaced.
Install a new base for the concrete patio.
Installing a new base for the concrete patio is usually done by pouring a layer of gravel or stone into the ground before adding a layer of sand on top. The sand is then compacted with a tamper or roller before adding the concrete. Once the base is in place, it is time to add your new concrete patio! We mix concrete according to the manufacturer's instructions and we have large enough mixers to make sure that all of your cement has been mixed together thoroughly and evenly before we pour it into the formwork. Once we are sure the concrete is mixed thoroughly, our technicians then add the water and mix again. Once it is ready to go, we use a shovel to fill your formwork with concrete. This can be done by pouring it directly into each formwork one at a time as needed or using a hose to move it from place to place quickly.
Office Flower Beds
Flower beds add beauty to any Office Building. The Pugh's Earthworks team has years of experience designing, installing and maintaining some of the most beautiful Office Building flower beds. If we are planting on a hill or steep slope, we will want to build up the soil in areas where water is likely to pool. This will help keep your plants hydrated and healthy. If we are planting on a flat surface, our technicians can simply add mulch in order to keep the soil moist and healthy.
Retaining walls are an important part of landscaping, and the installation process can be tricky. There are a number of factors to consider when designing your retaining wall, including:
How much soil do you need to retain?
What kind of material will be used (concrete blocks, brick, stone)?
How high should each tier be?
To install a retaining wall, we start by digging out an area where you want it installed. Next, we lay down landscape fabric over top of this area so that weeds will not grow through cracks in between bricks or stones later on. Then we build up tiers using whatever materials have been chosen for construction–this is where having a trained landscape technician helps! Finally, our team will take care not to compact soil too tightly into place; making sure there is plenty left loose between layers so plants can grow easily through them later on without having trouble getting access to nutrients or water sources underground. After building up the tiers, we take care to cover up any gaps between bricks or stones with mortar.
Pugh's Earthworks is a premier landscaping company in Memphis, TN. We have been in business since 1992 and offer all types of landscaping services including hardscapes, irrigation systems, trees and shrubs. If you are looking for a family owned and operated company that has provided their customers with quality work for over three decades, then look no further than Pugh's Earthworks! Not only do we have an A+ rating with the Better Business Bureau but we also hold memberships with local associations such as the American Landscape Association (ALA) which means we uphold high standards when it comes to customer service as well as environmental responsibility among other things such as safety training programs so that employees know how not only avoid accidents but also prevent them from happening in general!
In addition to our high standards, Pugh's Earthworks also has a good reputation. We have been featured in numerous publications such as The Memphis Magazine, The Commercial Appeal and The Daily News. In fact, some of our work has even been showcased on HGTV!
Conclusion
As you can see, landscaping office complexes is a great way to improve your work environment. It can help attract new customers and employees while also keeping current ones happy. If you have any questions about this process or need assistance with your own landscape design, don't hesitate to contact us!
Pugh's Earthworks
Landscaping & Lawn Maintenance for Office Buildings & Complexes
Retail has always been an important sector of the Memphis real estate market. We have helped to design, build and maintain some of best and most innovative Office properties in Memphis, Southaven, Little Rock, Jackson and Nashville.
These properties also suffer more daily traffic and everyday "wear and tear" than most other commercial properties. Thanks to our years of experience working with these properties, Pugh's Earthworks is uniquely suited to provide a range of commercial landscape maintenance services.
Our prestigious list of commercial landscape maintenance clients includes some of Memphis' top properties and property management companies. We're honored to be part of keeping Memphis beautiful!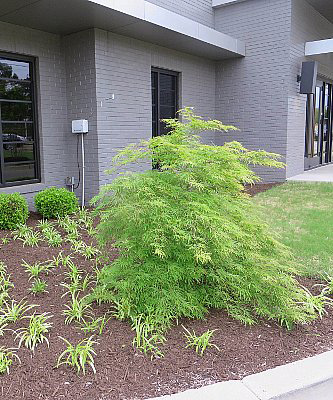 Pugh's Earthworks
We operate 5 landscape centers, in 3 states.
Our headquarters is in Memphis, Tennessee. We also operate landscape offices in Nashville, Jackson TN, Southaven MS and Little Rock AR. Our firm provides monthly grounds maintenance services for commercial clients. If you are seeking assistance with Landscaping or Lawn Maintenance services, please give us a call or send us a message via the contact form below. We do offer FREE Estimates.
Headquarters
Phone: (866) 207-4734