Pugh's Earthworks
Here at Pugh's Earthworks, we understand the importance of keeping your commercial property beautiful and pristine. We do this in Littlerock Arkansas and four other markets we proudly serve. We have been providing landscaping services since 1992 and our team is dedicated to offering quality lawn care products at affordable rates. Here are some of our most requested commercial lawn maintenance services in Littlerock and all Pugh's Earthworks markets:
Littlerock Arkansas Commercial Lawn Maintenance
Lawn mowing. We can help you keep your grass looking its best with regular mowing, which includes trimming edges to give them a neat appearance and ensuring that all grass is evenly cut. Lawn mowing is the most important part of lawn maintenance. Mowing keeps grass healthy and helps prevent weeds, which can otherwise overtake your yard. Regularly mowing also helps control pests like ticks and mosquitoes, as well as keeping your lawn looking good by trimming off any dead or damaged blades of grass.
In the spring and summer months, mowing your lawn weekly or biweekly is essential to getting the most out of your grass. Mowing your lawn regularly is the most important thing you can do to keep it looking its best. The best time to mow your lawn is when it is dry, so you do not run the risk of damaging the grass or clogging up your mower with too much moisture in the blades.
Lawn fertilization. A healthy lawn starts with healthy soil, so we use fertilizer to increase the nutrient content of your soil while also promoting growth in plants' root systems. This results in healthier plants that require less water and fertilizer over time! We recommend using an organic fertilizer such as compost or compost tea (which contains bacteria). Organic fertilizers have better nutrients for plants than chemical ones do and are safe for children and pets.
Lawn fertilization refers to the application of nutrients, such as nitrogen, phosphorus and potassium. These nutrients help your grass grow strong and healthy. If you are not sure when to fertilize your lawn, there are several signs that can help you determine if it is time for some fertilizer. You should consider fertilizing if:
Your grass appears thin or sparse in spots. This could be due to drought conditions or poor drainage (or both). Fertilizing will give the roots a boost so they will produce new shoots that will fill in these bare spots over time.
We have just planted new sod on an area where there was no existing lawn before. Even even though it looks lush now with all those new blades poking through the soil surface after being laid down last week by our crew at Pugh's Earthworks Commercial Landscaping, we recommend applying some fertilizer within six months after laying sod down. This is because it will encourage root growth under each blade so it can support itself better against windstorms later down the road! Plus if you do not do this step then eventually those blades will start dying off anyway."
Lawn aeration & seeding (optional). If you need new sod installed because yours has died out or just want some new color added to your yard, this service is perfect for you! We will remove damaged areas then replace them with fresh sod while also taking care of any weeds growing underneath so they do not come back later down the road when things start getting dry again after summer comes around again next year."
More about Pugh's Earthworks
We also offer customized programs based on each client's specific needs. Our team of professionals will take care of all your commercial lawn maintenance needs and make sure that your lawn is always looking its best. We offer customized programs based on each client's specific needs. Our goal is to get the most out of your grass by providing professional maintenance, seasonal plans and more.
Our team of professionals will take care of all your commercial lawn maintenance needs. We have the expertise and equipment needed to handle any project, from simple mowing to complex grading and planting. Whether you need one man or a full crew, we can help with your commercial lawn maintenance needs.
Our mission is to provide quality service at reasonable rates while maintaining an excellent reputation in the community by providing each client with personal attention, integrity and honesty in all our dealings with them
Conclusion
If you are looking for a reliable commercial lawn care service, contact us today! We offer free estimates on all of our services and are always happy to answer any questions you may have about how we can help your business succeed. Pugh's Earthworks is a full-service landscaping and lawn care company that offers commercial lawn maintenance services for businesses, commercial properties and residential properties. We offer a wide range of services to help you maintain your property. We can provide everything from seasonal mowing to full landscape design services or irrigation system installation.
Pugh's Earthworks Quality Assurance Guarantee
Pugh's Earthworks offers an excellent quality assurance program. We are licensed and insured and stand behind all of the work that we perform with our quality assurance guarantee.
Quality is everyone's responsibility.
Quality is conformance to the customer's requirements.
We believe every job can be improved.
Every idea is treated with the utmost respect.
We realize that improvement must be an on-the-job process.
QUALITY POLICY
It is the goal of Pugh's Earthworks to provide our customers, both internal and external, with services, which meet or exceed their expectations.
We recognize that one of the most important assets we possess, enabling us to achieve this goal, is our professional staff. We strongly encourage all of our people to take the pride of ownership in all the work they do.
To this end we commit ourselves to strive in all we do for total customer satisfaction.
TOTAL CUSTOMER SATISFACTION
Management guarantees that ongoing support of these goals is our highest priority. We must never lose sight that customer satisfaction is a direct measure of our performance.
Working together as a team, making use of all our talents and expertise, we will accomplish our objective.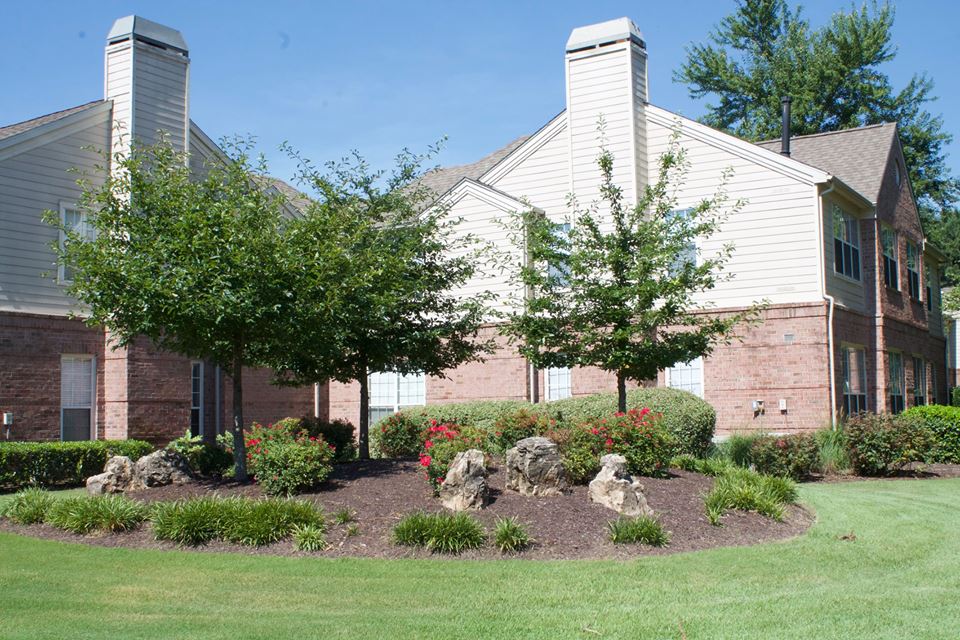 Pugh's Earthworks
We operate 5 landscape centers, in 3 states.
Our headquarters is in Memphis, Tennessee. We also operate landscape offices in Nashville, Jackson TN, Southaven MS and Little Rock AR. Our firm provides monthly grounds maintenance services for commercial clients. If you are seeking assistance with Landscaping or Lawn Maintenance services, please give us a call or send us a message via the contact form below. We do offer FREE Estimates.
Headquarters
Phone: (866) 207-4734