Pugh's Earthworks
Big Company Strength and Small Company Values!
Pugh's Earthworks was originally started by Mark Pugh. Our firm has been in business since 1992. Over the past 25 years, we have grown rapidly. In all that time and throughout all that growth, we have remained true to our motto, Big Company Strength, Small Company Values! Regardless of the size of the client we are working for, our staff will deliver the best possible service, while treating each client with the utmost of respect. In a word, "We Love Our Customers" and "We Appreciate The Opportunity To Serve."
We are now one of the Mid South' s leading commercial landscape installation and maintenance companies. Pugh's Earthworks provides the highest quality landscaping services available. We are Memphis landscape maintenance experts. Our team is committed to acting with the utmost of integrity with our business operations and for clients and the communities we serve. Every job we do is backed by our 100% customer satisfaction guarantee.
Lawns need to be watered regularly in Summer and the experts at Pugh's Earthworks will help you analyze the process!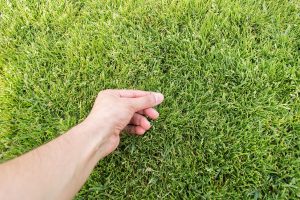 Checking the condition of the lawn
Summer Lawn Watering
Most lawn experts and research indicates that turf grasses need an estimated 1 inch of water per week to stay healthy and green. Although occasionally if the summer heat is too intense you may have to let the lawn go into an almost dormant state. In order to have a strong lawn you need to encourage deep root growth. In addition we all need to be aware of water conservation. It is a precious resource to be used wisely. Below are some tips that experts recommend.
When to water – Signs of footprints and a darker color in the lawn are typically signs of early drought stress.
Water infrequently – When you water make sure the watering is deep down to the roots. This creates a deep root growth pattern and encourages less weed growth.
Water early in the day – If you water in the heat of the day your water will evaporate. If you water at night it can create fungal growth and lawn damage.
Spread the water evenly – Try to avoid flooding some spots while missing the water on others.
Water conservation awareness –  Mowing the lawn higher, avoiding excess nitrogen fertilizer, limiting foot traffic, discontinuing pesticides and careful placement of the sprinklers so as not to waste water on the driveway or street are all things that can help to conserve water.
Avoid over-watering – As the water is absorbed monitor your watering to ensure there are no areas of standing water afterwards.
Monitor rainfall – Watch the weather forecasts. If rain is expected do not water the lawn.
Landscaping & Lawn Maintenance For COA's & HOA's
Pugh's Earthworks provides landscaping and lawn maintenance programs for HOA (homeowners associations) and COA (condominium associations). In fact, the work we do for HOA's and COA's represents a sizable portion of the more than 300 commercial landscape maintenance clients we serve. Many of those customers have opted for our comprehensive grounds maintenance service.
Property managers, HOA and COA board members face a unique set of challenges each day. They serve a huge customer base, who really want to live in communities that are well kept and desirable. Our team has a thorough understanding of those challenges. We work closely with our property managers to turn these challenges into opportunities. That allows the property management firms we serve to focus on aspects, other than landscape related. Our job is to make their job easier.
Experience has taught us that every property is different.  Our team will focus on the details. We work closely with our clients and customize our commercial landscape maintenance solutions to meet their specific needs!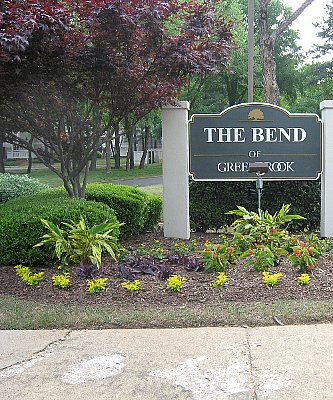 Pugh's Earthworks maintained property
Pugh's Earthworks has been providing commercial landscaping services since 1992. We specialize is landscape and lawn maintenance for commercial customers. Currently we serve more than 300 commercial clients. Our firm is one of the largest landscape and lawn maintenance firms in Memphis. We also operate similar operations in Nashville TN, Southaven MS, Jackson TN and Little Rock AR. Our award winning team services apartments, condominiums, shopping centers, office buildings and complexes, cemeteries, hospitals, hotels and motels and other commercial facilities.
The majority of our clients have opted into a comprehensive landscape and lawn maintenance program. Our programs can be tailored to meet the specific and unique needs to each property. They are affordable and ensure that the appearance of your property will always be fresh and beautiful.
Thank you for reading our blog. Please visit us and let Pugh's Earthworks handle all of your professional landscaping needs!