Pugh's Earthworks
Big Company Strength and Small Company Values!
Pugh's Earthworks was originally started by Mark Pugh. Our firm has been in business since 1992. Over the past 25 years, we have grown rapidly. In all that time and throughout all that growth, we have remained true to our motto, Big Company Strength, Small Company Values! Regardless of the size of the client we are working for, our staff will deliver the best possible service, while treating each client with the utmost of respect. In a word, "We Love Our Customers" and "We Appreciate The Opportunity To Serve."
We are now one of the Mid South' s leading commercial landscape installation and maintenance companies. Pugh's Earthworks provides the highest quality landscaping services available. We are Memphis landscape maintenance experts. Our team is committed to acting with the utmost of integrity with our business operations and for clients and the communities we serve. Every job we do is backed by our 100% customer satisfaction guarantee.
The experts at Pugh's Earthworks will help explain the benefits of installing a lawn sprinkler system!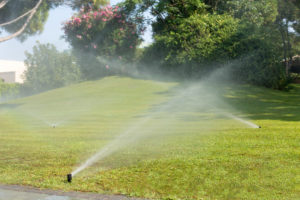 Frequently Asked Questions and Answers about Irrigation Installation
Q: How will I benefit from an in-ground sprinkler system?
A: Since hand watering is done on a random basis, and at irregular intervals, an automatic sprinkler system will actually, in most cases, use less water. It will also disperse the water at an even rate, and for a predetermined amount of time. This allows you to water sunny and shady areas for different periods of time, and to water when it is most efficient. One obvious benefit is the ability to continue a watering program while you are away on vacation, etc.
Q: How long does a system take to put in?
A: It would depend on the area that is trying to be covered. An average size lawn (@15,000 sq. ft.) can usually be done in one full day, depending on the situation. A large country lawn can take anywhere from two to four days. On average, we spend one to two days on a job.
Q: What is a back flow device, and why do I need one on my sprinkler system?
A: A back flow device is generally a brass assembly that will prevent any water from the sprinkler system from getting into the drinking water supply, and are required by all municipalities. There are many different types of these, and each individual municipality has differing requirements for the installation.
Q: What type of maintenance does the system require?
A: All systems need to be winterized at the end of the season. This is done by attaching an air hose to a fitting on the water line, and blowing all of the water out of the system. Most people that we install systems for simply turn it back on in the springtime themselves. We do offer the service of opening systems for the season. The quality of the products used initially, and of the overall installation, play an important part in the long term service of the system. The better the products and installation, the less trouble you should expect in the future.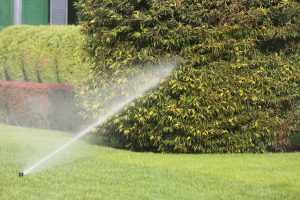 Lawn Sprinkler Watering Grass
Credentials/Affiliations/Degrees, Certifications
The Pugh's Earthworks team has all the proper credentials, degrees and certifications necessary to deliver top quality landscape and lawn maintenance design, installation and maintenance services. Our team is experienced, highly skilled. The all operate with a customer first attitude.
Our firm is one of the largest landscape and lawn maintenance companies in Tennessee. We have all the right equipment to handle commercial landscape and lawn maintenance projects. Our client base includes hotels, motels, business complexes, retail shopping centers, hospitals, schools, apartments, condominiums and other commercial accounts.
Tennessee Department of Agriculture Chartered/Licensed
Mississippi Bureau of Plant Industry licensed
Arkansas State Plant Board Licensed
Master of Business Administration
Bachelors of Science in Agronomy
Bachelors in Landscape Contracting Management
Associates of Applied Science in Landscape Management
Associates of Applied Science in Turf Grass Management
Dynascape Certified
Planet Professional Network
Landscape Industry Certified
Pugh's Earthworks is one of the premier landscaping companies in the industry. With the amount of expertise and attention to detail customers receive from our professional landscape technicians, your property will stay attractive and valuable for years to come. Thank you for reading our blog. Please contact us for an assessment of your landscaping needs.