Pugh's Earthworks
Big Company Strength and Small Company Values!
Pugh's Earthworks was originally started by Mark Pugh. Our firm has been in business since 1992. Over the past 25 years, we have grown rapidly. In all that time and throughout all that growth, we have remained true to our motto, Big Company Strength, Small Company Values! Regardless of the size of the client we are working for, our staff will deliver the best possible service, while treating each client with the utmost of respect. In a word, "We Love Our Customers" and "We Appreciate The Opportunity To Serve."
We are now one of the Mid South' s leading commercial landscape installation and maintenance companies. Pugh's Earthworks provides the highest quality landscaping services available. We are Memphis landscape maintenance experts. Our team is committed to acting with the utmost of integrity with our business operations and for clients and the communities we serve. Every job we do is backed by our 100% customer satisfaction guarantee.
Let Pugh's Earthworks provide lawn maintenance this hot summer!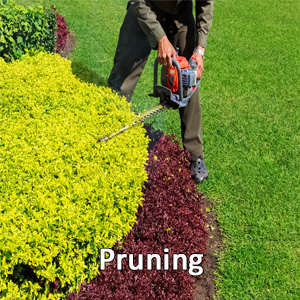 Complete Lawn Maintenance
Pugh's Earthworks has been providing commercial lawn maintenance services since 1992. We specialize is landscape and lawn maintenance for commercial facilities. Currently, we serve more than 300 commercial clients. Our firm is one of the largest landscape and lawn maintenance firms in Memphis. We also operate similar operations in Nashville TN, Southaven MS, Jackson TN and Little Rock AK. Our award winning team services apartments, condominiums, shopping centers, office buildings and complexes, cemeteries, hospitals, hotels and motels and other commercial facilities.
The majority of our clients have opted into a comprehensive monthly landscape and lawn maintenance program. Our programs can be tailored to meet the specific and unique needs to each property. They are affordable and ensure that the appearance of your property will always be fresh and beautiful.
There are so many elements to lawn maintenance. A professional landscape technician has studied all of these elements to obtain certification. Absent a thorough understanding of complete lawn maintenance, it becomes difficult to maintain a healthy and attractive lawn and landscape. Below are some of the important factors that play a vital role in a healthy lawn:
Watering – The general rule of thumb by most lawn experts is to water so that the soil is moistened six to eight inches deep. Lightly watering does not encourage deep root grow and thus allows the grass to be susceptible to severe burning from the hot sun.  Different soil types will require varying amounts of water so a certified lawn technician will understand these differences. Typically it is better to water in the cooler early morning. This allows the water to absorb but then lets the natural evaporation process take place as the day heats up.
Mowing – The above ground stem of the grass which is sometimes referred to as culm, derives its nutrients from underground. The taller the stem the more difficult it is for the valuable nutrients to reach to the top. Therefore it is a science to get the grass at that optimum height. I technician will know exactly what height to set the mower so that it leaves the culm able to receive all the nutrients it requires. In addition, the proper mowing setting will encourage the lawn to spread thus giving the appearance of a full and lush yard. Keeping the mower blades sharp and changing the routine mowing patterns are also things the technician will know.
Fertilizing – Feeding your lawn and shrubs are critical steps to ensure the plants are receiving all of the nutrients they need to be healthy. As the grass grows it is using the fertilizer to feed that growth. Most lawn experts agree that using a granular verses a liquid fertilizer is best. Also fertilizing twice per year is generally optimum. Having a strong lawn will leave it less susceptible to drought and disease.
Aerating – This is a lawn maintenance technique that for the common person may or may not be high on the to do list. However, lawn technician experts agree that when the soil gets compacted it is difficult for the lawn to breathe. Technicians will use various manual or power aerators to puncture small holes in the soil. These holes allow oxygen, water and important organic food to more easily penetrate deeper into the soil.
De-thatching – During the process of growth the tops of the grass stems naturally die. This accumulation leads to what is commonly called "Thatch".  Just like clippings, some amount of  thatch is healthy, However too much can lead to suffocation of the healthy grass.  A trained lawn technician will have the knowledge to detect excessive thatch and the proper equipment to remove it.
Weeding – We all get annoyed by the occurrence of weeds. They just seem to sprout despite all attempts to keep them away.  Weeds are less frequent and existent in a healthy lawn. A qualified landscaper will know the best techniques to keep your property as weed free as possible. As lawns weaken you will see a higher number is weeds popping up but with proper care your lawn will stay healthy and weed resistant.
Pest and Disease Control – Lastly fungus and insects are just part of the challenges when it comes to lawn maintenance. Technicians will know when insects and/or fungus have become a problem too large for your lawn to handle. Using the exact fungicides and insecticides should thwart off these unpleasant nuisances and restore your lawn to health.
Our trained and certified landscape technicians and Pugh's Earthworks will help to maintain the health and beautify of your property!
Pugh's Earthworks
Contact Us
We operate 5 landscape centers, in 3 states. 
Our headquarters is in Memphis, Tennessee. We also operate landscape offices in Nashville, Jackson TN, Southaven MS and Little Rock AR. Our firm provides monthly grounds maintenance services for commercial clients. If you are seeking assistance with Landscaping or Lawn Maintenance services, please give us a call or send us a message via the contact form below. We do offer FREE Estimates. 
Headquarters
Phone: (866) 207-4734
Email: info@pughsearthworks.com      
Thank you for reading our blog!