Pugh's Earthworks
Big Company Strength and Small Company Values!
Pugh's Earthworks is one of the Mid South' s leading commercial landscape installation and maintenance companies. Pugh's Earthworks provides the highest quality landscaping services available. We are Memphis landscape maintenance experts. Our team is committed to acting with the utmost of integrity with our business operations and for clients and the communities we serve. Every job we do is backed by our 100% customer satisfaction guarantee.
We are one of the largest landscape design, installation and maintenance firms in the Mid South area. Our clients include some of the premier office buildings, hotels, hospitals, churches and cemeteries in the cities we operate. In addition to the commercial customers we serve, we also provide landscape services for Home Owners Associations, Condo Owners Associations and individual residential home owners as well. Our staff has years of experience and can handle projects of any size.
Pugh's Earthworks was originally started by Mark Pugh. Our firm has been in business since 1992. Over the past 25 years, we have grown rapidly. In all that time and throughout all that growth, we have remained true to our motto, Big Company Strength, Small Company Values! Regardless of the size of the client we are working for, our staff will deliver the best possible service, while treating each client with the utmost of respect. In a word, "We Love Our Customers" and "We Appreciate The Opportunity To Serve."
The certified professionals at Pugh's Earthworks can assist when sometimes sod replacement is best!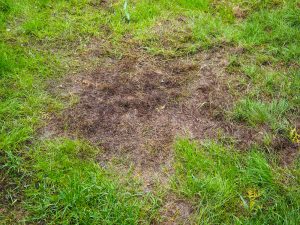 Damaged Grass
Sod Replacement
Most property owners at one time have experienced lawn issues. Sometimes the severity of the damage to a lawn, whether due to insects or disease, requires immediate action. The simplest and least expensive option is to buy a bag of grass seed and throw it on the damaged spots. However, that is often not the best solution. Sometimes laying fresh new sod is the best way to restore the beauty to your commercial or residential property.
Laying sod is a methodical process and you have to make sure soil you are placing it on is healthy. Putting sod on unhealthy soil will only result if the new grass not taking hold and you will have lost time and money. The certified landscape technicians and Pugh's Earthworks will know how to best prepare the fresh soil.
The process of preparing the soil will require proper tools, machinery, soil and fertilizer. Below are some of those items that a professional landscape technician from Pugh's Earthworks will have available for the project:
Rototiller
Soil test kit
Spade
Topsoil
Starter fertilizer
Rake or lawn roller
Once again the technician will first focus on the soil quality. This is so critical to the new sod taking root. A few things that they will focus on are the pH level, the depth of the new top soil and the mixture of compost. They will target a pH level of 6 to 6.5 typically and and new top soil depth of about six inches. Our trained technicians will know the proper settings for the rototiller and the proper amounts of compost and fertilizer.
The art of laying the actual sod is something our technicians are skilled at as well. Sod must be laid right away once it is deliver or you run the risk of it drying out and the roots suffering. As our technicians position the sod they will know exactly how to position each piece of sod for the most efficient growth.
If your budget is a bit tight there is of course always the option of seeding or reseeding the lawn. The landscape technicians at Pugh's Earthworks will know the type of seed that is best for the commercial or residential property they are working on. Improper seeds will have the same effect as sodding on bad soil. The results will be mediocre at best. There are so many elements to selecting the proper seeds for percent of weed content, germination rate, weight and season of planting. These are all aspects that a trained and certified technician will have knowledge of.
If your property is suffering from lawn damage, call the experts at Pugh's Earthworks! We have more than 20 years experience in the landscaping and lawn maintenance business. We started as a very small operation, with a hand full of employees and a few pieces of equipment. Today, we operate five landscape offices, spread throughout Tennessee, Mississippi and Arkansas.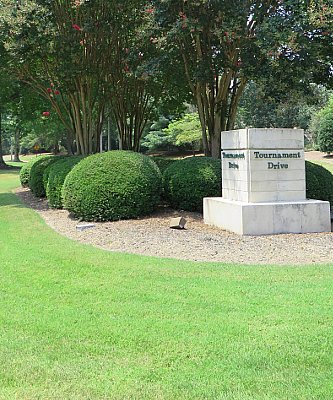 Property Maintained by Pugh's Earthworks
The Pugh's Earthworks team has all the proper credentials, degrees and certifications necessary to deliver top quality landscape and lawn maintenance design, installation and maintenance services. Our team is experienced, highly skilled. The all operate with a customer first attitude.
Our firm is one of the largest landscape and lawn maintenance companies in Tennessee. We have all the right equipment to handle commercial landscape and lawn maintenance projects. Our client base includes hotels, motels, business complexes, retail shopping centers, hospitals, schools, apartments, condominiums and other commercial accounts.
Tennessee Department of Agriculture Chartered/Licensed
Mississippi Bureau of Plant Industry licensed
Arkansas State Plant Board Licensed
Master of Business Administration
Bachelors of Science in Agronomy
Bachelors in Landscape Contracting Management
Associates of Applied Science in Landscape Management
Associates of Applied Science in Turf Grass Management
Dynascape Certified
Planet Professional Network
Landscape Industry Certified
Pugh's Earthworks is one of the premier landscaping companies in the industry. With the amount of expertise and attention to detail customers receive from our professional landscape technicians, your property will stay attractive and valuable for years to come. Thank you for reading our blog. Please contact us for an assessment of your landscaping needs.