Pugh's Earthworks
Big Company Strength and Small Company Values!
Pugh's Earthworks was originally started by Mark Pugh. Our firm has been in business since 1992. Over the past 25 years, we have grown rapidly. In all that time and throughout all that growth, we have remained true to our motto, Big Company Strength, Small Company Values! Regardless of the size of the client we are working for, our staff will deliver the best possible service, while treating each client with the utmost of respect. In a word, "We Love Our Customers" and "We Appreciate The Opportunity To Serve."
We are now one of the Mid South' s leading commercial landscape installation and maintenance companies. Pugh's Earthworks provides the highest quality landscaping services available. We are Memphis landscape maintenance experts. Our team is committed to acting with the utmost of integrity with our business operations and for clients and the communities we serve. Every job we do is backed by our 100% customer satisfaction guarantee.
Pugh's Earthworks creates beautiful landscapes that can increase healing and well being!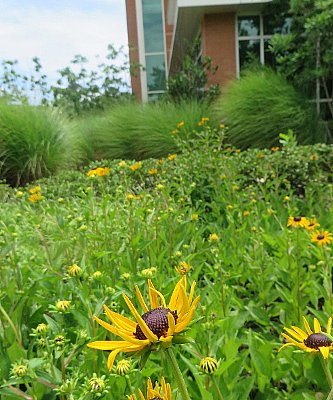 Beautiful Hospital Landscaping
Landscaping Health Benefits
Beyond the obvious benefits of landscaping being aesthetically pleasing to the eye and helpful for the property value, there are studies showing that nicely landscaped hospital gardens have healing benefits for patients and staff. The calming effects of natural views can reduce stress and speed up the process of healing.
A study conducted by a research team by the name of Cooper-Marcus and Barnes in the late 90's showed measurable benefits to both patients and staff. Their study showed that the hospital staff members were much happier and more productive when they had the ability to go outside and unwind. In addition, patients they interviewed said that the hospital gardens created a welcomed change from the stress of treatments and fear of illness.
For decades it has been evident that the stresses endured by healthcare workers can be overwhelming. Extremely long hours, difficultly and fatigue caused by shift changes, lack of control or authority over decisions and emotional demands of the job have taken a toll. These conditions have in some cases lowered job satisfaction which has the domino effect of increasing absenteeism or turnover.  These consequences obviously have an effect on the care patients may receive.
Studies have shown that hospital workers can find peace and tranquility by escaping to an outside hospital garden. This magnifies the need for landscaping expertise. Professional landscaping adds all of the necessary elements that make a garden one of splendor. Nature has a way of letting us escape to a world of calm and serenity. It is easy to recognize that a healthcare worked who is allowed the time to meditate and escape from a demanding profession can ultimately benefit those patients in their care. It also lowers the employment costs for hospitals as it takes time and money to train new employees.
For the patients and their families, a beautifully designed and landscaped hospital garden has been shown to have measurable positive results. Patients interviewed in studies had very positive comments regarding the benefits of going out into the hospital gardens. One study revealed a comment from a patient who said,  "It's a good escape from what they put me through. I come out here between appointments. I feel much calmer, less stressed". In addition, hospital gardens provide a pleasant escape for families to sit and visit with their family member.  Getting away from the hustle and bustle going on inside the hospital, families can take a breath and reflect on peaceful quality time together.
The talented professional landscapers at Pugh's Earthworks have created such tranquil landscapes!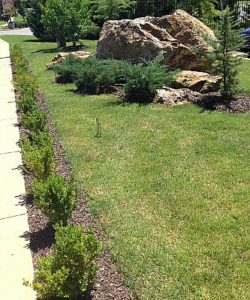 Attractively Landscaped Pathway
Pugh's Earthworks has been providing commercial landscaping services since 1992. We specialize is landscape and lawn maintenance for commercial customers. Currently we serve more than 300 commercial clients. Our firm is one of the largest landscape and lawn maintenance firms in Memphis. We also operate similar operations in Nashville TN, Southaven MS, Jackson TN and Little Rock AR. Our award winning team services apartments, condominiums, shopping centers, office buildings and complexes, cemeteries, hospitals, hotels and motels and other commercial facilities.
The majority of our clients have opted into a comprehensive landscape and lawn maintenance program. Our programs can be tailored to meet the specific and unique needs to each property. They are affordable and ensure that the appearance of your property will always be fresh and beautiful.
Pugh's Earthworks is your go to landscaping company to help you create a beautiful garden escape!