Pugh's Earthworks
Big Company Strength and Small Company Values!
Pugh's Earthworks was originally started by Mark Pugh. Our firm has been in business since 1992. Over the past 25 years, we have grown rapidly. In all that time and throughout all that growth, we have remained true to our motto, Big Company Strength, Small Company Values! Regardless of the size of the client we are working for, our staff will deliver the best possible service, while treating each client with the utmost of respect. In a word, "We Love Our Customers" and "We Appreciate The Opportunity To Serve."
We are now one of the Mid South' s leading commercial landscape installation and maintenance companies. Pugh's Earthworks provides the highest quality landscaping services available. We are Memphis landscape maintenance experts. Our team is committed to acting with the utmost of integrity with our business operations and for clients and the communities we serve. Every job we do is backed by our 100% customer satisfaction guarantee.
Pugh's Earthworks has the expertise to landscape any type of terrain!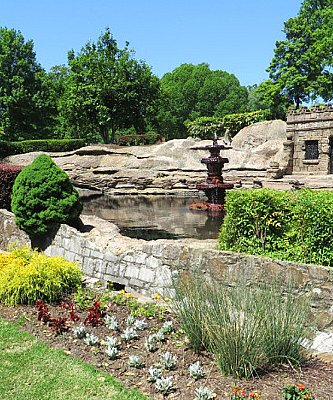 Beautiful Multi Terrain Landscaped Cemetery
Lands
Little Rock Landscaping
Little Rock Arkansas is a beautiful city. With its rolling hills and river it is breathtaking. For a landscaper it can be a challenge and it takes the expertise of qualified and skilled landscaping company like Pugh's Earthworks to properly address the terrain variations.
When landscaping slopes and hillsides there are several things landscapers must keep in mind. Trying to walk on slopes and can be difficult so careful planning to ensure a safe walk way is important. Then with hillsides there is always the potential hazard of soil runoff. Barriers have to be constructed so the soil remains intact. Keeping valuable nutrients from washing away with the runoff is critical.
Properly landscaped, hillsides can be spectacular. Advantages to a hill is that you have a better view to visualize and create a perfect combination of plants, flowers and erosion preventing materials. Sometimes it is evident that additional topsoil will be needed if the hill is mostly rocks. Planting the proper flowers and shrubs in the available pockets will render a spectacular landscaped area.
In addition to the variation of flowers and plants, stone walls are also a wonderful addition to a hilly landscape. Not only are they attractive but they are extremely functional with offering several benefits. In addition to helping to retain the soil and the nutrients, the stone can create its own micro-climate. This is because stone heats up from the sun and tends to retain that heat during the night. This often allows plants to grow in that area when they would not grow in other surrounding areas.
Having a building that is situated on a hill can be stunning to the viewer.  The addition of stairways, paths and the proper combination of shrubs, flowers and plants can add so much beauty and property value. Choosing tough plants that will not require routine trimming is important. Therefore often evergreens are a great choice. Also proper placement of the larger verses smaller plants can add to the aesthetics. Clearly using the smaller variety of plants in the front section of your landscape will help to not obscure the view as people look from the road below.
Clearly there is so much to consider when landscaping a hill. Choosing an experienced and certified landscape technician like the professionals at Pugh's Earthworks is critical. Our professionals will analyze all pertinent factors for the area to be landscaped. We will then carefully draft a plan and present it to you the customer. We have many satisfied clients!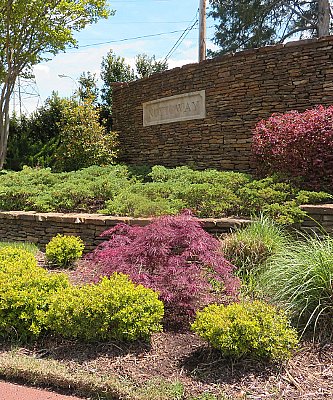 Terraced Landscaping
Pugh's Earthworks has been providing commercial landscaping services since 1992. We specialize is landscape and lawn maintenance for commercial customers. Currently we serve more than 300 commercial clients. Our firm is one of the largest landscape and lawn maintenance firms in Memphis. We also operate similar operations in Nashville TN, Southaven MS, Jackson TN and Little Rock AR. Our award winning team services apartments, condominiums, shopping centers, office buildings and complexes, cemeteries, hospitals, hotels and motels and other commercial facilities.
The majority of our clients have opted into a comprehensive landscape and lawn maintenance program. Our programs can be tailored to meet the specific and unique needs to each property. They are affordable and ensure that the appearance of your property will always be fresh and beautiful.
Thank you for reading our blog. Please visit us and let Pugh's Earthworks handle all of your professional landscaping needs!