Pugh's Earthworks
May is now here and Spring is in full swing. Such a beautiful time of year. The weather is becoming comfortable, lawns are starting to green, flowers are blooming, trees are leafing out and insects are coming out of hiding!
Pugh's Earthworks services include pest control for commercial and residential properties. We partner with Rosie's Pest Control and hold the necessary certifications in compliance with state regulations to prevent, eliminate and exclude pests from commercial properties, inside and out.
A wide variety of common pests including mosquitos, flies, bedbugs, rodents, roaches, spiders and ants are treated with EPA approved, environmentally friendly products. Safety of individuals and pets is key in all treatment procedures.
"Convenience is of utmost importance to property managers and business owners, and we have expanded our services to include indoor and outdoor pest control solutions in order to accommodate the needs of our commercial clientele" says owner Mark Pugh. "We feel that offering a more comprehensive variety of services is in the best interest of our existing and potential customers." Mark Pugh has over 20 years of experience in the landscaping business and Pugh's Earthworks has offices in Memphis, Little Rock, Nashville and Jackson MS.
The Pugh's business model has been to provide excellence in customer service and listen to what their clients are asking for. This willingness to adapt and expand has resulted in a successful courier service that was born out of flower delivery vans. Now, with the pest control expansion, Pugh's has taken advantage of another opportunity to serve its customers more completely. The Pugh brothers have done an admirable job with business expansion and adapting to meet the needs of existing customers in a constantly changing economic climate.
Here are some tips for spring insect control:
Store and dispose of food and waste properly, including any bins located around your commercial property. Keep these bins tightly closed and empty them daily.
Control moisture and standing water around your commercial property. High humidity contributes to pest egg production. Fix any leaks and clear out gutters and downspouts. Also, trim tall grass and remove any wet or decaying wood.
Inspect perimeter areas around your commercial property for areas that may ideal for insects to breed and live. Treat these areas first.
Trim back trees and shrubs touching your commercial building as insects like to live there. If there are any fruit trees, clean these up because ants and other insects love the fruit.
Keep all areas of your commercial property as clean as possible. Insects like debris and trash so remove all brush piles, excess leaves, and trash.
Avoid mulch because insects love its warmth and moisture. The mulch should be used sparingly or not at all.
Contact us now to find out how we can reduce and even eliminate insects now so you don't have to deal with them throughout the year. By getting control of pests now, there will be less work to do the rest of the year.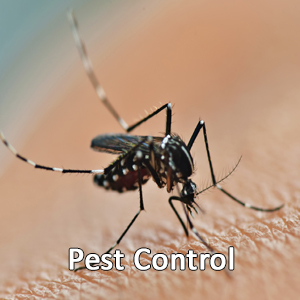 Only companies that have complete confidence in their products, people and procedures are able to offer a strong quality assurance program.  Pugh's Earthworks has that ability to offer and stand behind an excellent quality assurance program. Our company is licensed and insured and we whole heartedly stand behind all of the work that we perform by offering our quality assurance guarantee.
Quality is everyone's responsibility.
Quality is conformance to the customer's requirements.
We believe every job can be improved.
Every idea is treated with the utmost respect.
We realize that improvement must be an on-the-job process.
The Pugh's Earthworks management team started out small and with little experience. With hard work, dedication and the strong will to succeed, the three brothers have created a superior and well run commercial landscaping company. From the management team to the most junior landscape technician, we are committed to being the most trusted and results oriented landscaping company in the markets we serve.
Every aspect of the business is taken seriously from hiring, ongoing training, equipment investment and certification/licensing.  Pugh's Earthworks does not cut corners with staffing, equipment and hiring of vendors to help the company stand out.
It is this dedication and commitment to quality that keeps Pugh's Earthworks as a standout in the markets we serve.  Those competitive markets are Memphis, Nashville, Jackson TN, Little Rock and Southaven MS.  In every market we are committed to providing the highest quality landscaping services available.  Our certified professional team is committed to acting with the utmost of integrity with our business operations and for clients. Every job we do is backed by our 100% customer satisfaction guarantee.
It is the goal of Pugh's Earthworks to provide our customers, both internal and external, with services, which meet or exceed their expectations. We recognize that one of the most important assets we possess, enabling us to achieve this goal, is our professional staff. We strongly encourage all of our people to take the pride of ownership in all the work they do.
Pugh's Earthworks operates 5 landscape centers, in 3 states. 
Our headquarters is in Memphis, Tennessee. We also operate landscape offices in Nashville, Jackson TN, Southaven MS and Little Rock AR. Our firm provides monthly grounds maintenance services for commercial clients. If you are seeking assistance with Landscaping or Lawn Maintenance services, please give us a call or send us a message via the contact form below. We do offer FREE Estimates. 
Headquarters
Phone: (866) 207-4734
Email: info@pughsearthworks.com