Pugh's Earthworks
I recently ran across an article from the National Association of Landscape Professionals (NALP) that spoke to the importance of proper etiquette when it comes to Commercial Landscaping. Like any industry, treating customers like they are the most important is critical to any sustainable business model. Pugh's Earthworks is a premiere Commercial Landscaping Business in the Mid-South. Customers that utilize our services not only receive top quality services, but they also receive the respect and proper manners they deserve.
The article was a good reminder that manner's matter. When you read the testimonials from the Pugh's Earthworks customers, it is clear our team fully embraces that fact. Below is an example:
"Act of Kindness.  So much of the time we only complain, but today I want to let you know of an extreme act of kindness expressed to me.  I was blowing the leaves off my carport and off my driveway when all of a sudden 8 young men with leave blowers came over and they blew the leaves off my entire front yard and added them to the ones they were cleaning up.  It took them less than 5 minutes, but I will remember this for the rest of my life.  We are elderly & my husband is a disabled veteran so I am sure you can tell how much this helped me.  Kudos to Pugh's for hiring such compassionate & hard-working young men!"
P. Harper
Greenbrook
The Pugh's Earthworks management team organizes periodic training classes for all employees. These cover the basics of safety, equipment handling and of course the proper interaction with all valuable customers. According to the NALP article, below are some of the basic principles a well-run service company like Pugh's Earthworks always follows:
Commercial Landscaping Business
Be Courteous
This is the most basic level of etiquette all your employees should practice. Teach them to always be aware of people and train them to wave or smile at the customer or even passersby. Throttling down a blower or string trimmer as a neighbor walk by is a sign of respect. Your crews should know to behave on jobsite and refrain from horseplay or obscene language.
Body language is also important. Teach your team members to make eye contact with the client when they're speaking. This lets the customer know you are giving them your full attention. Discourage fidgeting or having a closed-off stance as this gives off the impression that you are not engaged in the conversation.
Be Personal
It means a lot to be known and taking the time to address your customers by their names when you are on their property helps them feel like they are not just a number in your book of business. If your crews struggle to remember all the names, provide them a cheat sheet they can look at before starting a job.
Taking the time to look over the property and inform the client of any potential issues you see also shows you care about the well-being of their landscape, beyond the current scope of work. Companies like Rossen Landscape use client relationship managers to conduct site audits and inspect everything from the irrigation system to drainage and pruning. Rossen also leaves small touches like such as placing on the porch a basket of vegetables picked from the garden or bringing clients a bouquet of flowers.
Be Professional
Being professional includes everything from wearing well-maintained company uniforms to using the right responses to customer concerns. Wearing professional uniforms helps clients accept your employee's recommendations and also boosts employees' confidence.
When it comes to the right vocabulary, it is all about avoiding certain phrases. Customers typically switch brands when they are put off by unhelpful or rude staff. Below are some examples of what not to say, and what to say instead.
"I don't know" – Instead say, "I may not know, but I will find out for you."
"Unfortunately, no" – Instead say, "I'm sorry, that's not something we can offer. However, what we can offer is…"
"Please calm down" – Instead say, "I can understand why you feel that way. Let's see what we can do now."
"No problem" – Instead say, "You're welcome."
Communicate to your team to begin and end conversations with clients on a positive note. Everyone on your team should treat clients with respect and empathy, to help them feel valued.
Commercial Landscaping Business
Be Appreciative
Speaking of being valued, communicating your appreciation to your customers can go a long way. Encourage your account managers to send sincere handwritten thank you notes to long-time customers. Another option is taking the time to make some calls and acknowledge how a client's business has helped the company grow. In either of these forms of contact, try to highlight the specifics of their account so it's clear these aren't generic scripts.
Taking the time out of your busy schedule to thank your customers lets them know you're truly grateful that they chose you out of all the others in your market. Nurturing your current relationships with clients keeps you top of mind when an opportunity for a referral occurs.
The Pugh's Earthworks team consistently operates with a Customer First Attitude
Commercial Landscaping Business
The Pugh's Earthworks team has all the proper credentials, degrees and certifications necessary to deliver top quality landscape and lawn maintenance design, installation and maintenance services. Our team is experienced, highly skilled. They all operate with a customer first attitude.
Our firm is one of the largest landscape and lawn maintenance companies in Tennessee. We have all the right equipment to handle commercial landscape and lawn maintenance projects. Our client base includes hotels, motels, business complexes, retail shopping centers, hospitals, schools, apartments, condominiums and other commercial accounts.
Tennessee Department of Agriculture Chartered/Licensed
Mississippi Bureau of Plant Industry licensed
Arkansas State Plant Board Licensed
Master of Business Administration
Bachelor's of Science in Agronomy
Bachelor's in landscape Contracting Management
Associates of Applied Science in Landscape Management
Associates of Applied Science in Turf Grass Management
Dynascape Certified
Planet Professional Network
Landscape Industry Certified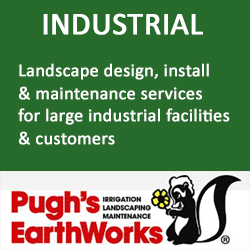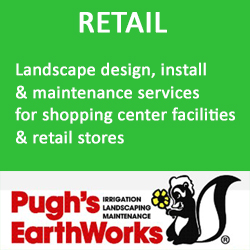 Phone: (866) 207-4734
Email: info@pughsearthworks.com