Pugh's Earthworks
Pugh's Earthworks provides commercial landscape design and maintenance services Tennessee, including Memphis, Jackson, and Nashville plus we service commercial lawns and landscaping in Little Rock, Arkansas and Southaven, Mississippi.  Our monthly seasonal landscape care for commercial properties includes professional lawn care, planting and pruning, landscape design, water-conservation strategies, and more including Winter Commercial Landscape Service.
When it comes to seasonal landscaping care, winter is one of the most challenging due to the cold conditions, including the potential for snow and ice. The freezing ground can also make it difficult to do some of the most common landscaping and lawn maintenance tasks like weeding and planting.
Winter is the perfect time to address landscaping and prepare the lawn and shrubs for spring and summer growth. Additionally, you want to maintain that all important curb appeal for your commercial property during the harsh winter months. Pugh's Earthworks will take steps winter proof your commercial property. Below is a high-level overview of some of the important actions to take to winterize your commercial property.
Prune and Clean – Remove all organic debris from your lawn, including leaves and fallen tree branches. Leaving that debris on your lawn can cause bacteria and disease to flourish as well as attract insects and other pests. This process also promotes the space for new growth. In addition, your curb appeal remains intact as the plant thinning and winter brush removal gives your landscaping a clean, professional look.
Apply New Mulch – The overall value of refreshing mulched areas cannot be overstated. And it is a way to keep grounds looking sharp to improve aesthetic appeal. Plus, a new thick dense layer of mulch helps to protect sensitive plants and it promotes the retention of moisture and nutrients in the soil. Not to mention that weeds have more trouble germinating in thick mulch.
Apply Pre-emergent Weed Control – To minimize weed growth in lawn areas, Pugh's Earthworks will use pre-emergent treatments that prevent invasive plants from germinating.
Irrigation System Maintenance – Surprisingly, lawns can get over-watered in winter months. That means you should change your sprinkler system to water sparingly during these months. More precipitation in the winter means less need for irrigation and more need for good drainage. An experienced landscaping company like Pugh's Earthworks will be able to provide a seasonal watering assessment customized to each commercial client's property requirements. In addition, saving on expensive water bills, reducing runoff to prevent soil erosion and just an overall better functional water system will be designed.
Fertilize for Spring – Applying fertilizer toward the end of winter or beginning of spring replenishes nutrients in the soil and ensures healthy plant growth once warmer weather returns. The certified landscape technicians at Pugh's Earthworks will perform a soil analysis to determine what is the best treatment.
Reduce Lawn Traffic – A sometimes not apparent corrective measure for commercial lawns is to reduce heavy traffic on the lawn. During the winter months, the grass is not as resilient as the summertime. The Pugh's team will make recommendations for what specific areas of the lawn seem to have the most foot traffic and help to find ways to address that.
Pugh's Earthworks would be honored to earn your business and help you protect your valuable property during the winter and all year.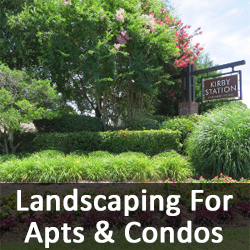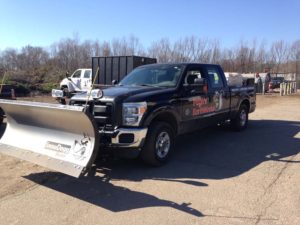 Pugh's Earthworks offers Winter Services to Commercial Property Customers
Winter brings its own landscape challenges. In Memphis, one of those challenges is dealing with the periodic snow and ice we receive. Pugh's Earthworks offers snow and ice treatment. Our firm has years of experience and can customize a program for your firm to help keep your property safe and accessible.
Our snow and ice treatment plans include a multi-phase approach. First, we lay down a salt application, before the storm hits. Most of the time, that salt application really makes a huge difference. It helps to prevent the snow and ice from sticking to your roads. It also reduces the time period between when the snow and ice hits the roads and when that frozen participation starts to melt.
Once the snow and ice is actually on the ground, phase two of our programs kicks in. We have special trucks, equipped with snowplows. We use these trucks to help move snow, in emergency services. Pugh's Earthworks cannot move all the snow on your property or leading to your property. What we can do is to help improve your ability to use your parking lots and the egress in and out of your facility. Our goal with clients who opt for a comprehensive landscape, lawn maintenance and Winter program is to make your campus beautiful and accessible all year long.
Our winter snow and ice treatment program can be added to your monthly landscape and lawn maintenance program at any time. The program is effective, and the cost is affordable. This service is provided through our Pugh's Earthworks landscape and lawn maintenance organization. We provide this service for numerous commercial clients we serve in, Tennessee, Mississippi and Arkansas. The service is also really helpful for our large institutional, retail and office complex clients. Many of our homeowners' associations (HOA) and our condominium owners' associations (COA) have also opted to include the program in their monthly grounds' maintenance programs.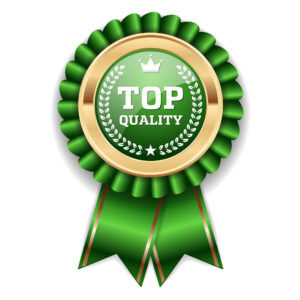 Phone: (866) 207-4734
Email: info@pughsearthworks.com