Pugh's Earthworks Winterize Commercial Properties
The recent winter storm that just impacted much of the US, brings to light the need to Winterize Commercial Properties. Pugh's Earthworks has well trained and certified Commercial Landscape Technicians that can help with that. We will inspect every aspect of your property in terms of protection from icy conditions.
Winterizing is not just for home residents but is equally as important for business owners. Consequently, many of the same issues need to be addressed in a similar fashion.
For instance, below are some of the things that need to be part of the process.
Winterize Commercial Properties:
Similarly, to a personal residence, the heating system of a commercial building needs to be in safe and proper working order. The Pugh's Earthworks professionals will be able to assess the functionality. In addition, we will recommend further HVAC assistance if deemed necessary.
Cold air can slip through cracks in window and door seals. We can examine all areas and determine if maintenance is required to keep the cold air out. In the same vein, this can be a large energy cost savings to the business.
Not all but some Commercial buildings have a fireplace. Pugh's will examine the fireplace and determine if it is working properly or might need some maintenance.
Proper gutter functionality is critical to facilitate water drainage. Therefore, if gutters are clogged with leaves or other debris, the Pugh's team will clean the gutters. Water needs to project away from your building and be allowed to collect.
The condition of a roof is critical to a Commercial building just as it is to a home residence. Our team will examine the condition of your roof and note any issues that appear to need immediate attention.
Sprinklers, Pruning and Lighting
Irrigation systems for Commercial Properties are critical especially during the hot and dry summer months. However, during the icy winter, if they are leaking, they can be destructive to the building and a danger to employees and customers. Pugh's will examine all sprinklers to be sure they are properly winterized.
One of the biggest problems in frigid temperatures is ice causing power outages. Many times, it is caused by tree limbs that fall on power lines due to the heavy weight of the ice buildup. As part of the regular Pugh's Earthworks Commercial Landscape service contract, pruning is a year-round service. If we find that we need to prune addition limbs prior to ice storms, we will address that proactively.
Pugh's Earthworks can also install additional outdoor lighting during wintery conditions. Additional lighting will make it safer for any employees that may work later.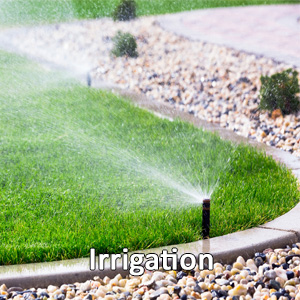 Pugh's Earthworks Sprinkler Systems
Pugh's Earthworks has been providing commercial landscaping services since 1992. We specialize is landscape and lawn maintenance for commercial customers. Currently we serve more than 300 commercial clients. Our firm is one of the largest landscape and lawn maintenance firms in Memphis. We also operate similar operations in Nashville TN, Southaven MS, Jackson TN and Little Rock AR. Our award-winning team services all types of Commercial Properties.
In conclusion, the majority of our clients have opted into a comprehensive landscape and lawn maintenance program. Our programs can be tailored to meet the specific and unique needs to each property. They are affordable and ensure that the appearance of your property will always be fresh and beautiful.
Pugh's Earthworks Questions and Answers Page
One of the unique services we provide is a website Q&A page. We welcome and enjoy receiving Commercial Landscaping questions from our customers or prospects. Below is one example. Not only is it important to Winterize Commercial Properties but winter is also a great time to work on landscape design.
Q: What should a good landscape design include?
A: The winter months are a good time to work on a landscape design, whether you are dealing with new property void of any plantings or renovating an older landscape. Many people think about design as simply "plants" or "plant placement," which is not a good approach. Rather, think about design as creating outdoor "rooms" that are functional, aesthetic, livable, and maintainable. Rooms are the space created among various landscape objects, whether plants, fences, ponds, patios, etc. Various furnishings fill these outdoor rooms and activities take place in these rooms, just as rooms function in your home. Many landscapes are organized such that there is no reason to go outside and enjoy outdoor spaces; developing functional rooms will enable you to do so.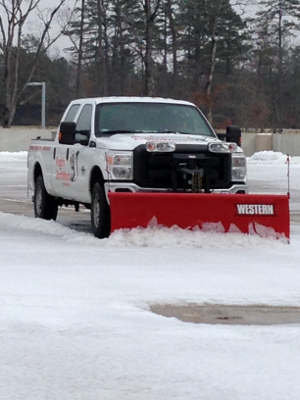 Pugh's Earthworks  
Our headquarters is in Memphis, Tennessee. We also operate landscape offices in Nashville, Jackson TN, Southaven MS and Little Rock AR. Our firm provides monthly grounds maintenance services for commercial clients. If you are seeking assistance with Landscaping or Lawn Maintenance services, please give us a call or send us a message via the contact form below. We do offer FREE Estimates. 
Headquarters
Phone: (866) 207-4734
Email: info@pughsearthworks.com