Pugh's Earthworks Commercial Property Flower Bed Design
Flower beds provide a beautiful and eye-catching feature to any commercial or residential garden. With a burst of color, these beautiful floral displays can provide enjoyment the entire year-round. However, flowers tend to provide that beauty on a seasonal basis. Even though it is winter, it is still a good time to consider Commercial Property Flower Bed Design.
Hiring the professionals at Pugh's Earthworks is the best place to start. Our team will get to work designing the flower beds for property functionality and appearance.
The first step is to clean out the existing flower bed.  Remove old perennials, weeds, and any debris. Think of it as a clean slate so you can start again with seasonal blooms.
This may be a good time to change the shape of your flower bed. Rather than going with that traditional rectangular look, why not add some curves to it by drawing out new lines with the soil?
Now, it's time to add new soil to your flower bed. Dig up rocks, roots, and any debris before putting a layer of garden-specific soil. It should be about six inches deep. You can also add compost and leaf mold. This will boost soil nutrition. Let your flower bed settle for 30 to 60 days before planting.
Work with your local garden center on the ideal flowers for this time of year. Once you have an idea of what works, then you can select the colors and varieties to use that will fit your space and garden style. This is where you can be creative.
As you plant the flowers in the bed, be sure to add enough water to make puddles under each flower. Add a thin layer of mulch. This will help prevent weeds and allow the soil to retain moisture even during the hot summer ahead.
Commercial Property Flower Bed Design
In addition, the above items are things the Pugh's Earthworks team will deal with. Furthermore, below are some broad range considerations for your property that we can discuss with you.
Brand Recognition is something that every company focuses on. It makes sense that when you are planting flowers, matching those colors to your company logo would be beneficial. Pugh's Earthworks will know the best plants and flowers to plant so as to accomplish this.
Matching the Architecture of your building is important. After all, you have made a huge investment in the office complex. It only makes sense to create a flower bed that compliments your property. Again, the professionals at Pugh's Earthworks will know the exact combination of flowers and the style of the flower bed needed. We will use Native plants that flourish in the soil and climate of the region.
Flower Beds can also assist with directing customers. Properly positioned to enhance signage will help to keep customers on the right path.
In conclusion, Flower Beds that are properly designed and maintained will enhance your property's value and demonstrate your company's commitment to quality. Pugh's Earthworks is the best in the industry to help you with Commercial Property Flower Bed Design.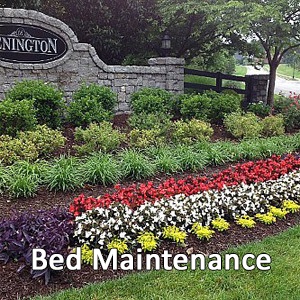 Serving The Jackson Tennessee Area
Pugh's Earthworks offers commercial and residential landscape design, installation and maintenance. We are one of the leading commercial landscape firms in the city of Jackson, Tennessee. We originally opened for business in 1992. Since that time, we have worked to demonstrate our commitment to quality, integrity and superior service.
Pugh's Earthworks specializes in commercial grounds management for office buildings, apartments, condominiums and HOA's common areas. We handle numerous commercial clients in the Memphis area, including some notable hotels, hospitals, churches, colleges and HOA managed properties. We are a large firm and can handle projects of any size. Even though our firm has grown quickly over the past 25 years, we have always worked to maintain the same great values we had, when we were just a small, up and coming landscape company.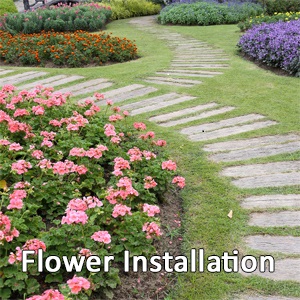 Pugh's Earthworks  
Our headquarters is in Memphis, Tennessee. We also operate landscape offices in Nashville, Jackson TN, Southaven MS and Little Rock AR. Our firm provides monthly grounds maintenance services for commercial clients. If you are seeking assistance with Landscaping or Lawn Maintenance services, please give us a call or send us a message via the contact form below. We do offer FREE Estimates. 
Headquarters
Phone: (866) 207-4734
Email: info@pughsearthworks.com