Pugh's Earthworks
Retaining Walls are an important part of any landscape. They can be used to increase the usable space on your property by creating flat levels, which is especially helpful for larger properties. Retainer walls are also a great way to contain and direct water runoff from hillsides and steep banks.
If you are thinking about installing a retaining wall in your yard, it is important to make sure that it is built right so that it lasts for years to come. That is why it is so important to seek the assistance of a professional Commercial Landscaping Company like Pugh's Earthworks.  Here are some steps used for constructing a strong, long-lasting retaining wall:
Use a concrete masonry unit (CMU), which is made from crushed stone and cement. This type of wall will be more expensive than an earthen retaining wall, but it will last longer and resist erosion better.
If you are using an earthen wall, make sure that you use soil that is well-drained and has a good amount of organic material.
Use the right mix ratio for your CMU or earthen wall; a good rule of thumb is one part cement to three parts stone (by weight).
If you are using a CMU wall, make sure that the stones are graded in size so that they fit together well.
A sturdy, well-constructed, and properly designed stone or concrete retaining wall will extend the life of your landscape by stopping soil erosion caused by rainwater runoff from your land. A retaining wall is a structure designed to retain soil, rock, or sand on its downhill side. Retaining walls are often used to create flat levels and prevent erosion on sloped areas. They can also be used as part of an irrigation system, directing water runoff into channels or other devices that will direct it away from buildings and plants.
In addition to being functional, retaining walls add aesthetic value to any landscape design project because they serve as a boundary between different areas within the yard while also creating interesting patterns in both coloration and texture when combined with other features like plants or paving stones (if placed near sidewalks).
Retaining walls are a great way to add usable space in your yard by creating a flat level area on which you can build a patio. Retaining walls come in many different styles, sizes and materials. The most common types of retaining wall are made out of stone (or concrete), brick or wood. Each type has its own advantages and disadvantages that should be considered before making a decision as to which one will work best for your project.
Once again, retaining walls create flat levels, contain and direct water runoff, increase the usable space on your property and add value to your home. They can also be used as an aesthetic enhancement to any landscape design. Retaining walls are made up of concrete blocks or stone that support soil behind them. They come in many different shapes and sizes but most often consist of two parallel walls with a gap between them where soil is held back by gravity alone. Our team at Pugh's Earthworks specializes in custom concrete, stone and masonry retaining walls that are durable and attractive for home improvement projects throughout the greater Memphis, Nashville, Jackson, Littlerock and Southaven areas.
We have years of experience with commercial projects all across the Mid-South Region including restaurants, shopping centers and public parks. Our experts are here to help you plan out your next retaining wall project or make any necessary adjustments to an existing one – we will even come out and survey your site with you before we get started!
If you are looking for a company that knows what it is doing when it comes to retaining walls, look no further than Pugh's Earthworks Inc. We have been in business since 1992 and have worked on countless projects large and small–from simple residential driveways all the way up through large scale commercial developments like shopping malls or entertainment complexes where there is millions of dollars' worth of earthwork at stake! We take pride in our work and want to make sure every project we do is done right.
That is why we have been around for over 30 years and continue to grow!
Conclusion
If you are looking for a professional team to help with your next retaining wall project, we would love to hear from you.
Pugh's Earthworks Serving The Greater Memphis Metropolitan Area
Pugh's Earthworks offers commercial and residential landscape design, installation and maintenance. We are one of the leading commercial landscape firms in the greater Memphis, Tennessee area. From our inception, back in 1992, our company has demonstrated a commitment to quality, integrity and superior service.
Pugh's Earthworks specializes in commercial grounds management for office buildings, apartments, condominiums and HOA's common areas. We handle numerous commercial clients in the Memphis area, including some notable hotels, hospitals, churches, colleges and HOA managed properties. We are a large firm and can handle projects of any size. Even though our firm has grown quickly over the past 25 years, we have always worked to maintain the same great values we had, when we were just a small, up and coming landscape company.
We are a full-service Memphis landscaping company. We have been helping Memphis area apartments, businesses, condominiums, hospitals and hotels get the most out of their outdoor spaces for over 30 years. Pugh's Earthworks offers everything from design services to installation and maintenance, so you can count on us for everything from edging to planting flowers in your flower beds.
Choose From A Wide Array Of Services Including:
Landscape Design & Installation, Lawn Maintenance Programs, Lawn Fertilization & Weed Control, Landscape and Lawn Debris Removal, Edging Along Driveways & Walkways, Flower Bed Installation & Maintenance, Hedge Trimming, Irrigation System Design & Installation, Snow Removal, Tree Pruning and more.
Lawn Maintenance Services: We offer bi-weekly, monthly or seasonal lawn maintenance programs designed as well as custom tailored plans based on your specific needs and budget. We have been providing lawn care services to commercial properties throughout Memphis for over 30 years now. Our service team is one of the best in the greater Memphis, Tennessee area.
Landscape Design Services: Our experienced landscape designers will help you create a unique outdoor space that reflects your personality and lifestyle while adding value to your home. We want to show you how beautiful your yard can be!
Irrigation System Installation Services: Pugh's Earthworks offers irrigation system installation services for all kinds of properties including homes.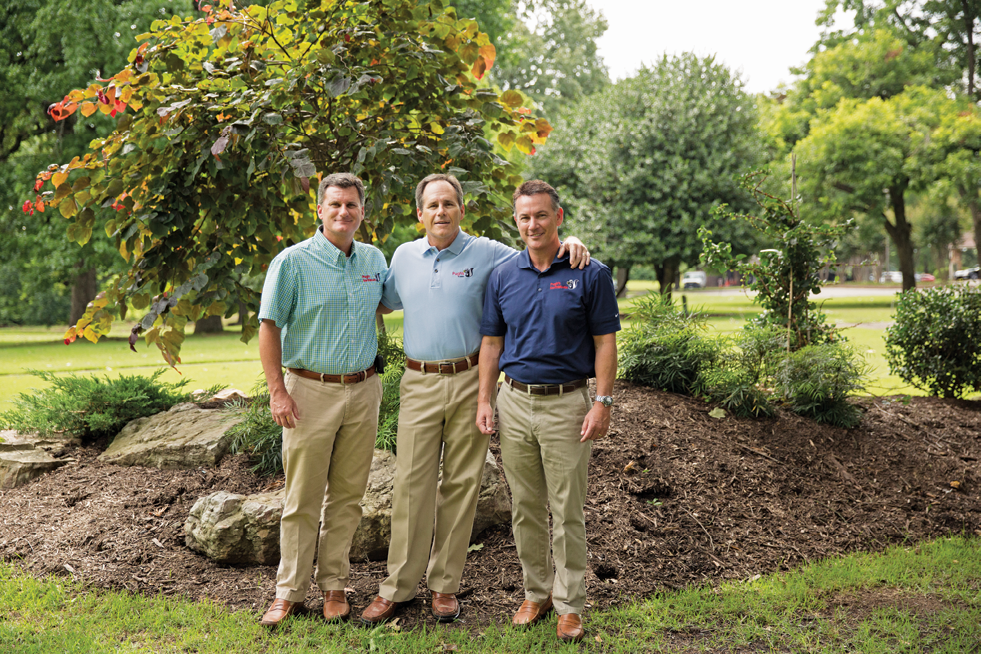 Pugh's Earthworks Management
Pugh's Earthworks
We operate 5 landscape centers, in 3 states.
Our headquarters is in Memphis, Tennessee. We also operate landscape offices in Nashville, Jackson TN, Southaven MS and Little Rock AR. Our firm provides monthly grounds maintenance services for commercial clients. If you are seeking assistance with Landscaping or Lawn Maintenance services, please give us a call or send us a message via the contact form below. We do offer FREE Estimates.
Headquarters
Phone: (866) 207-4734