Pugh's Earthworks
Pugh's Earthworks is the premiere Certified Commercial Landscaping Company in the Mid-South Region. Our major markets include Memphis, Jackson TN, Nashville, Southaven MS, and Little Rock AR. We employ professional and certified landscape technicians.
Certified and Professional Landscape Technicians Introduction Landscape technicians are professionals who are trained in landscaping and can be certified or non-certified. A certification has a higher level of education and training, while a professional landscaper is usually working on his/her own as a business owner rather than an employee. Both certified and professional landscape technicians have the experience necessary to provide you with quality work at an affordable price. Certified landscape technicians have passed a test to prove their knowledge, and they have a credential to show for it. This means that you can be more confident in the quality of service provided by certified technicians. Certified professionals follow best practices, so you can expect them to use products that are safe for your family or pets and don't cause any damage to plants or other parts of your property.
The importance of a certified or professional landscape technician Certification is a way for you to show that you have the skills, education and experience needed to do your job well. Landscape technicians are required by law in some states to be certified or licensed. In addition to this, certification shows potential customers that you're qualified and able to perform your work safely and efficiently.
Skills for landscape technicians Landscape technicians can be certified or professional. A certified technician has passed an exam and is allowed to use the CSLT designation on their business cards, letterhead, and other marketing materials. A professional landscape technician has not yet taken the exam but is working toward it by completing education requirements and working under the supervision of a certified landscape technician for five years or more. Professional certification involves taking both a written and practical test that covers plant identification; soils management; construction practices; maintenance techniques; design principles (including drafting); irrigation systems; fertilization methods; pest control methods; equipment use/operation safety procedures including safe storage of chemicals used in your work environment. The NALPTS offers a wide range of classes and certification programs in landscape management, design, maintenance, welding, and more. They are committed to providing the highest level of education and training possible while maintaining their reputation as an industry leader.
Education for landscape technicians The education for a landscape technician varies from employer to employer. Some employers require that you have a degree in landscape technology or horticulture, while others will accept applicants with a certificate in landscaping. In some cases, an applicant may be hired with only on-the-job training and experience as their credentials. The requirements are determined by the company's needs as well as what type of tools and equipment they use on site. For example, if you are applying for an entry level position with little to no experience required then it is likely that your educational background is not going to matter much at all because your knowledge base will come from working under experienced technicians who can teach you everything else necessary during your orientation period before being given access to clients' properties alone (if ever).
If you do have a degree in landscaping technology or horticulture, then your chances of getting hired are much better than if you do not. In addition to the educational requirements most companies will also want applicants who have at least one year of experience working in the field before being considered for employment. Landscaping companies will hire applicants with the following credentials:
A high school diploma or GED (General Education Diploma)
A certificate from a accredited landscaping school or college program that includes classroom instruction as well as hands on training in the field either during your freshman year or as part of an internship program.
Benefits of using a certified or professional landscape technician Using a certified or professional landscape technician can be beneficial in many ways. The most obvious benefit is safety, as certified technicians are trained to follow industry standards and best practices that keep you, your family and other workers safe while they're on the job. They are also more likely to use high-quality materials that will last longer than those purchased from less reputable sources. This will save you money over time because you won't have to replace your lawnmower blades or weed whacker line as often! Another important advantage of hiring a professional is reputation: if word gets out that someone hires unqualified workers who don't do quality work (or worse), it could tarnish their reputation within their community – not just among friends but also potential clients who might be looking for landscaping services in the future too! Landscaping services are a big investment, and it is important that you get the best value for your money.
Hiring an unqualified worker can cost you more in the long run than hiring a professional landscaper from the start. They may not work as efficiently or effectively as someone who has been doing this for years, which means they'll spend more time on each project. Their work will also likely be of lower quality, which could affect your property value in addition to costing you more money down the road. If you are looking for landscaping services in the Mid-South, contact us today!
Landscape technician career Landscape technicians are in demand. They can work for a variety of employers, including:
Landscaping companies
Nurseries and garden centers
Golf courses and country clubs, who often employ their own maintenance staffs.
Landscape technicians can work in a variety of settings, including:
Residential homes
Commercial buildings (e.g., offices)
Landscaping companies are the most common employers for landscape technicians. These companies often specialize in one type of landscape installation or maintenance, such as lawn care or irrigation systems. Landscape technicians can also find jobs at nurseries and garden centers. These businesses sell plants and other landscaping supplies to homeowners, who may need help installing items like trees, shrubs, flowers and ground coverings.
Hire a certified or professional landscape technician to ensure your project's success. Certification is a way to show that you are qualified to do the job. Professional landscape technicians have more skills and experience than those who are not certified. This shows that you are willing to learn and commit yourself to the industry. The certification process will also give you an opportunity to network with others in the industry. Landscape technicians are in high demand. The Bureau of Labor Statistics projects that employment for landscaping and groundskeeping workers will grow by 9 percent from 2016 to 2026. This rate is faster than the average for all occupations.
Conclusion Hire Pugh's Earthwork Commercial Landscaping and get the benefit of a certified or professional landscape technician to ensure your project's success.
Pugh's Earthworks Certified Commercial Landscaping Company
Join Our Team Grow your career in the green industry with Pugh's Earthworks, a regional company specializing in commercial landscape maintenance and commercial pest control. Put your talent to work alongside the industry's brightest minds, working on some of the region's most exciting landscape projects. Our entrepreneurial culture and numerous locations in West TN, Little Rock, AR, Jackson, TN and Nashville, TN. We provide countless opportunities to succeed. Please complete the short application below, or if you prefer to provide more information, click this general employment application link and complete the longer version of the application. You may also email about your work interests to csr@pughs.com. If you are in the area, you are always welcome to stop by and drop off your long application at our 2435 Whitten Road, Memphis, TN 38133 headquarters location.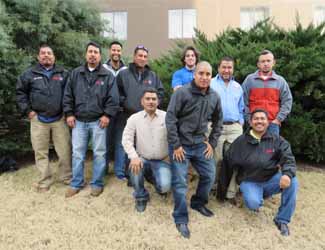 Pugh's Earthworks Team
Pugh's Earthworks We operate 5 landscape centers, in 3 states. Our headquarters is in Memphis, Tennessee. We also operate landscape offices in Nashville, Jackson TN, Southaven MS and Little Rock AR. Our firm provides monthly grounds maintenance services for commercial clients. If you are seeking assistance with Landscaping or Lawn Maintenance services, please give us a call or send us a message via the contact form below. We do offer FREE Estimates. Headquarters Phone: (866) 207-4734