Pugh's Earthworks Southaven Mississippi Commercial Landscaping
Pugh's Earthworks is a full-service landscaping company that provides Southaven MS Commercial Landscaping. Our services include commercial landscape design, maintenance and irrigation systems. Pugh's Earthworks is family owned and operated.
Southaven MS Commercial Landscaping Design
Commercial landscaping design is an important part of your commercial property's overall appearance, but it is also something that many business owners overlook when they are busy with other aspects of their operation. The right landscaping can make or break a company's image, so it pays to put some time into finding the perfect designer for your needs. You should look for someone who is experienced in commercial work–a landscape architect who specializes in public spaces or parks might not have enough experience designing private properties like yours.
There are many different approaches to take when designing a landscape plan: some designers prefer more naturalistic designs while others prefer more formal ones; some focus on function over form while others emphasize aesthetics above all else; and so forth. The best way to decide which approach fits your needs is by talking with potential designers about what kinds of plants you would like used (if any), how much space there is available for planting new trees/shrubs/flowers/etc., whether there are any safety concerns related to walking around large boulders placed near walkways…and so forth. You should also make sure that the designer has experience working with clients similar to yours: if you run a retail business, you probably want someone who specializes in commercial landscape design rather than residential or agricultural landscaping.
Southaven Commercial Landscaping Maintenance
When it comes to commercial landscaping maintenance, you want a company like Pugh's Earthworks that will do more than simply maintain your property. You want one that can help you maximize its potential. That's why we offer a wide range of services that include:
Commercial Lawn Care
Commercial Lawn Mowing
Commercial Lawn Weed Prevention
Commercial Lawn Spraying
Pugh's Earthworks also provides fertilization and aeration services as well as irrigation repair and installation when needed. Commercial Landscaping Maintenance Commercial landscaping maintenance is a vital part of any business, large or small. It is important to maintain the beauty and aesthetics of your property in order to attract customers and keep up with competition. We offer a wide range of services like those listed above.
Southaven Commercial Lawn Spraying and now Residential Lawn Spraying
Landscaping is an important part of any commercial property. If you are looking for a landscaping company in Southaven, Mississippi that can help you with your commercial lawn care needs, Pugh's Earthworks is the one to call! We have been providing quality services to clients throughout the area for many years now and we look forward to continuing this tradition into the future. If you want your business or property looking its best, then there are many things that must be done in order for it to look its best all year long. One way of doing this is through proper maintenance of the grass on your property which includes things like mowing and watering regularly as well as other aspects such as weed control and insect control so that nothing grows out of control on top of everything else already happening inside these areas such as dust build up due lackadaisical maintenance practices over time."
We also provide other services such as mulching, pruning and edging which can help enhance your property's appearance by making it look more manicured and well-groomed. If you are looking for a commercial lawn care company in Southaven, Mississippi that does quality work at reasonable prices then we are the ones to call!
Southaven Commercial Lawn Mowing
Commercial lawn mowing is a service that many businesses require. It is important to have your lawn maintained regularly, especially if you are trying to keep up with appearances or attract customers through the appearance of your business. Lawn maintenance services are offered by Pugh's Earthworks and our team uses the best machinery such as tractors or riding mowers. There are multiple factors that go into determining the right frequency and height for each type of commercial landscaping job; these include:
Height – The height at which grass should be cut depends on what you want out of it. If you want a manicured look, then shortening the blades will help achieve this effect. However, if speedier growth is desired then letting some taller blades grow may be more beneficial because they will grow quicker than shorter ones would otherwise do so!
Frequency – How often does one need their yard worked on? This question varies greatly depending on how much work needs done; sometimes weekly maintenance might suffice while other times there may only be an annual event held every year where everything needs cleaned up beforehand!
Hiring a landscaping company like Pugh's Earthworks will help ensure that your yard looks great.
Southaven Commercial Lawn Weed Prevention
Lawn weed prevention is an important part of any commercial landscaping service. Weeds are often the first thing people see when they visit your property, and they can quickly take over if left unchecked. If you want to maintain a beautiful lawn year-round, it's important that you have the right tools for keeping it free of unwanted plants like dandelions or crabgrass. There are many types of weed killers available on the market today; some work faster than others and some are more environmentally friendly than others (or just plain cheaper). You'll want to choose one that works best for what you need while still being safe enough for children or pets who may come into contact with it accidentally!
Pugh's Earthworks
Pugh's Earthworks is a full-service landscaping company that specializes in commercial landscaping design and maintenance services. We offer a wide range of lawn care services including commercial lawn spraying, mowing and weed prevention.
Pugh's Earthworks can help you create a lush, beautiful landscape for your business or office property at an affordable price. Our team has over 20 years of experience working with businesses across Southaven Mississippi to create stunning landscapes that complement their surroundings while reducing costs associated with maintaining them onsite through our unique approach to commercial lawn care services. Our professional landscapers are fully insured and trained to handle a broad range of commercial lawn care services. We can help you create a beautiful, lush landscape for your business property at an affordable price.
Conclusion
Our team at Pugh's Earthworks is here to help. We understand that your commercial landscaping and lawn care needs are unique, which is why we offer a variety of services. Our experienced team will work with you to find the best solution for your property, no matter how large or small it may be.
Pugh's Earthworks Serving The Southaven Mississippi Area
Pugh's Earthworks offers commercial and residential landscape design, installation and maintenance. We are one of the leading commercial landscape firms in the city of Southaven, Mississippi. You can call us at (662) 342-1832. We originally opened for business in 1992. Since that time, we have worked to demonstrate our commitment to quality, integrity and superior service.
Pugh's Earthworks specializes in commercial grounds management for office buildings, apartments, condominiums and HOA's common areas. We handle numerous commercial clients in the Memphis area, including some notable hotels, hospitals, churches, colleges and HOA managed properties. We are a large firm and can handle projects of any size. Even though our firm has grown quickly over the past 25 years, we have always worked to maintain the same great values we had, when we were just a small, up and coming landscape firm.
We believe that the most important thing we can give you is quality. We believe in the importance of honesty, integrity and a commitment to superior service. We are one of the leading commercial landscape firms in the city of Southaven, Mississippi. You can call us at (662) 342-1832. We originally opened for business in 1992. Since that time, we have worked to demonstrate our commitment to quality, integrity and superior service.
Southaven, Mississippi is a city in DeSoto County. It's located just 13 miles south of Memphis, Tennessee, and it's known as the "Home of the Blues." Southaven has experienced tremendous growth since its founding in 1964. The population has increased from around 2,000 people to more than 50,000 today. This rapid growth has led to some big changes: Southaven now boasts over 100 restaurants and bars, as well as several new shopping centers. The city government is focused on providing residents with high-quality services that make living in Southaven easy and enjoyable.
We serve all business customers in Southaven MS and the surrounding communities with our full range of landscaping services including shrub planting, tree trimming, mulching, fertilization and more! Whether it's a large commercial project or just some maintenance on a small business property we've got you covered. Our goal is simple: To provide top quality workmanship at competitive prices so that you can be proud of your outdoor space. We offer free estimates on all projects so give us a call today.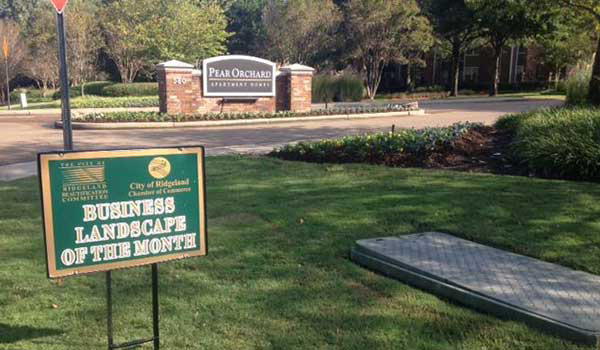 Pugh's Earthworks Commercial Landscaping Services
Pugh's Earthworks
We operate 5 landscape centers, in 3 states.
Our headquarters is in Memphis, Tennessee. We also operate landscape offices in Nashville, Jackson TN, Southaven MS and Little Rock AR. Our firm provides monthly grounds maintenance services for commercial clients. If you are seeking assistance with Landscaping or Lawn Maintenance services, please give us a call or send us a message via the contact form below. We do offer FREE Estimates.
Headquarters
Phone: (866) 207-4734