Pugh's Earthworks
Commercial Landscape Design is a multifaceted field that requires expert knowledge of architecture, art, and ecology. Landscape designers create plans that integrate plants in order to beautify and make efficient use of outdoor spaces. Whether you are looking to redesign your front yard or build an entire corporate campus, hiring the right landscape designer can improve your property and increase its value by making it more pleasing to the eye and easier to maintain. If you need professional assistance with any type of commercial landscaping project, we invite you to contact Pugh's Earthworks Commercial Landscaping today!
Pugh's Earthworks Commercial Landscape Design Services
Pugh's Earthworks is a full-service landscape design company serving the greater Baltimore area. We offer a wide range of services, including design, maintenance and installation. Our focus is on commercial landscapes.
We specialize in the following services:
Landscape Design and Installation
Outdoor Lighting
Irrigation Systems
Patios and Walkways
Hardscapes and Softscapes
Why You Should Hire a Commercial Landscape Designer
If you are thinking about adding a commercial landscape design to your facility, it is important to remember that the goal of a professional designer is not simply to make your property look pretty. A good landscape architect will work with you to create a space that is functional and beautiful, but also sustainable and environmentally friendly. A professional landscape designer will be able to help you meet business goals such as:
Attracting more customers
Increasing productivity through better employee morale
Lowering operating costs because of reduced maintenance
Enhancing your company's brand image
Creating a space that is visually appealing and relaxing for visitors.
Reducing the environmental impact of your business
Improving employee productivity, health and wellness
Creating a space that is visually appealing and relaxing for visitors.
Commercial Landscape Requirements
Commercial landscape design requirements vary by state, city and business type. You may have to take a certain number of hours of continuing education courses in order to maintain your license. You may also be required to have liability insurance or bonding in case someone is injured on your property. The size of your budget will also affect what you can do with your commercial landscaping design project. If you have only $1,000 available for this purpose, then it is not going to help much if you are trying to create something magnificent like an outdoor pavilion or gazebo that costs tens of thousands of dollars!
Commercial landscaping design, like any other kind of design, is all about balance and contrast. You need to consider the surrounding buildings and structures when you are planning your outdoor space so that it looks good from many angles. If you have a large parking lot in front of your business then you should try to incorporate trees into this area so that customers can enjoy shade while they wait for service. If you have a small budget, then try to use inexpensive materials like wood and stone. You can also grow plants that do not require much water or maintenance.
Benefits of Hiring a Commercial Landscape Designer
If you are considering hiring a commercial landscape designer, there are many benefits to doing so. A professional can help you maximize the potential of your property and create a cohesive design that works with your budget. A professional will work with your budget, making sure that their designs fit within what you can afford to spend on landscaping. They will also be able to suggest ways for you to save money by using less expensive materials or finding ways for you to reuse older items around the house.
You may have heard about people who have used their backyard as an extension of their living space, but this isn't always possible depending on where they live or how much land they have available–and even if it were possible in some cases (like having enough room), not everyone wants such an open layout because it makes them feel exposed and vulnerable when outdoors at night or when someone else comes over unexpectedly! Instead of trying desperately hard just because "it would look better", why not consider other options? This might include building walls around part(s) of your garden so only certain areas show up outside instead – these could include paths between different areas within them too if needed."
Pugh's Earthworks Design Elements
Paths. Paths are a great way to lead visitors through your commercial landscape design, and they can also be used to define space and separate areas of the property.
Terraces. Terraces are raised platforms that can be built into hillsides or flat ground, making them perfect for creating small gardens or seating areas. Terrace walls should have a consistent height from one end to another so that they look uniform when viewed from above (e.g., if you build an 8-foot-high wall in one place on your property then build another 12-foot-high wall elsewhere).
Fountains & Water Features: Fountains add movement, sound and light into any landscape design–and they make excellent focal points as well!
Walls: Walls serve many purposes including defining boundaries between properties; providing privacy between homes; adding visual interest through artful placement of stone or brickwork; defining terraces; creating outdoor rooms (such as patios); giving shade where needed with overhangs made out of wood beams connected together at their tops by joists which support planks laid across them horizontally
Pugh's Earthworks Services
Pugh's Earthworks is a full-service landscape design and maintenance company. We offer the following services:
Tree planting, trimming, removal and pruning
Fertilization of trees and shrubs
Mulching around existing plants to retain moisture in the soil (and keep weeds out)
Staking trees that need support, so they do not fall over in high winds or storms.
Tree spraying for insects such as aphids or scale insects that damage plants' leaves by sucking out their sap; this treatment also extends the life span of your flowers by protecting them from harmful pests.
Commercial Landscape Design Education Options for Professionals and Students
There are a number of options for commercial landscape design education, including an undergraduate or graduate degree in landscape architecture. If you're interested in pursuing a career as a professional designer, but want to learn the basics first, certificate programs in commercial landscaping may be right for you. Finally, if you already have some experience and want to continue learning on your own time at home or on the go, then online courses are also an option.
Landscape Architecture Undergraduate Degrees:
Bachelor's Degree – This program typically takes four years to complete and requires 120 credits total (45-50 per year). You will take classes such as Landscape Design Studio 1 & 2; Introduction to Plant Materials; Site Analysis and Design Processes; Historical Perspectives on The American Landscape; Geographic Information Systems (GIS) For Site Analysis and Sustainable Land Use Planning and Management; Advanced Design Processes for Naturalistic Gardens with Cultural Contexts; and more. At the end of your coursework, you will take a series of exams to become eligible for licensure in your state or province. You can also choose to continue with graduate-level courses in landscape architecture. Bachelor's Degree – This program typically takes four years to complete and requires 120 credits total (45-50 per year).
Job Description for a Commercial Landscaper or Gardener
A commercial landscape designer is responsible for creating the look and feel of a property, including its plants. They may also be involved in planning out how to achieve that look and feel, such as by working with architects on designs or making recommendations based on their experience.
A commercial gardener is responsible for maintaining the grounds at large properties such as parks or golf courses. This includes planting new plants, fertilizing existing ones, pruning shrubs or trees as needed and cutting down dead foliage from trees so they don't present safety hazards to guests who visit these areas regularly (such as people playing golf).
Commercial landscapers may work for larger companies or individuals. They may also work freelance, which gives them the flexibility to take on a variety of projects. This can be useful if they want to specialize in certain types of design or have a client who wants something done on a regular basis.
Hiring a professional landscaping designer can make all the difference when it comes to your commercial property. A professional designer will help you achieve the look you want for your property, while saving time and money in the long run. By hiring an expert, you'll avoid costly mistakes that might otherwise have been made during the design process. A professional landscaping designer will help you avoid costly mistakes and ensure that your property looks its best. By working with a professional, you'll save time and money in the long run.
Conclusion
The process of designing a commercial landscape can be quite complex, and it's important to find someone who is experienced in this field. We hope that this article has helped you learn more about what we do here at Common Acres and why hiring us makes sense for your business. If you want more information or want to schedule an appointment with one of our designers, please contact us today!
Pugh's Earthworks Offers Commercial Landscaping Services Including Design
Pugh's Earthworks has been providing commercial landscaping services since 1992. We specialize is landscape and lawn maintenance for commercial customers. Currently we serve more than 300 commercial clients. Our firm is one of the largest landscape and lawn maintenance firms in Memphis. We also operate similar operations in Nashville TN, Southaven MS, Jackson TN and Little Rock AR. Our award winning team services apartments, condominiums, shopping centers, office buildings and complexes, cemeteries, hospitals, hotels and motels and other commercial facilities.
The majority of our clients have opted into a comprehensive landscape and lawn maintenance program. Our programs can be tailored to meet the specific and unique needs to each property. They are affordable and ensure that the appearance of your property will always be fresh and beautiful.
We also offer customized programs based on each client's specific needs. Our team of professionals will take care of all your commercial lawn maintenance needs and make sure that your lawn is always looking its best. We offer customized programs based on each client's specific needs. Our goal is to get the most out of your grass by providing professional maintenance, seasonal plans and more.
Our team of professionals will take care of all your commercial lawn maintenance needs. We have the expertise and equipment needed to handle any project, from simple mowing to complex grading and planting. Whether you need one man or a full crew, we can help with your commercial lawn maintenance needs.
Our mission is to provide quality service at reasonable rates while maintaining an excellent reputation in the community by providing each client with personal attention, integrity and honesty in all our dealings with them.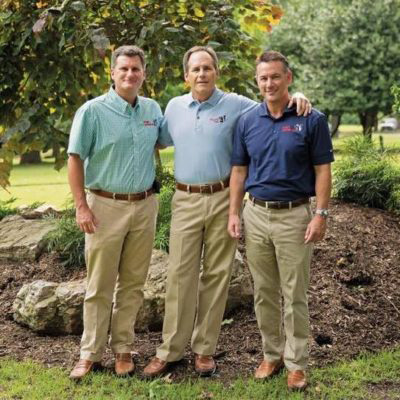 Pugh's Earthworks Owners and Management Team 
Pugh's Earthworks We operate 5 landscape centers, in 3 states. Our headquarters is in Memphis, Tennessee. We also operate landscape offices in Nashville, Jackson TN, Southaven MS and Little Rock AR. Our firm provides monthly grounds maintenance services for commercial clients. If you are seeking assistance with Landscaping or Lawn Maintenance services, please give us a call or send us a message via the contact form below.
Offer FREE Estimates. Headquarters Phone: (866) 207-4734