Pugh's Earthworks
Pugh's Earthworks is a premier, reliable and trusted Commercial Landscaping Firm in the Mid- South. Our major markets include Memphis, Nashville, Jackson TN, Littlerock and Southaven MS. We provide a wide range of Commercial Landscaping services all backed by our 100% customer satisfaction guarantee. When you trust your valuable commercial property to Pugh's Earthworks, you will be in the best position to keep your property looking pristine and staying healthy.
We have customers with all types of landscapes and terrains. We service Hospitals, Cemetaries, Retail Shopping Centers, Industrial Properties and Office Complexes to name a few so you can image that each one offers unique challenges. Properties with steep terrains often require that our team build retaining walls to prevent the erosion of the lawn or flower beds. Some of the markets Pugh's Earthworks serves are hilly for example Littlerock and Memphis.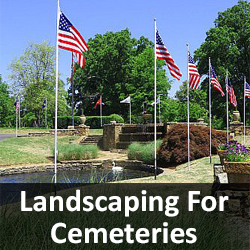 There are several steps involved in building a retaining wall. The Pugh's Earthworks team is trained to build and to repair existing retaining walls. The typical steps involved to build a retaining wall typically include most of the following key steps and processes:
Prepare a Trench – This is step one of the critical steps. In order to have a blueprint of where to dig, the area must be staked and marked with a Mason's Line.
Add Drainage – Pugh's will use the proper drainpipe to allow for water to flow around the wall. Improper drainage will cause water to collect behind the wall which over time will cause it to weaken.
Begin the Construction – The base blocks will be installed correctly so that as the wall is built it should have a natural lean into the hill and not lean away from the hill.
Install Landscaping – This may not seem like a mission critical step, but actually it is very important. A major concern is the size of the plant or small tree. Depending on the variety, Pugh's Earthworks will know the proper planting distance from the wall to prevent the roots causing any damage to the wall's structural soundness.
Existing Retaining Walls that have weakened over time need to be addressed as well. The Pugh's team is skilled at making repairs to holes in mortar, loose bricks, damaged drainage and other times of obvious problems.
Landscaping & Lawn Maintenance for Institutional Clients
This broad sector of properties includes churches, hospitals, country clubs, colleges and government branches. Of the many Memphis commercial properties, we have been proud to service for a decade or more, a large number of them are institutional facilities.
The key to our longevity: developing strong relationships, evolving with our clients' changing needs and helping them to continue to grow the value of the commercial properties they own, manage and occupy. We provide landscape design and installation services, commercial landscape maintenance services and water management services for these institutional facilities to ensure they're running at peak performance at all times.
Commercial Landscaping Firm
Pugh's Earthworks is a large Commercial Landscaping Firm. We own and operate 5 landscape offices, located in Tennessee, Mississippi and Arkansas. Our firm has the precise equipment and personnel needed to deliver professional grounds maintenance services for all types of commercial customers. If you are seeking a professional firm to handle a landscape of lawn maintenance project, we encourage you to give us a call. We do offer FREE consultations and provide price estimates upon request.
We offer year-round maintenance of all grounds, done by professionals who have been working on commercial properties for years and use great care and attention to detail. Pest Control, inside and out, can also be handled by Pugh's Earthworks for hassle free property management.
We are a family owned and operated Commercial Landscape Business. Our company takes immense pride in the work we do. Pugh's Earthworks has big company size and strength, but we focus on maintaining our small company values. We guarantee the work we perform and our attention to detail is second to none. Our best source of new clients has always been via recommendations from current and previous clients. Take a look at the customer testimonials we have received.
Headquarters
Phone: (866) 207-4734
Email: info@pughsearthworks.com