Pugh's Earthworks
Pugh's Earthworks provides Commercial Landscape and Maintenance services throughout Tennessee, including Memphis, Jackson, and Nashville plus Little Rock, Arkansas and Southaven MS.  Our monthly seasonal landscape care for lawns includes professional lawn care, including irrigation and sprinklers, fertilizing, reseeding, aeration, and pest control.
According to this year's Farmer's Almanac, which has been published since 1818, the upcoming winter is expected to be wetter with more snow in Tennessee.  Historically winter conditions in the Volunteer State have been somewhat sporadic. This winter appears to be a little more predictable and with more precipitation. While the really colder temperatures may not occur until mid to late January, now is a great time to visit with a Pugh's Earthworks Certified Landscape Technician regarding our full scope of services which include snow and ice treatment.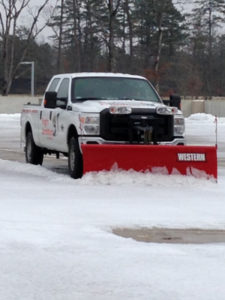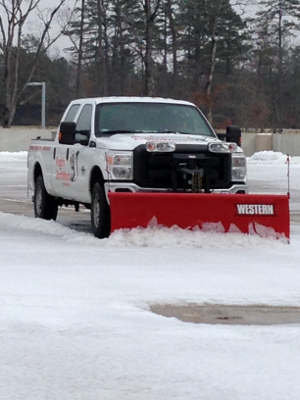 Our all-inclusive services focus on addressing specific seasonal landscape issues. In winter, the seasonal issues involve snow and ice. We often experience sidewalks and walkways that are covered in snow or that have iced over. The last thing we want is to have someone fall on the way to our business because of these inclement conditions or feel like they cannot get to our front door. And, for those with residences, we want to help those who cannot take care of these winter issues.
Our snow and ice treatment plans include a range of treatments. These include a salt application prior to an impending storm. This strategy can help prevent the snow and ice from sticking to the roads. Once the snow and ice hits, then we switch to snowplows that can help move snow. While we can't clear all the snow, our services enable more people to use your parking lots and the area surrounding your facility.
Our goal is to make this snow and ice treatment program as affordable as possible. We offer it as an add-on service to your existing monthly landscape and lawn maintenance program you have with us, which allows us to keep the price low for all customers.
The snow and ice treatment program are available to residential clients as well as commercial clients throughout Tennessee, Mississippi, and Arkansas. This includes HOAs and COAs as well as shopping centers and institutional facilities.
Contact Pugh's now regarding Commercial Landscape and Maintenance services be prepared when winter strikes!
Pugh's Earthworks is a Premier Mid-South Commercial Landscaping Company
Pugh's Earthworks has grown from a one-man mowing and mulching crew into a full-service Commercial Landscape and Maintenance contractor. "We do basically everything," says president/owner Mark Pugh, who co-owns the business with his brothers Tim and Michael which are older brothers. "Typically, our package includes weekly mowing, chemicals, mulching, seasonal flower displays, leaf removal and irrigation maintenance."
Actually, Earthworks used to do basically everything, until four years ago, when the company reined in its design/build division to focus on maintenance. "Design/build was difficult on our maintenance side, because you can never staff properly for the peaks and valleys," Mark says. "We would always end up having to pull some maintenance employees over to construction projects, and in turn we shorted ourselves on maintenance, and then we'd have to play catch up."
"The margins on construction work far exceed, almost double, maintenance. But maintenance was our bread-and-butter, and that's really the core of our business. At that point, we were at about $1.5 million on the construction side, and we decided to get rid of that, take those same resources and refocus them toward maintenance."
Earthworks still has designers on staff to do enhancements and new landscapes for existing customers, but "what we got away from is design/builds for new clients," he says.
It only took one year for maintenance to recoup the construction revenue, while strengthening the company at its core.
"Our business has become more predictable, which is what we wanted," he says. "By getting rid of that small segment of our business and refocusing it, we streamlined our maintenance and improved all of the things that we wanted to improve."
Pugh's Earthworks offers an excellent quality assurance program. We are licensed and insured and stand behind all of the work that we perform with our quality assurance guarantee.
Quality is everyone's responsibility.
Quality is conformance to the customer's requirements.
We believe every job can be improved.
Every idea is treated with the utmost respect.
We realize that improvement must be an on-the-job process.
Pugh's Earthworks
Headquarters
Phone: (866) 207-4734
Email: info@pughsearthworks.com