Pugh's Earthworks has been serving Commercial Clients since 1992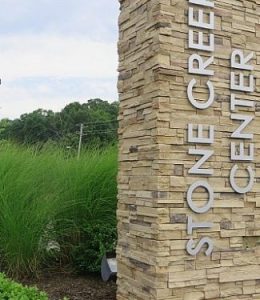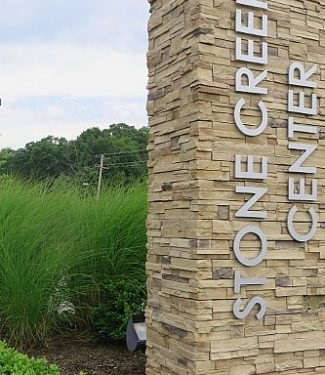 A key component to a healthy and beautiful Commercial Landscape is the process of Commercial Sprinkler Installation. When you consider the Commercial Landscaping Companies that offer this installation, be sure to speak with a professional at Pugh's Earthworks.
Spring is a great time of year to start the process of installation. The ground is warmer allowing for easier trenching. In addition, it is early enough in the year to allow for grass to spread and cover the installation bare spots. You probably will not need to run the system until the weather gets hot and dry but at least you will be ready.
Sprinkler systems are so vital for so many reasons. All types of businesses use Commercial Sprinkler Systems. Retail Shopping Centers, Restaurants, Hotels, Office Parks and Hospitals use them. Pugh's Earthworks specializes in Commercial Landscaping for these types of businesses. Below are some benefits of Commercial Sprinkler Installation.
Economically Beneficial – A sophisticated and properly installed system can properly apply water. The use of a timer makes the water come on at the optimum time of day to reduce the evaporation. In addition, the sprinkler mapping is done in such a way that areas on grass, flower beds and trees receive the ample amount of water to keep them healthy and beautiful.
Convenient Maintenance – Generally speaking a properly installed system should not require a great deal of maintenance. However, the professionals at Pugh's Earthworks will do a routine annual maintenance check to be sure the system is operating at full capacity. They also winterize all systems to ensure there is no breakage due to freezing.
Please contact Pugh's Earthworks for a free consultation regarding Commercial Sprinkler Installation. Our certified and highly experienced technicians can evaluate your property and design a sample with a cost estimate to discuss with you.
Pugh's Earthwork's Commercial Sprinkler Installation
Pugh's Earthworks is one of the Mid-South' s leading commercial landscape installation and maintenance companies. We consistently provide the highest quality landscaping services available.  Our team is certified and experienced plus we have the passion to get the job done right for clients and the communities we serve. Every job we do is backed by our 100% customer satisfaction guarantee.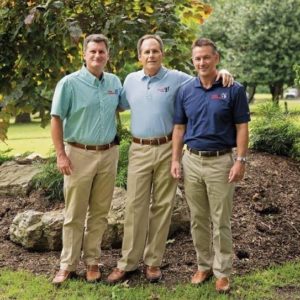 Pugh's Earthworks was originally started by Mark Pugh and has been in business since 1992. Over the past 25 years, we have grown rapidly. In all that time and throughout all that growth, we have remained true to our motto, Big Company Strength, Small Company Values! Regardless of the size of the client we are working for, our staff will deliver the best possible service, while treating each client with the utmost of respect. In a word, "We Love Our Customers" and "We Appreciate the Opportunity to Serve." One of our website offerings is a "Frequently Asked Questions" section. We love hearing from our customers!
Frequently Asked Questions and Answers about a Commercial Sprinkler Installation
Q: How will I benefit from an inground sprinkler system?
A: Since hand watering is done on a random basis, and at irregular intervals, an automatic sprinkler system will actually, in most cases, use less water. It will also disperse the water at an even rate, and for a predetermined amount of time. This allows you to water sunny and shady areas for different periods of time, and to water when it is most efficient. One obvious benefit is the ability to continue a watering program while you are away on vacation, etc.
Q: How long does a system take to put in?
A: It would depend on the area that is trying to be covered. An average size lawn (@15,000 sq. ft.) can usually be done in one full day, depending on the situation. A large country lawn can take anywhere from two to four days. On average, we spend one to two days on a job.
Q: What is a backflow device, and why do I need one on my sprinkler system?
A: A backflow device is generally a brass assembly that will prevent any water from the sprinkler system from getting into the drinking water supply and are required by all municipalities. There are many different types of these, and each individual municipality has differing requirements for the installation.
Q: What type of maintenance does the system require?
A: All systems need to be winterized at the end of the season. This is done by attaching an air hose to a fitting on the water line and blowing all of the water out of the system. Most people that we install systems for simply turn it back on in the springtime themselves. We do offer the service of opening systems for the season. The quality of the products used initially, and of the overall installation, play an important part in the long-term service of the system. The better the products and installation, the less trouble you should expect in the future.
Q: How long and how often should I run my sprinkler system?
A: While there are no set parameters for this, here are a few rules of thumb. The precipitation rates on gear drive/spray head zones is about a 4 to 1 ratio. This means that gear drive zones should be run about four times longer than spray zones. Gear drive zones should be run for a minimum of 30 minutes, except in very shady areas. In the hot parts of the summer, these should be changed to 45 minutes, even an hour.
Spray head zones should be run for 8 to 10 minutes and bumped up to 15 to 20 minutes in dramatically hot weather. In the spring and fall, you should be able to get by with every second or third day. When the weather gets very hot, once a day is a good idea, as this will keep the lawn from getting stressed. Time and experience will tell you what will work best on your own property.
Pugh's Earthworks offers expert Commercial Sprinkler Installation and year-round Maintenance as required.
Contact us today to find out what we can do for your commercial landscape!
Headquarters
Phone: (866) 207-4734