Pugh's Earthworks
Home Owner's Associations (HOAs) and Condominium Owner's Association (COAs) are important for the overall up keep and appearance of the property for the residents that live in that community. Pugh's Earthworks specializes in expert commercial landscape design and maintenance for these types of associations. Our client testimonials say it all!
"My husband, David, and I are Sterling Square Board members responsible for Building and Grounds in a 234, upscale Home Owners Association. David is a Senior Corporate Account Executive for FedEx Services and I am an Executive Assistant to the President and Chief Executive Officer of FedEx Express and as one may assume, our expectations and requirements are of a high standard.

"In September 2005, the Sterling Square Board members unanimously selected Pugh's Lawn Service (now Pugh's Earthworks) to be our lawn service provider (this was based on observance of their quality work on other properties). Pugh's Earthworks is an exceptional, very organized company that has produced high quality results for us. Pugh's began servicing our subdivision when the overall grounds were approaching poor conditions.

We had several dead trees, many weeds in our grass, and the beds in the common areas and homes were severely neglected. We were amazed how quickly Pugh's was able to turn our negative situation into a remarkable transformation. Now our subdivision looks first class and our homeowners are very proud they live in Sterling Square. In fact, I believe the outstanding appearance of our subdivision has helped to 'promote' the selling of some of our homes recently. New buyers have literally made the comment of amazement in the landscapes' inviting appearance!

"In addition, we have been very pleased with Casey Hesser, Dave McDaniel, and Steve Williamson concerning the resolution of our breezeway drainage problems, replacement of dead trees and azaleas, and sprinkler system problems, superb fertilizing results on our grassy regions and (thank God) our flower beds are now worth boasting about. Specifically, these three gentlemen are very professional in their capacities and are always prompt in returning our association's phone calls.

In addition, I have thoroughly enjoyed working with Pugh's 'Color Coordinator' Julie Issacs for her exceptional forte in flower plantings. She has been very accommodation and has been very receptive to new ideas the board has requested, while guiding us along the way.

"We are thankful for Pugh's partnering with Sterling Square and look forward to an extended relationship for many years to come. We are very happy to discuss any inquiries, in detail, regarding our (now 14 month) relationship with Pugh's Landscape and invite your call."

David and Karen Smith, Building and Grounds

Sterling Square, Collierville TN
Pugh's Earthworks Landscaping Service
Pugh's Earthworks provides landscaping and lawn maintenance programs for HOA (homeowners associations) and COA (condominium associations). In fact, the work we do for HOA's and COA's represents a sizable portion of the more than 300 commercial landscape maintenance clients we serve. Many of those customers have opted for our comprehensive grounds maintenance service.
Property managers, HOA and COA board members face a unique set of challenges each day. They serve a huge customer base, who really want to live in communities that are well kept and desirable. Our team has a thorough understanding of those challenges. We work closely with our property managers to turn these challenges into opportunities. That allows the property management firms we serve to focus on aspects, other than landscape related. Our job is to make their job easier.
Experience has taught us that every property is different.  Our team will focus on the details. We work closely with our clients and customize our commercial landscape maintenance solutions to meet their specific needs.
When you have a homeowners association, part of the monthly dues goes toward ensuring that the common areas and sometimes even front yards are cared for by a professional landscaping and lawn company.
To ensure you get the best value for all the residents that maintain their community to the highest standards, there are some key things to look for when searching for the right commercial landscape and lawn maintenance company for your HOA or COA.
Know What's Included
Do not just go with the lowest bid you receive because that may not tell you the whole picture of what you will actually be charged or what type of quality work they will do. It is important to have a transparent maintenance company that tells you exactly what they will do for your HOA or COA each month with a cost breakdown for maintenance, repairs, and upgrades to things like the automatic sprinkler system.
Get References
Find out how HOAs feel about what this landscape does for them each month in terms of water management, aesthetics, value, and overall service. If possible, go view those properties to see what their work looks like in terms of lawn and landscape maintenance. Ask those clients what they like about the landscape company and why as well as if there is anything that they don't like about them.
Hire a Landscaping Company with Experience
Look for a landscape maintenance company with proven experience. They've been in business for several years and can show a portfolio of work. They are more likely to have the experience to maintain your landscape better than an inexperienced company. Make sure they also have the licensing, insurance, and industry memberships that also speak to their experience.
Gauge Communication Levels
One of the biggest complaints HOAs and COAs have is the lack of communication with their service providers. Look for one that responds promptly to questions and concerns. You can also gauge this by checking with their other customers as well as meeting with them directly to see how they interact with you.
Verify Certifications, Licenses, and Insurance
Be sure to verify all paperwork to check that all certifications, licenses, and insurance is up to date and correct. This is also a sign of whether a company is honest and prompt about what they do.
We would love to work with you and show you how our years of experience taking care of HOA AND COA properties makes us the right choice for you. Contact us now to learn more!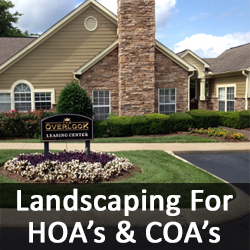 Contact us today to find out what we can do for your commercial landscape!
Headquarters
Phone: (866) 207-4734
Email: info@pughsearthworks.com