Pugh's Earthworks
Pugh's Earthworks provides commercial landscape design and maintenance services to commercial property owners in Tennessee, including Memphis, Jackson, and Nashville, as well as Little Rock, Arkansas. Our clients include some of the premier office buildings, hotels, hospitals, churches and cemeteries in the cities we operate. In addition to the commercial customers we serve, we also provide landscape services for Home Owners Associations (HOAs), Condo Owners Associations (COA's) and individual residential homeowners.
Fall is full of lawn maintenance tasks, including aerating the soil. It is another important job that helps your lawn throughout the year. Below are some of the benefits of aeration for a healthy lawn.
First, the soil in the fall season is still warm while the nights are cool, which makes this an ideal time of the year. Then, by aerating your soil, you can enjoy a healthier lawn with stronger roots and overall resiliency to make it through the tough winter months.
Also, your lawn should be aerated if it undergoes heavy foot traffic, which can compact the soil. This is why golf courses always undertake regular aeration. Aeration of the soil is also good if it is a new lawn or if your lawn dries out frequently
Focus on aerating your lawn anywhere between the end of August and November. During the fall, the grass can heal and fill in many  of the open areas that appear during the aeration process.  This will help prepare your grass for the spring.
The aeration process creates pockets so that air and water can get through to the soil plus also helps to encourage root growth in the spaces that are made. This may also be the time to over seed your lawn as well as fertilize, depending on the state and health of this part of your landscape.
Before starting the aeration process, make sure the soil is moist enough. Then, use aeration tools followed by removal of the soil plugs that are created from the process. After aerating the soil you'll need to continue fertilizing, mowing, and watering throughout the fall season.
Since aerating the soil can take a lot of time and effort, it is a good idea to call in landscaping professionals to take care of it for you. Contact us now to find out how we can help you during all the seasons of the year so you can focus on your business.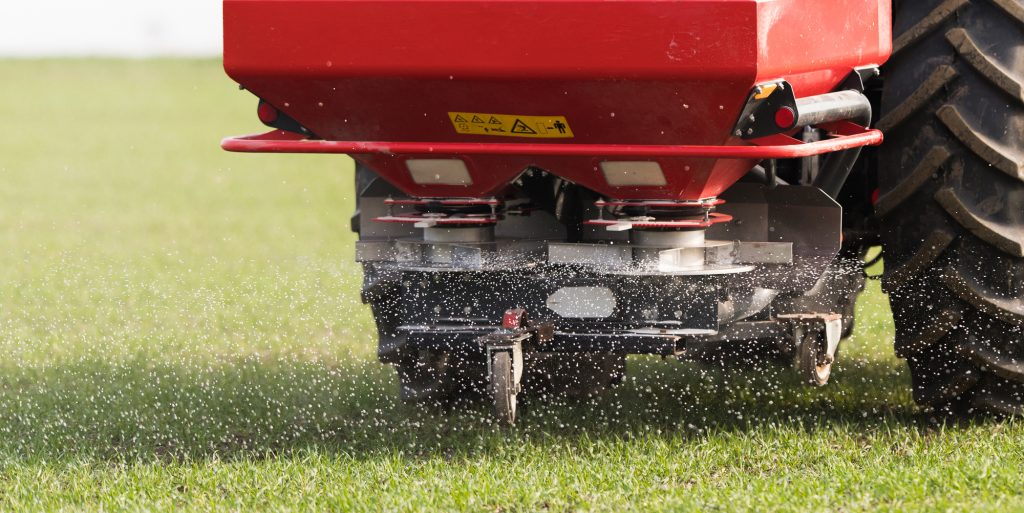 Pugh's Earthworks takes customer satisfaction seriously. We know that without satisfied clients we would not be successful. One of the greatest tributes to a company's ability to provide great products and service is to receive positive comments and accolades from its customers.
At Pugh's Earthworks, we capture client comments and evaluate the message. If the comments are positive we know what we are doing is right. If the comments are not positive then we know to take a look at what we may not be doing right and adjust. Below is an example of a satisfied customer and the type of evaluation that lets us know we are heading down the right path:
"As you know, Mid-America Apartment Communities (MAC) directs a great deal of attention to the curb appeal and continued improvement of the landscaping on our properties. The success of these financial investments will only be fully appreciated with qualified and concerned service providers like you on the properties.

Our residents and third party organizations apparently think the same, because we have consistently won awards in this area. Nevertheless, we know that this could never occur without companies like yours continuing to improve the properties each week. The performance at River Trace, Gleneagles, Kirby Station, and Hickory Farm were some of the strongest in our company in 2001. In particular, River Trace had the highest scores (93% average) in the Central Region in the months of Jan-Dec 2001 was a year of growth for your company in MAC as you added Hickory Farm to your portfolio as well as several key leaders to you organization. 2002 places another set of challenges out in front of your company. We're confident that Pugh's Earthworks will rise to the challenge and beat last year's performance.

We would like to honor you, and your company, with the 2001 Landscape Vendor of the Year Award for the Central Region. We feel that your company has consistently gone beyond what was expected, further justifying Pugh's Earthworks as the best in 2001 for Mid-America. Congratulations and we thank you for this commitment!"

Bob Weaver, Regional Landscape Director – Central Region

Mid-America Apartment Communities, Memphis TN

Contact us today to find out what we can do for your commercial landscape!
Headquarters
Phone: (866) 207-4734