Pugh's Earthworks
The weather is slowly starting to cool. It will not be too much longer and the leaves will be turning color and falling to to ground. The professional landscaping services provided by Pugh's Earthworks are a year round contract. Every season requires strategic processes to ensure that commercial landscapes remain healthy and vibrant.
One process that is vital is the removal of leaves that fall. Absent the services of a professional landscaping firm, this can be a monumental task. Leaves falling on the ground are a message that fall has arrived. And, while the colors are beautiful and the piles of leaves are fun to jump on, they really do have to find somewhere else to live beside the lawn.  Leaves are a common part of lawn maintenance.
There are many reasons why you should remove the leaves from the lawn and methods for doing so:

It is much healthier for your lawn. This is because if you allow the leaves to pile up on your lawn, they block the sunlight, water, and nutrients from reaching the root system and helping feed your lawn. The lawn needs to breathe but it can't do that if it is covered in leaves. The leaves can even block new grass blades.
These leaves may also invite pests and diseases in that are difficult to get rid of. This can lead to mold, brown patches, and lots of insets. Also, it improves the lawn's overall appearance. Lastly, regularly removing the leaves makes for less work than letting them all pile up over time.
There are many ways to remove the leaves from your lawn. The first way is to rake them off the lawn. This approach tends to get most leaves that have to be bagged up and removed. It is very labor-intensive.
The second is to use a leaf blower, which does the job quickly but is noisy. However, as long as you select a good time to do it, such as mid-day, most people have become accustomed to the sound.
Alternatively, you can use a mulching mower that shreds the leaves and turns them into fertilizer. Adding a bag to this mower allows you to collect everything and put it in your compost bin if you have one.
Lastly, consider assistance from a professional lawn care maintenance company like Pugh's Earthworks who can take care of leaves, mowing, and fertilizing so you can just enjoy how it looks. Contact us today to learn more.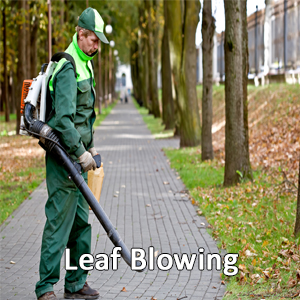 Pugh's Earthworks is a leading commercial landscape installation and maintenance companies located the Midsouth. Our company provides the highest quality landscaping services available. We are Memphis landscape maintenance experts. Our team is committed to acting with the utmost of integrity with our business operations and for clients and the communities we serve. Every job we do is backed by our 100% customer satisfaction guarantee.
We are one of the largest landscape design, installation and maintenance firms in the Mid South area. Our clients include some of the premier office buildings, hotels, hospitals, churches and cemeteries in the cities we operate. In addition to the commercial customers we serve, we also provide landscape services for Home Owners Associations, Condo Owners Associations and individual residential home owners as well. Our staff has years of experience and can handle projects of any size.
Pugh's Earthworks was originally started by Mark Pugh and then joined by his brothers Tim and Michael. Our firm has been in business since 1992. Over the past 25 years, we have grown rapidly. In all that time and throughout all that growth, we have remained true to our motto, Big Company Strength, Small Company Values! Regardless of the size of the client we are working for, our staff will deliver the best possible service, while treating each client with the utmost of respect. In a word, "We Love Our Customers" and "We Appreciate The Opportunity To Serve."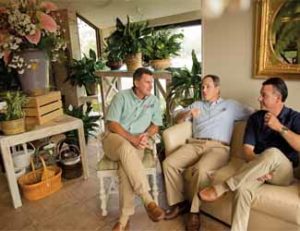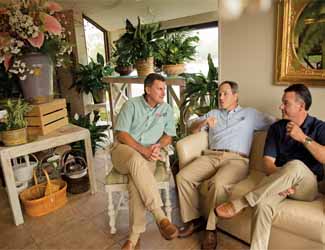 Pugh's Earthworks Management Team
Contact Us
We operate 5 landscape centers, in 3 states. 
Headquarters for Pugh's Earthworks is located in Memphis, Tennessee. We also operate landscape offices in Nashville, Jackson TN, Southaven MS and Little Rock AR. Our firm provides monthly grounds maintenance services for commercial clients. If you are seeking assistance with Landscaping or Lawn Maintenance services, please give us a call or send us a message via the contact form below. We do offer FREE Estimates. 
Also, we offer commercial landscape maintenance services for mowing, trimming, fertilizing, and irrigating your landscape. Additionally, we have a pest control service to ensure no pests ruin that beautiful commercial landscape design.
Contact us today to find out what we can do for your commercial landscape!
Headquarters
Phone: (866) 207-4734