Pugh's Earthworks
Big Company Strength and Small Company Values!
Pugh's Earthworks is one of the Mid South' s leading commercial landscape installation and maintenance companies. Pugh's Earthworks provides the highest quality landscaping services available. We are Memphis landscape maintenance experts. Our team is committed to acting with the utmost of integrity with our business operations and for clients and the communities we serve. Every job we do is backed by our 100% customer satisfaction guarantee.
We are one of the largest landscape design, installation and maintenance firms in the Mid South area. Our clients include some of the premier office buildings, hotels, hospitals, churches and cemeteries in the cities we operate. In addition to the commercial customers we serve, we also provide landscape services for Home Owners Associations, Condo Owners Associations and individual residential home owners as well. Our staff has years of experience and can handle projects of any size.
Pugh's Earthworks was originally started by Mark Pugh. Our firm has been in business since 1992. Over the past 25 years, we have grown rapidly. In all that time and throughout all that growth, we have remained true to our motto, Big Company Strength, Small Company Values! Regardless of the size of the client we are working for, our staff will deliver the best possible service, while treating each client with the utmost of respect. In a word, "We Love Our Customers" and "We Appreciate The Opportunity To Serve."
Pugh's Earthworks can assist with creating and maintaining a low maintenance commercial landscape!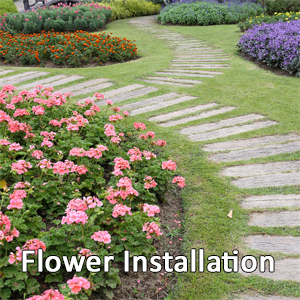 Pugh's Earthworks recommends to clients that an efficient landscape design should be approached with "room" design mentality. Below is a response to a Q&A correspondence.
Q: What should a good landscape design include?
A: The winter months are a good time to work on a landscape design, whether you are dealing with new property void of any plantings, or renovating an older landscape. Many people think about design as simply "plants" or "plant placement," which is not a good approach. Rather, think about design as creating outdoor "rooms" that are functional, aesthetic, livable, and maintainable. Rooms are the space created among various landscape objects, whether plants, fences, ponds, patios, etc. Various furnishings fill these outdoor rooms and activities take place in these rooms, just as rooms function in your home. Many landscapes are organized such that there is no reason to go outside and enjoy outdoor spaces; developing functional rooms will enable you to do so.
Part of a smart room design is to create a commercial landscape that is low maintenance. Properly designed these types or landscapes are efficient, environmentally healthy and safe thousands of dollars on wasted maintenance. Hiring a professional and certified landscape design firm like Pugh's Earthworks will ensure that your commercial property contains the components necessary to be low maintenance.
Creating a low maintenance commercial landscape does not mean you have to sacrifice beautify and creativity. The whole idea is to have a landscape that is inviting and relaxing so that your employees and customers have a warm sense of nature when they visit. Doing some research, below are some of the best trees, shrubs, flowers and grasses that are commonly found with the best low maintenance landscapes.
Trees
One of the first things people see when they arrive at a commercial property are the trees. So what are some of the best for a low maintenance landscape? Below are a few varieties of trees commonly used.
Jacquemontii Birch – These grow to heights of 35-40 feet tall and 18-20′ in width.  They keep a columnar shape perfect to be used around buildings as commercial spaces continue to condense.
Kousa Dogwood – The Kousa dogwood reach a height of 15 to 25 feet and does well in full sun or partial exposures. Naturally deer-resistant the Kousa Dogwood  can be planted near buildings, walls, or utility lines, with an expected growth of less than 12 inches a year.
Paperback Maple – These trees are native to the Pacific Northwest. They reach heights of 20 to 30 feet and prefer moist soil but can grow in clay, sand, loam, and slightly acidic soils. Great for low maintenance as the Paperback Maple can grow in full or partial sun and requires little if any pruning.
Western Red Cedar –  Another evergreen variety, the Western Red Cedar reaches heights of 40 to 50 feet. They are tolerant to most soils and do well in full exposure to the sun.
Flowers
The actual flower beds that border your entrance and building can add to the beauty and fragrance of your property.
Irises – Irises can be found in multiple colors and are low maintenance.  These do well in full or partial day sun and are drought-tolerant and deer-resistant.
Daylilies – Often referred to as "the perfect perennial" Daylilies are drought tolerant and thrive in different growing zones. They bloom in spring, summer, or fall and require partial sun depending on the color and type.
Daisies –  These flowers grow to about three feet and grow in full sun or partial shade. People love the happy feeling they get when they see Daisies.
Astilbes – These are wonderful perennial flowering plants. They have a fern-like foliage which is seen in shades of pink, rose, or white.
Grass and Shrubs
Once trees and flowers have been selected for your low maintenance commercial landscape, it is time to select the grass and shrub types that will tie the look together. Below are some ideas that work as borders for your property.
Feather Reed Grass – One of the most popular, the Feather Reed Grass is an all weather tolerant plant and can be used in the fall sun with well-drained soil.
Maiden Grass – This grass variety can grow rather large in fact as large as 8 feet.  It prefers to grow in full sun and moist well-drained soil.
Carex – Found in several sizes and colors the Carex is perfect as a low maintenance and non invasive plant which requires minimal pruning.
When you are ready to start the landscape design process for your low maintenance commercial property, choose the professionals at Pugh's Earthworks to assist you throughout that process.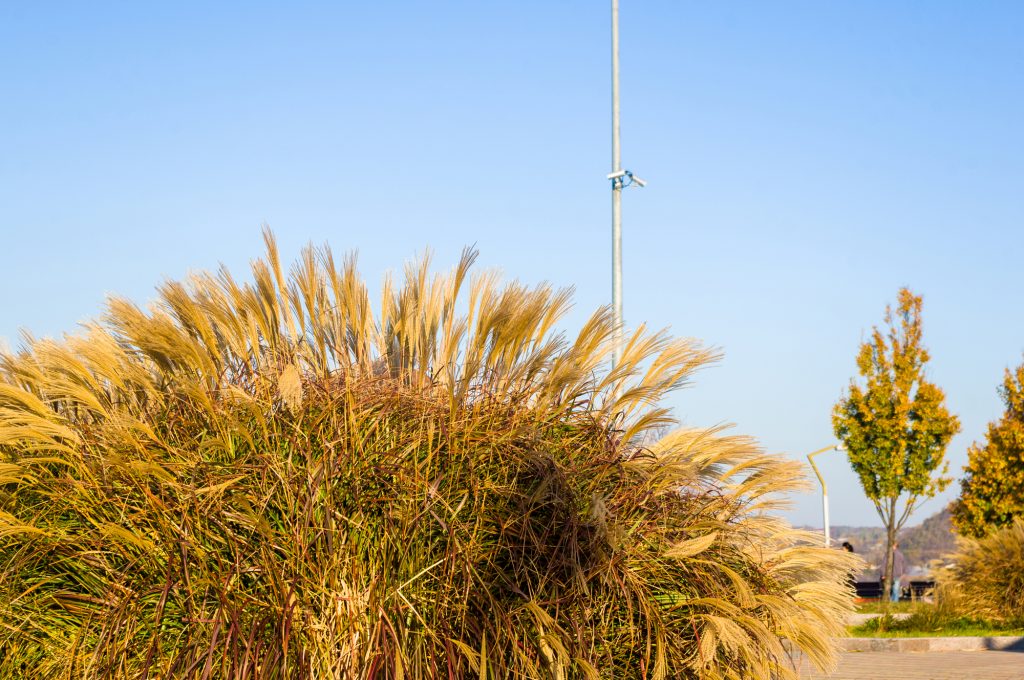 Maiden Grass
Pugh's Earthworks
Credentials/Affiliations/Degrees, Certifications
The Pugh's Earthworks team has all the proper credentials, degrees and certifications necessary to deliver top quality landscape and lawn maintenance design, installation and maintenance services. Our team is experienced, highly skilled. They all operate with a customer first attitude.
Our firm is one of the largest landscape and lawn maintenance companies in Tennessee. We have all the right equipment to handle commercial landscape and lawn maintenance projects. Our client base includes hotels, motels, business complexes, retail shopping centers, hospitals, schools, apartments, condominiums and other commercial accounts.
Tennessee Department of Agriculture Chartered/Licensed
Mississippi Bureau of Plant Industry licensed
Arkansas State Plant Board Licensed
Master of Business Administration
Bachelors of Science in Agronomy
Bachelors in Landscape Contracting Management
Associates of Applied Science in Landscape Management
Associates of Applied Science in Turf Grass Management
Dynascape Certified
Planet Professional Network
Landscape Industry Certified
Thank you for reading our blog. We hope to serve you for all of your landscaping needs!