Pugh's Earthworks
Big Company Strength and Small Company Values!
Pugh's Earthworks was originally started by Mark Pugh. Our firm has been in business since 1992. Over the past 25 years, we have grown rapidly. In all that time and throughout all that growth, we have remained true to our motto, Big Company Strength, Small Company Values! Regardless of the size of the client we are working for, our staff will deliver the best possible service, while treating each client with the utmost of respect. In a word, "We Love Our Customers" and "We Appreciate The Opportunity To Serve."
We are now one of the Mid South' s leading commercial landscape installation and maintenance companies. Pugh's Earthworks provides the highest quality landscaping services available. We are Memphis landscape maintenance experts. Our team is committed to acting with the utmost of integrity with our business operations and for clients and the communities we serve. Every job we do is backed by our 100% customer satisfaction guarantee.
Pugh's Earthworks has twenty five years experience satisfying customers with amazing landscapes!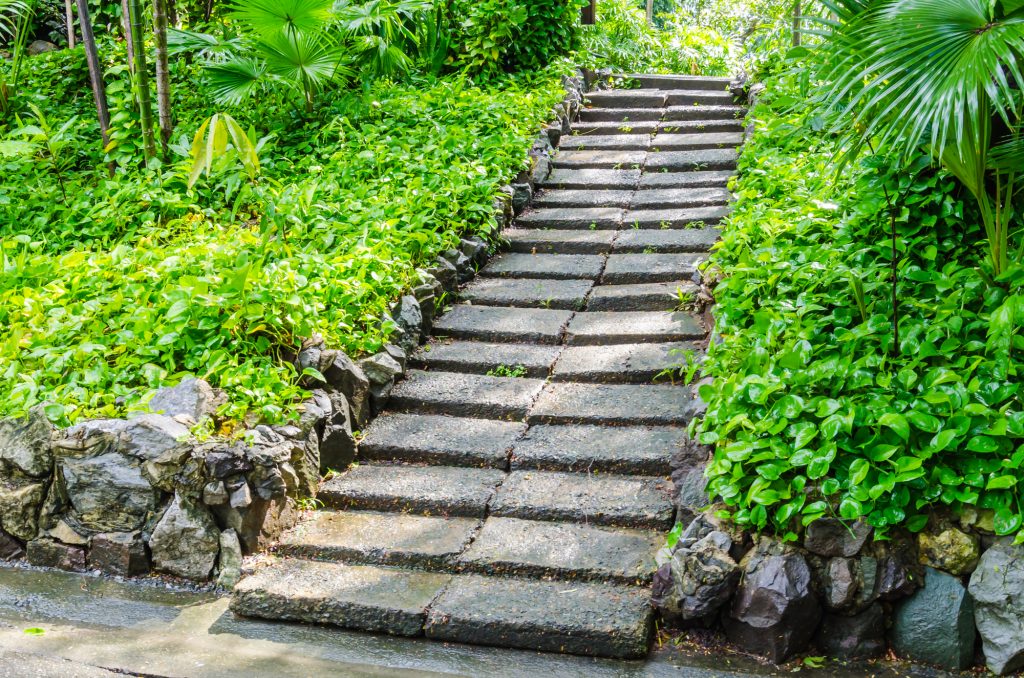 Stone Foot Path
Pugh's Earthworks Success Story
The success story of Pugh's Earthworks is special. Through the trials and challenges of running a business which was a new concept for the Pugh's brothers, these three close brothers found a way to make it work. Today they run a premier landscaping company with five offices in three states. Their success captured the attention of Lawn and Landscape Magazine which is the leading B2B publication serving the $70 Billion landscaping and lawn care industry.
The August 2017 edition of Lawn and Landscape Magazine featured Pugh's Earthworks. The transition from brothers to business partners was not easy for the Pugh's. In fact, two of the brothers came to blows in a conference room, which eventually led to family counseling. When their father suddenly passed away, leaving behind several flower shops in Memphis, they had to learn how to work together – or they would fall apart.
When Bill Pugh died in 1987, Mark, president and owner, was only 16, Tim, vice president and owner was 19 and Michael, chief financial officer was 22. The older Pugh's helped deliver flowers for years. But Mark's busy sports schedule didn't allow him to work regular hours, so he landscaped around the neighborhood.
They had no idea they would  end up owning their father's business, spinning off several companies or expanding throughout the region.
"I actually took a leave of absence from my job for a few months to help dad's partner with some of dad's responsibilities because I thought we were going to sell the business," says Michael, who was managing a sporting goods store at the time. Instead, with their mom's help, Tim, bought out their father's business partner to keep the flower shops in the family.
"One day my brother is driving a delivery van, the next day he's the owner of the company," Michael says. "The employees were twice our age; they had known us since we were 10 or 12, and now we are their bosses.
Read more here: http://magazine.lawnandlandscape.com/article/august-2017/brotherly-love.aspx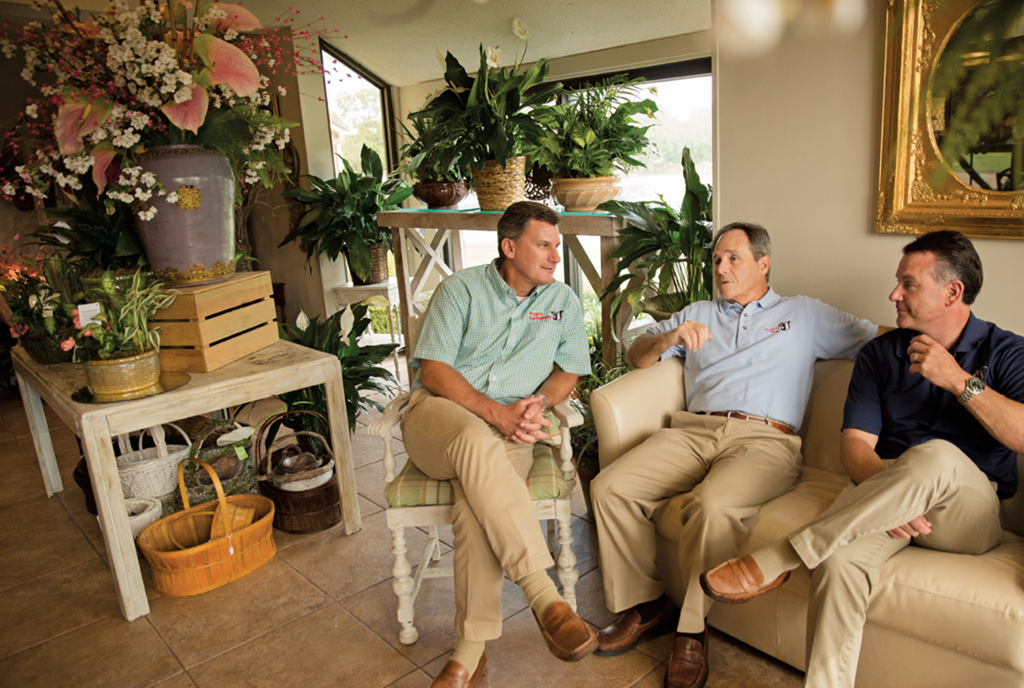 Pugh's Management Team
Pugh's Earthworks Satisfied Client Testimonial
"You and I have known one another for at least of couple of years now and I constantly remind you of how Pugh's Earthworks continues to amaze both Corporate and myself with your professional approach, attention to detail, follow up and follow through in all that you do.
"As you know, our main corporate campus consists of over seven acres of landscaped property housing over 3700 employees. Since this is a testimonial of Pugh's Earthworks' astounding performance regarding, not only landscape installations, but the regular maintenance of the ground, I must say Pugh's Earthworks definitely has raised the 'bar' for this market.
"In November of 2004 Alltel was required to accept a minimum of five bids for our three facilities, with specific instructions to service all three of our campuses 'outside of regular business hours' and on the weekend in order that employee vehicles would not be possibly damaged from flying debris while servicing our landscape. Alltel actually received nine bids to service our property, all from prospective vendors recognized as 'reputable' in this market. Not one could or would service our sites on the weekend, without exorbitant cost increases for services rendered…. Pugh's Earthworks never questioned our parameters, and delivered without hesitation or compromise.
"Since the inception of our contract (9/15/05) Pugh's has delivered with astonishing results…. This letter, very simply, is a proclamation of a job done well and Alltel continues to relish in your professional approach in all that you do!
"Thank you Pugh's Earthworks for representation and implementation beyond reproach!"
Monte Chrestman, Building Services Supervisor
Alltel Corporation, Little Rock AR
Thank you for reading our blog. Please trust all of your commercial and residential landscaping needs to Pugh's Earthworks. You will not be disappointed.