Pugh's Earthworks provides service to a broad spectrum of all types of industries
The value of a trusted Commercial Landscaping Company is immeasurable. After all, your Commercial Property is an extremely important asset and entrusting the maintenance to a talented Commercial Landscaping firm like Pugh's Earthworks will allow you to have some comfort that your property is in good hands.
No matter what your business is, Pugh's Earthworks provides service to a broad spectrum of all types of industries. These include commercial, industrial, institutional, government, multi-family, or retail property. Throughout the process of landscape design to ongoing monthly service contracts, our team remains your trusted partner, providing comprehensive landscaping and lawn services. These services include tree and shrub care, lawn and bed maintenance, planting and trimming, weeding, and pest control.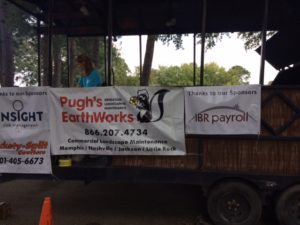 Here are some of the commercial services we offer to keep your commercial property looking great across all four seasons:
Commercial Landscaping: Serving more than 300 commercial clients, we provide landscape design, installation, and maintenance in Memphis as well as Nashville, TN; Southaven, MS; Jackson, TN; and Little Rock, AK. This includes services for apartments, condominiums, shopping centers, office buildings, cemeteries, hospitals, and hotels and motels. This service also includes changing out beds with seasonal flowers and plants, weed management, and irrigation services. We tailor each of our commercial landscaping services to our clients' needs and budget.
Lawn Service: Our commercial lawn service includes mowing, pruning, trimming, lawn feeding and fertilizing, and leaf blowing. The goal is to provide you with a beautiful, lush lawn that enhances the look of your commercial property throughout the year.
Pest Control:  Certified technicians provide pest control solutions that prevent, eliminate, and exclude pests from commercial properties. This includes pests like mosquitos, flies, bedbugs, rodents, roaches, spiders and ants. We only use EPA-approved, environmentally friendly pest control products.
Winter Services: We also offer snow and ice services to keep your commercial properties free and clear for residents, customers, or visitors.
Not only are one of the largest commercial landscape and lawn services in the Memphis area, but we also differentiate ourselves through our personal service experience; friendly, knowledgeable team of technicians, value-based pricing, and responsive service. Also, we offer free quotes on our monthly services and extended service plans.
Contact us today to schedule your quote and see how our commercial landscape, lawn, and pest control services can give you peace of mind and confidence that everyone that sees your properties admires how they look.
Pugh's Earthworks Trusted and Reliable Commercial Landscaping Service
When commercial clients sign a service contract with Pugh's Earthworks, they have made a great decision in vendor selection. The level of client satisfaction that the Pugh's team strives for is hard to match. We are so committed to our customers that we offer a 100% satisfaction guarantee on all services we perform.
The Pugh's Earthworks commitment to excellence is demonstrated by the depth of the company. From hiring staff and vendor partners to staying abreast of all industry trends and licenses, Pugh's is a team of professionals. Our team has all the proper credentials, degrees and certifications necessary to deliver top quality landscape and lawn maintenance design, installation and maintenance services. Our team is experienced, highly skilled and all operate with a customer first attitude.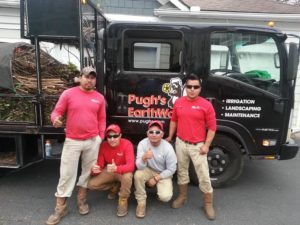 Our firm is one of the largest landscape and lawn maintenance companies in Tennessee. We have all the right equipment to handle commercial landscape and lawn maintenance projects. Our client base includes hotels, motels, business complexes, retail shopping centers, hospitals, schools, apartments, condominiums and other commercial accounts. Below is a list of the various licenses we hold and affiliations we are proud of.
Tennessee Department of Agriculture Chartered/Licensed
Mississippi Bureau of Plant Industry licensed
Arkansas State Plant Board Licensed
Master of Business Administration
Bachelor's of Science in Agronomy
Bachelor's in landscape Contracting Management
Associates of Applied Science in Landscape Management
Associates of Applied Science in Turf Grass Management
Dynascape Certified
Planet Professional Network
Landscape Industry Certified
Our partnership with Flyline Search Marketing (FSM) is another great example of the Pugh's Earthworks commitment to excellence. FSM is one of the industry's top performing Internet Marketing Companies. However, in addition to the results-oriented mission, FSM management shares the same customer satisfaction commitment as the Pugh's Earthworks management team. Both groups subscribe to a customer first attitude in all that they do.
Pugh's Earthworks
Headquarters
Phone: (866) 207-4734
Email: info@pughsearthworks.com