Pugh's Earthworks
Big Company Strength and Small Company Values!
Pugh's Earthworks was originally started by Mark Pugh. Our firm has been in business since 1992. Over the past 25 years, we have grown rapidly. In all that time and throughout all that growth, we have remained true to our motto, Big Company Strength, Small Company Values! Regardless of the size of the client we are working for, our staff will deliver the best possible service, while treating each client with the utmost of respect. In a word, "We Love Our Customers" and "We Appreciate The Opportunity To Serve."
We are now one of the Mid South' s leading commercial landscape installation and maintenance companies. Pugh's Earthworks provides the highest quality landscaping services available. We are Memphis landscape maintenance experts. Our team is committed to acting with the utmost of integrity with our business operations and for clients and the communities we serve. Every job we do is backed by our 100% customer satisfaction guarantee.
Our Quality Assurance Guarantee
Pugh's Earthworks offers an excellent quality assurance program. We are licensed and insured and stand behind all of the work that we perform with our quality assurance guarantee.
Quality is everyone's responsibility.
Quality is conformance to the customer's requirements.
We believe every job can be improved.
Every idea is treated with the utmost respect.
We realize that improvement must be an on-the-job process.
QUALITY POLICY
It is the goal of Pugh's Earthworks to provide our customers, both internal and external, with services, which meet or exceed their expectations.
We recognize that one of the most important assets we possess, enabling us to achieve this goal, is our professional staff. We strongly encourage all of our people to take the pride of ownership in all the work they do.
To this end we commit ourselves to strive in all we do for total customer satisfaction.
TOTAL CUSTOMER SATISFACTION
Management guarantees that ongoing support of these goals is our highest priority. We must never lose sight that customer satisfaction is a direct measure of our performance.
Working together as a team, making use of all our talents and expertise, we will accomplish our objective.
Winter is just around the corner and Pugh's Earthworks is ready with their Snow and Ice Treatments!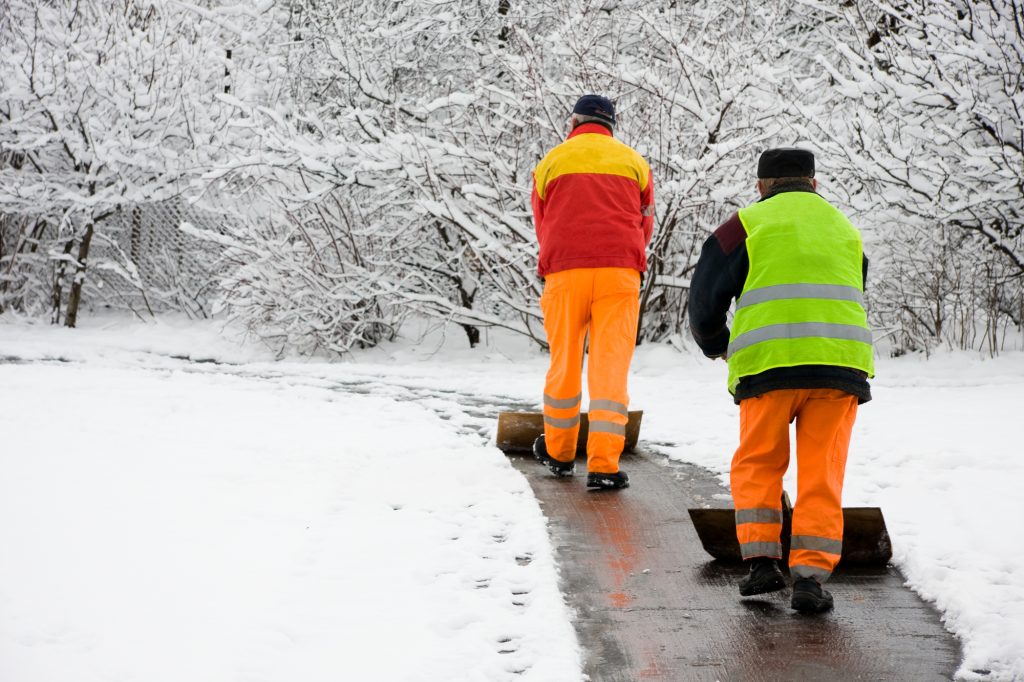 Workers removing first snow from pavement
We Offer Snow & Ice Treatment
Winter brings it's own landscape challenges. In Memphis, one of those challenges is dealing with the periodic snow and ice we receive. Pugh's Earthworks offers snow and ice treatment. Our firm has years of experience and can customize a program for your firm to help keep your property safe and accessible.
Our snow and ice treatment plans include a multi-phase approach. First, we lay down a salt application, before the storm hits. Most of the time, that salt application really makes a huge difference. It helps to prevent the snow and ice from sticking to your roads. It also reduces the time period between when the snow and ice hits the roads and when that frozen participation starts to melt.
Once the snow and ice is actually on the ground, phase two of our programs kicks in. We have special trucks, equipped with snow plows. We use these trucks to help move snow, in emergency services. Pugh's Earthworks cannot move all the snow on your property, or leading to your property. What we can do is to help improve your ability to use your parking lots and the egress in and out of your facility. Our goal with clients who opt for a comprehensive landscape, lawn maintenance and Winter program is to make your campus beautiful and accessible all year long.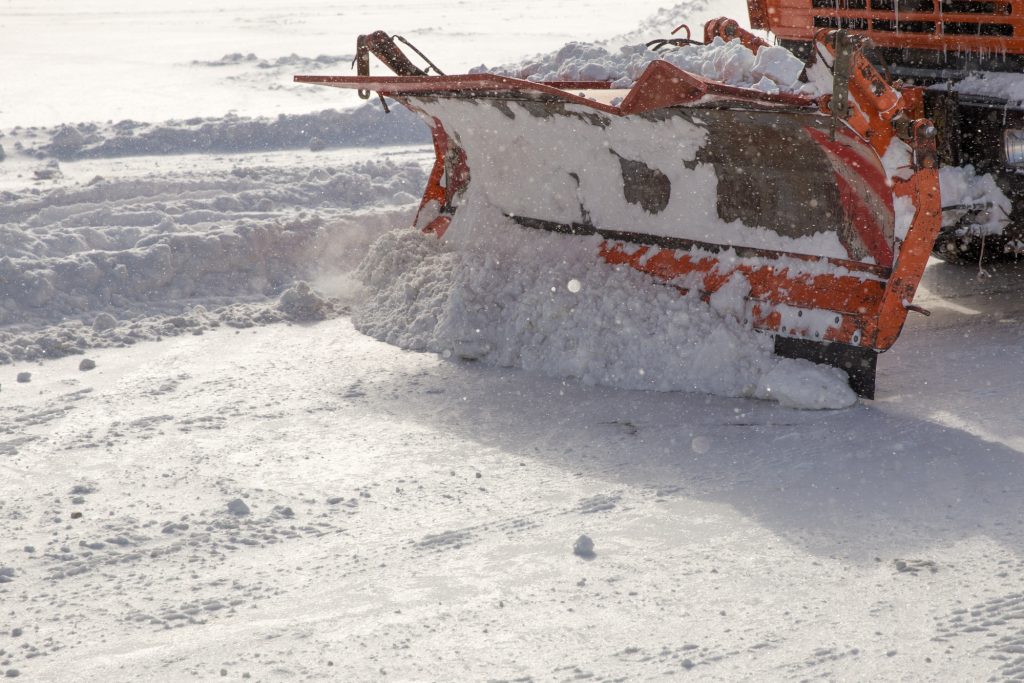 Snowplow removing snow
Pugh's Earthworks has been providing commercial landscaping services since 1992. We specialize is landscape and lawn maintenance for commercial customers. Currently we serve more than 300 commercial clients. Our firm is one of the largest landscape and lawn maintenance firms in Memphis. We also operate similar operations in Nashville TN, Southaven MS, Jackson TN and Little Rock AR. Our award winning team services apartments, condominiums, shopping centers, office buildings and complexes, cemeteries, hospitals, hotels and motels and other commercial facilities.
The majority of our clients have opted into a comprehensive landscape and lawn maintenance program. Our programs can be tailored to meet the specific and unique needs to each property. They are affordable and ensure that the appearance of your property will always be fresh and beautiful.
Pugh's Earthworks is ready for winter with their snow and ice treatments!