Pugh's Earthworks
Big Company Strength and Small Company Values!
Professional Landscaping & Lawn Maintenance Services
We are one of the Mid South' s leading commercial landscape installation and maintenance companies. From its inception, our company has continued its commitment to quality, integrity and superior service. We provide the highest quality landscaping services and commercial grounds management for various commercial properties and HOA's common areas.
Mark Pugh started the lawn business in 1992 in a $500 truck with his phone number on it. Just 21 years later Pugh's Earthworks has expanded markets to include Nashville TN and Little Rock AR. We now operate 60 trucks, while still retaining the very first commercial account we ever contracted with. That customer is Memphis Hunt and Polo Club. An experienced commercial landscaping company of over 200 employees, with certification and educational degrees in horticulture as well as years of experience, Pugh's Earthworks caters to the landscaping needs of different commercial businesses and industrial properties as well as HOA's common areas.
Pugh's Earthworks is a member of the National Association of Landscape Professionals!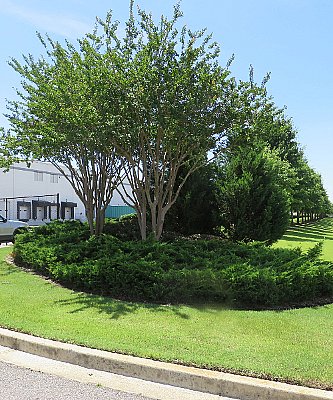 Pugh's Earthworks Industrial Landscape
National Association of Landscape Professionals
No matter what business you are in, it is beneficial to participate in the industry groups that focus on your trade. The educational, networking and social benefits of being a member are invaluable. The management team at Pugh's Earthworks is well aware of this. They are members of the National Association of Landscape Professionals which was formerly know as the Professional Land Care Network (PLANET).
The Pugh's Earthworks team is able to take advance of the continuing education and reports on industry trends via their membership with the NALP. For example the NALP, due to Covid, is offering online classes. In early November members can learn about Construction Safety. This is an important topic for all landscape technicians in order to navigate the dangers inherent with working on landscape design sites. Students learn about hazard recognition, abatement and prevention.
As advertised, landscape companies that become members of the National Association of Landscape Professionals reap the benefits of membership by growing their business, improving operations, increasing profits and standing out from the competition. The NALP is also an advocate for of the industry by being vocal about laws, regulations and employment of professional landscapers.
Pugh's Earthworks is a shinning example of a first class landscaping company. We back our performance with a satisfaction guarantee.
Our Quality Assurance Guarantee
Pugh's Earthworks offers an excellent quality assurance program. We are licensed and insured and stand behind all of the work that we perform with our quality assurance guarantee.
Quality is everyone's responsibility.
Quality is conformance to the customer's requirements.
We believe every job can be improved.
Every idea is treated with the utmost respect.
We realize that improvement must be an on-the-job process.
QUALITY POLICY
It is the goal of Pugh's Earthworks to provide our customers, both internal and external, with services, which meet or exceed their expectations.
We recognize that one of the most important assets we possess, enabling us to achieve this goal, is our professional staff. We strongly encourage all of our people to take the pride of ownership in all the work they do.
To this end we commit ourselves to strive in all we do for total customer satisfaction.
TOTAL CUSTOMER SATISFACTION
Management guarantees that ongoing support of these goals is our highest priority. We must never lose sight that customer satisfaction is a direct measure of our performance.
Working together as a team, making use of all our talents and expertise, we will accomplish our objective.

Pugh's Earthworks Retail Landscape
The Pugh's Earthworks mission statement is  "We strive in all we do, to achieve total customer satisfaction. Our team works to not only meet, but, to exceed the expectations of those we serve".  We have the training, talent and commitment to back it up!
Credentials/Affiliations/Degrees, Certifications
The Pugh's Earthworks team has all the proper credentials, degrees and certifications necessary to deliver top quality landscape and lawn maintenance design, installation and maintenance services. Our team is experienced, highly skilled. The all operate with a customer first attitude.
Our firm is one of the largest landscape and lawn maintenance companies in Tennessee. We have all the right equipment to handle commercial landscape and lawn maintenance projects. Our client base includes hotels, motels, business complexes, retail shopping centers, hospitals, schools, apartments, condominiums and other commercial accounts.
Tennessee Department of Agriculture Chartered/Licensed
Mississippi Bureau of Plant Industry licensed
Arkansas State Plant Board Licensed
Master of Business Administration
Bachelors of Science in Agronomy
Bachelors in Landscape Contracting Management
Associates of Applied Science in Landscape Management
Associates of Applied Science in Turf Grass Management
Dynascape Certified
Planet Professional Network
Landscape Industry Certified
Thank you for reading our blog. We would be honored to earn your business.