Pugh's Earthworks
Pugh's Earthworks is one of the largest landscape design, installation and maintenance firms in the Mid-South area. We are a Licensed Commercial Landscaping Company. Our clients include some of the premier office buildings, hotels, hospitals, churches and cemeteries in the cities we operate. In addition to the commercial customers we serve, we also provide landscape services for Homeowners Associations (HOAs), Condo Owners Associations (COA's) and individual residential homeowners. We are very proud to be one of the Mid-South' s leading commercial landscape installation and maintenance companies. Our company has earned this reputation because we are committed to quality, integrity, and superior service, and we deliver that for every commercial client we have.
Mark Pugh started the lawn business in 1992 in Memphis. Pugh's Earthworks has now expanded its markets to include Nashville, Tennessee and Little Rock, Arkansas. We now operate multiple trucks while still retaining the very first commercial account we ever contracted with, which is Memphis Hunt and Polo Club. They and our other clients have provided numerous testimonials about why we are the best commercial landscape and maintenance company around and how they love our customer-first attitude. From HOA common areas to office buildings and retail centers, we focus on giving our customers the best service and value. We also service hotels, motels, hospitals, schools, apartments, condominiums, and other commercial accounts.
Licensed Commercial Landscaping Company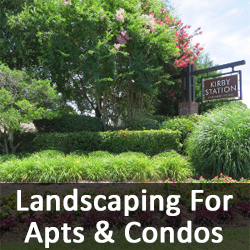 We also say we offer the best commercial landscape and maintenance service because we have over 200 employees all with certification and educational degrees in horticulture as well as years of experience. Here are some of the credentials and licenses our team holds:
Tennessee Department of Agriculture Chartered/Licensed
Mississippi Bureau of Plant Industry licensed
Arkansas State Plant Board Licensed
Master of Business Administration
Bachelor's of Science in Agronomy
Bachelor's in landscape Contracting Management
Associates of Applied Science in Landscape Management
Associates of Applied Science in Turf Grass Management
Dynascape Certified
Planet Professional Network
Landscape Industry Certified
Our mission statement shows our commitment to our customers: We strive in all we do, to achieve total customer satisfaction. Our team works to not only meet, but exceed, the expectations of those we serve. We are flexible in our services with free quotes and monthly programs that deliver the best value across Memphis, Nashville, Jackson, Southaven and Little Rock.
Contact us today to see how we can help improve your commercial landscape!
Pugh's Earthworks offers premier Commercial Landscaping Services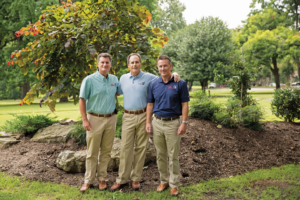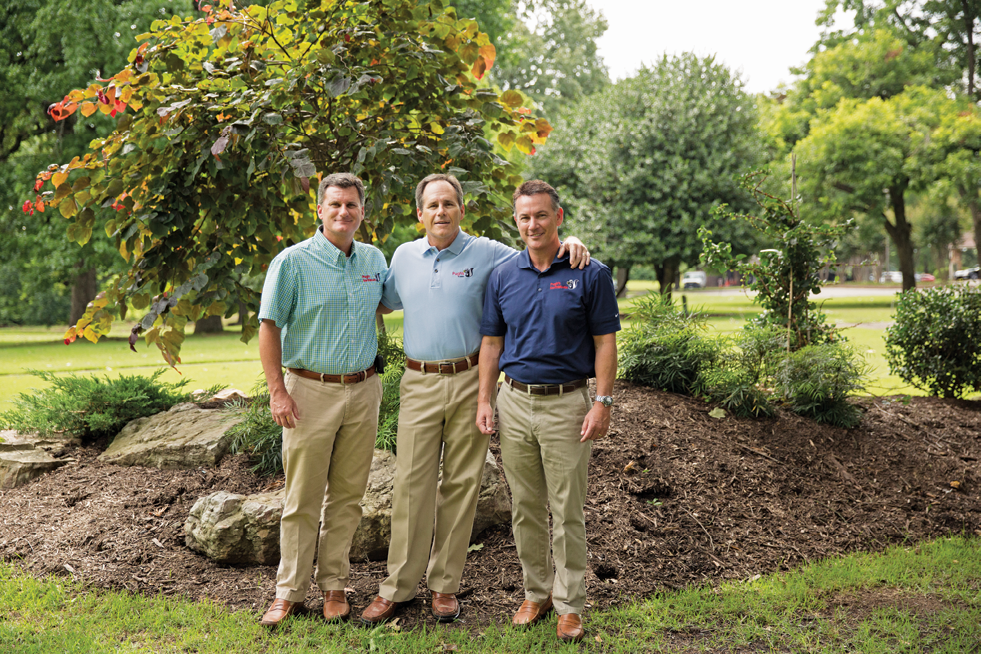 We are a family owned and operated landscape and lawn maintenance firm. Our company takes immense pride in the work we do. Pugh's Earthworks has big company size and strength, but we focus on maintaining our small company values. We guarantee the work we perform and our attention to detail is second to none. Our best source of new clients has always been via recommendations from current and previous clients. Take a look at the customer testimonials we have received. This sense of pride and accomplishment runs very deep within our company. With every employee our customers encounter they will know that we are there for them.
Act of Kindness. So much of the time we only complain, but today I want to let you know of an extreme act of kindness expressed to me. I was blowing the leaves off my carport and off my driveway when all of a sudden 8 young men with blowers came over and they blew the leaves off my entire front yard and added them to the ones they were cleaning up. It took them less than 5 minutes, but I will remember this for the rest of my life. We are elderly & my husband is a disabled veteran so I am sure you can tell how much this helped me. Kudos to Pugh's for hiring such compassionate & hard-working young men!"
P. Harper
Greenbrook
Pugh's Earthworks
Headquarters
Phone: (866) 207-4734
Email: info@pughsearthworks.com