Pugh's Earthworks
Pugh's Earthworks is a trusted and top-rated Mid-South Commercial Landscaping Company. We provide year-round service and a complete program for every aspect of Commercial Landscaping. Now is the time to start Fall Commercial Landscaping Service so that your property will look sharp and be healthy throughout the winter. Pugh's Earthworks has been providing commercial landscaping services since 1992. We specialize is landscape and lawn maintenance for commercial customers. Currently we serve more than 300 commercial clients. Our firm is one of the largest landscape and lawn maintenance firms in Memphis. We also operate similar operations in Nashville TN, Southaven MS, Jackson TN and Little Rock AR. Our award-winning team services apartments, condominiums, shopping centers, office buildings and complexes, cemeteries, hospitals, hotels and motels and other commercial facilities.
The majority of our clients have opted into a comprehensive landscape and lawn maintenance program with a trusted Commercial Landscaping Company. Our programs can be tailored to meet the specific and unique needs to each property. They are affordable and ensure that the appearance of your property will always be fresh and beautiful. Preparing your commercial lawn and surrounding areas for winter, including flower beds, trees, and shrubs, is a critical strategy for maintaining beautiful landscapes throughout the year. And there is a lot to get done in the fall season to prepare for that.
Pugh's Earthworks Commercial Landscaping Company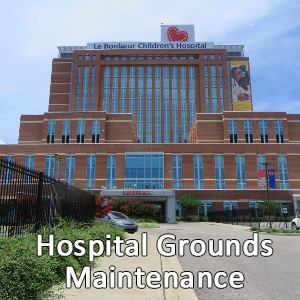 Plants and seedlings need to be mulched while lawns need to be cleared of all the falling leaves. Plus, with winds and the start of rain, there is debris that should be removed plus trees and shrubs have to be pruned to get rid of any dead wood. This is also the time to winterize your commercial irrigation system to protect it from the cold elements.
Here are some of the things you'll need to do to keep your commercial lawn and surroundings looking beautiful throughout the season and into winter:
Deadhead flowering plants because this will help keep them healthy.
Remove all weeds and debris in the area regularly. This may be something that has to be done more frequently until the trees have shed all their leaves. Debris that also needs to be cleared includes branches and other items that get blown around during this season.
Prune plants to create a tidy landscape and sense of order to your commercial surroundings. This also keeps the plants healthy, so they are ready to re-grow in the spring season.
Pull all weeds that tend to make your landscape look messy and block your flowers and ornamental plants from putting on a spectacular display.
Regularly check for insect damage so that no infestations get out of control.
Edge and trim grass areas and mow at a height that keeps it all looking consistent. This regular mowing throughout the fall season will also help strengthen the roots and provide a way for new growth in the spring.
Taking care of commercial lawn and surroundings requires a lot of time, which you may not have. Yet, you want your office building, apartment complex, or other commercial structure to look pleasing to the eye as well as neat and tidy. After all, it reflects on your business and impacts those that visit or use these commercial areas on a daily basis.
Pugh's Earthworks offers Landscaping & Lawn Maintenance for Institutional Clients
This broad sector of properties includes churches, hospitals, country clubs, colleges and government branches. Of the many Memphis commercial properties, we have been proud to service for a decade or more, a large number of them are institutional facilities.
The key to our longevity: developing strong relationships, evolving with our clients' changing needs and helping them to continue to grow the value of the commercial properties they own, manage and occupy. We provide landscape design and installation services, commercial landscape maintenance services and water management services for these institutional facilities to ensure they're running at peak performance at all times.
Pugh's Earthworks is a large landscape and lawn maintenance firm. We own and operate 5 landscape offices, located in Tennessee, Mississippi and Arkansas. Our firm has the precise equipment and personnel needed to deliver professional grounds maintenance services for all types of commercial customers. If you are seeking a professional firm to handle a landscape of lawn maintenance project, we encourage you to give us a call.  We offer year-round maintenance of all grounds, done by professionals who have been working on commercial properties for years and use great care and attention to detail. Pest Control, inside and out, can also be handled by Pugh's Earthworks for hassle free property management.
Pugh's Earthworks
Headquarters
Phone: (866) 207-4734
Email: info@pughsearthworks.com