Pugh's Earthworks Serves Memphis, Nashville, Jackson TN, Little Rock, Arkansas and Southaven, Mississippi
Pugh's Earthworks is a trusted and well known Mid-South Commercial Landscaping Company. Started by Mark Pugh in 1992 in Memphis, the company has grown into one of the largest landscape design, installation and maintenance firms in the Mid South area. We  operate 60 trucks while still retaining the very first commercial account we ever contracted with, which is Memphis Hunt and Polo Club. They and our other clients have provided numerous testimonials about why we are the best commercial landscape and maintenance company around and how they love our customer-first attitude.
Pugh's Earthworks has now expanded its markets to include Nashville, Tennessee, Jackson, Tennessee, Little Rock, Arkansas and Southaven, MS. Our clients include some of the premier office buildings, hotels, hospitals, churches and cemeteries in the cities we operate. In addition to the commercial customers we serve, we also provide landscape services for Home Owners Associations (HOAs), Condo Owners Associations (COA's) and individual residential homeowners.
Pugh's Earthworks
Offering the Best Commercial Landscape and Maintenance Services
We are proud to be one of the Mid-South's leading commercial landscape installation and maintenance companies. Our company has earned this reputation because we are committed to quality, integrity, and superior service, and we deliver that for every commercial client we have.
From HOA common areas to office buildings and retail centers, we focus on giving our customers the best service and value. We also service hotels, motels, hospitals, schools, apartments, condominiums, and other commercial accounts.
We also say we offer the best commercial landscape and maintenance service because we have over 200 employees all with certification and educational degrees in horticulture as well as years of experience. Here are some of the credentials and licenses our team holds:
Tennessee Department of Agriculture Chartered/Licensed
Mississippi Bureau of Plant Industry licensed
Arkansas State Plant Board Licensed
Master of Business Administration
Bachelors of Science in Agronomy
Bachelors in Landscape Contracting Management
Associates of Applied Science in Landscape Management
Associates of Applied Science in Turf Grass Management
Dynascape Certified
Planet Professional Network
Landscape Industry Certified
Our mission statement shows our commitment to our customers: We strive in all we do, to achieve total customer satisfaction. Our team works to not only meet, but exceed, the expectations of those we serve.
We are flexible in our services with free quotes and monthly programs that deliver the best value across Memphis, Nashville, Jackson, Southaven and Little Rock.
Contact Pugh's Earthworks  today to see how we can help improve your commercial landscape!
Pugh's Earthworks Mid-South Commercial Landscaping Company
Pugh's Earthworks exhibits a great amount of pride in the work we do. This starts with the top management and rolls down to every level of the company's staff. The great compliments we have received from our many satisfied customers is the best score card we can ever receive.  Thought we would share just a few of the client testimonials that we have received over the past few years. Hopefully you will decide to give us a try. If you do, we guarantee that we will exceed your expectations.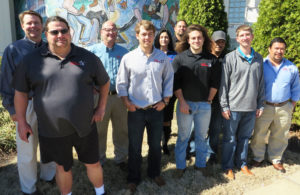 We back all of the work we do with our 100% customer satisfaction guarantee. If you are searching for a great landscape and lawn maintenance firm, we encourage you to give us a call. We offer FREE project estimates.
Customer Testimonial
"You and I have known one another for at least of couple of years now and I constantly remind you of how Pugh's Earthworks continues to amaze both Corporate and myself with your professional approach, attention to detail, follow up and follow through in all that you do.
"As you know, our main corporate campus consists of over seven acres of landscaped property housing over 3700 employees. Since this is a testimonial of Pugh's Earthworks' astounding performance regarding, not only landscape installations, but the regular maintenance of the ground, I must say Pugh's Earthworks definitely has raised the 'bar' for this market.
"In November of 2004 Alltel was required to accept a minimum of five bids for our three facilities, with specific instructions to service all three of our campuses 'outside of regular business hours' and on the weekend in order that employee vehicles would not be possibly damaged from flying debris while servicing our landscape.
Alltel actually received nine bids to service our property, all from prospective vendors recognized as 'reputable' in this market. Not one could or would service our sites on the weekend, without exorbitant cost increases for services rendered…. Pugh's Earthworks never questioned our parameters, and delivered without hesitation or compromise.
"Since the inception of our contract (9/15/05) Pugh's has delivered with astonishing results…. This letter, very simply, is a proclamation of a job done well and Alltel continues to relish in your professional approach in all that you do!
"Thank you Pugh's Earthworks for representation and implementation beyond reproach!"
Monte Chrestman, Building Services Supervisor
Alltel Corporation, Little Rock AR
Pugh's Earthworks Trusted Mid-South Commercial Landscaping Company
Contact us today to find out what we can do for your commercial landscape!
Headquarters
Phone: (866) 207-4734