Pugh's Earthworks
Big Company Strength and Small Company Values!
Pugh's Earthworks was originally started by Mark Pugh. Our firm has been in business since 1992. Over the past 25 years, we have grown rapidly. In all that time and throughout all that growth, we have remained true to our motto, Big Company Strength, Small Company Values! Regardless of the size of the client we are working for, our staff will deliver the best possible service, while treating each client with the utmost of respect. In a word, "We Love Our Customers" and "We Appreciate The Opportunity To Serve."
We are now one of the Mid South' s leading commercial landscape installation and maintenance companies. Pugh's Earthworks provides the highest quality landscaping services available. We are Memphis landscape maintenance experts. Our team is committed to acting with the utmost of integrity with our business operations and for clients and the communities we serve. Every job we do is backed by our 100% customer satisfaction guarantee.
Pugh's Earthworks provides amazing landscape design and maintenance for cemeteries!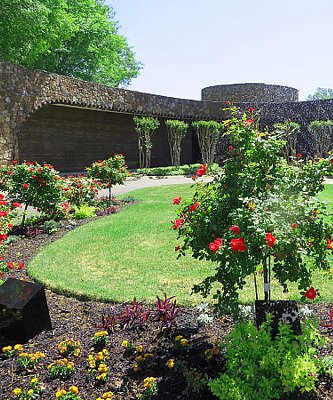 Pugh's Earthworks Landscaping
Cemetery Landscaping
There is much to consider when designing and maintaining the landscape of a cemetery. Attention to detail is paramount. Typically the best designs deliver a flowing landscape. Consideration of plant and tree types is important. For example tree size and trees that do not bear fruit or nuts are all factors to consider. Then there is the careful examination of the soil and climate of the region to factor in.
Often man made ponds are added to the cemetery landscape to add an element of peace and serenity.  Some options of trees are the birch tree, the weeping willow and the sugar maple. These varieties of trees offer a peaceful look and they attract local bird species and other wildlife.
The professional and certified landscape technicians work closely with the infrastructure development team for a cemetery. There are numerous things to consider as the cemetery is being built such as proper installation of drainage piping, water supply piping, sewer piping and storm drainage. This calls for a skilled landscape design crew like Pugh's Earthworks so that the plants, trees and walk ways are aligned with the overall cemetery design.
When you consider the permanence of a cemetery as a community addition, the careful planning and coordination by the architects and landscape technicians is critical. Often city planners take input from the community members so that final product is one that leaves the community with a proud addition to its overall appearance. The selection process of a building company and landscape company is normally done through a bidding and presentation process.
Pugh's Earthworks offers landscaping, lawn maintenance and grounds maintenance services for cemeteries and funeral homes. Some of the largest and best-managed cemeteries in the mid-south have hired Pugh's Earthworks. Our staff has the expertise and skill to professionally service these facilities.
We own and operate 5 landscape offices, located in Tennessee, Mississippi and Arkansas. Our firm has the precise equipment and personnel needed to deliver professional grounds maintenance services for all types of commercial customers. If you are seeking a professional firm to handle a landscape of lawn maintenance project, we encourage you to give us a call. We do offer FREE consultations and provide price estimates upon request.
Our company offers year-round maintenance of all grounds is done by professionals who have been working in cemeteries for years and use great care and attention to detail. Pest Control, inside and out, can also be handled by Pugh's Earthworks for hassle free property management. Pugh's Earthworks has more than 20 years experience in the landscaping and lawn maintenance business.
Having started as a very small operation, with a hand full of employees and a few pieces of equipment, Pugh's Earthworks has evolved into the operation of  five landscape offices, spread throughout Tennessee, Mississippi and Arkansas. We specialize in commercial landscaping and lawn maintenance for cemeteries and offer affordable, effective monthly grounds maintenance programs.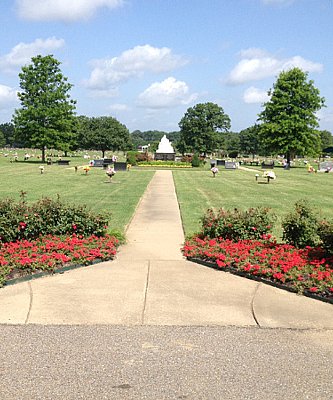 Pugh's Earthworks Maintained Cemetery
Pugh's Earthworks
Credentials/Affiliations/Degrees, Certifications
The Pugh's Earthworks team has all the proper credentials, degrees and certifications necessary to deliver top quality landscape and lawn maintenance design, installation and maintenance services. Our team is experienced, highly skilled. The all operate with a customer first attitude.
We have all the right equipment to handle commercial landscape and lawn maintenance projects. Our client base includes hotels, motels, business complexes, retail shopping centers, hospitals, schools, apartments, condominiums and other commercial accounts.
Tennessee Department of Agriculture Chartered/Licensed
Mississippi Bureau of Plant Industry licensed
Arkansas State Plant Board Licensed
Master of Business Administration
Bachelors of Science in Agronomy
Bachelors in Landscape Contracting Management
Associates of Applied Science in Landscape Management
Associates of Applied Science in Turf Grass Management
Dynascape Certified
Planet Professional Network
Landscape Industry Certified
Thank you for reading our blog. We hope you serve you for all of your landscaping needs!