Pugh's Earthworks
Big Company Strength and Small Company Values!
Pugh's Earthworks was originally started by Mark Pugh. Our firm has been in business since 1992. Over the past 25 years, we have grown rapidly. In all that time and throughout all that growth, we have remained true to our motto, Big Company Strength, Small Company Values! Regardless of the size of the client we are working for, our staff will deliver the best possible service, while treating each client with the utmost of respect. In a word, "We Love Our Customers" and "We Appreciate The Opportunity To Serve."
We are now one of the Mid South' s leading commercial landscape installation and maintenance companies. Pugh's Earthworks provides the highest quality landscaping services available. We are Memphis landscape maintenance experts. Our team is committed to acting with the utmost of integrity with our business operations and for clients and the communities we serve. Every job we do is backed by our 100% customer satisfaction guarantee.
Pugh's Earthworks has the experience to start preparation for your fall grass and landscape!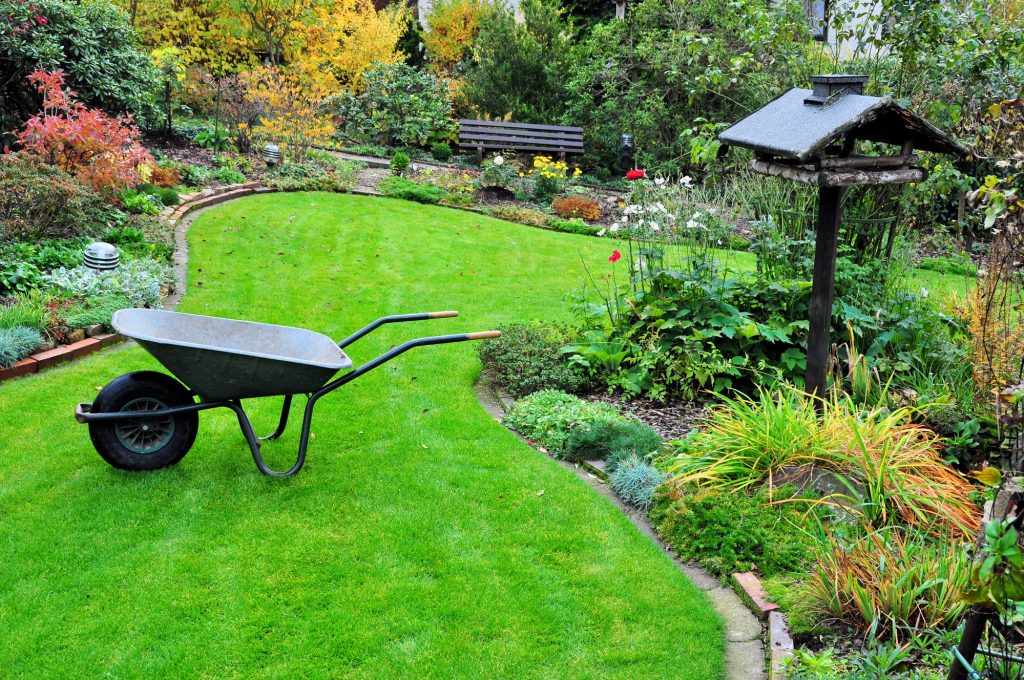 Autumn Garden
Fall Grasses and Landscaping Preparation
Soon the weather will be cooling down and fall be here. Our certified landscape technicians can help you start preparations to keep your fall grass and landscape in healthy condition. Some helpful tips are below.
Cool-season grasses –  These grasses should be fertilized primarily in late Summer and Fall (September and October). Nutrients applied at this time encourage root growth and turf thickening. Fall applications also result in early spring green-up without causing excessive leafy top growth. Given proper fall fertilization, spring applications may not be required. High rates of nitrogen (more than 1 pound per 1,000 square feet) in the spring will stimulate unnecessary flushes of leaf growth and may predispose the lawn to greater summer damage. No more than one spring fertilization should occur. This can be in late Match or early April with a weed-and-feed treatment for crabgrass or in May with a slow-release nitrogen source.
Keep mowing – Grass continues to grow until the first freeze or frost at which time it in then goes dormant for the winter. For that reason you should continue to mow until it stops growing.
Water –  So the cooler temperatures create less water evaporation. This means you need to be using a more reserved amount of water. A good rule of thumb is to supplement watering the yard so that it is getting one inch of water per week.
Frequent Raking – Soon leaves with be falling. It is important to rake the leaves and remove them from the grass. They can block out the sunlight and if left on the lawn for too long can lead to fungal diseases.
Aeration –  This is not always a top of mind procedure however it is one that is very beneficial to your lawn. The summer heat drys out the soil and it typically gets very compacted. When you do professional Aeration, this process breaks up the soil again and makes it more able to absorb water and important nutrients. The professionals at Pugh's Earthworks have the proper machinery and expertise to perform this process.
Seed bare spots – Unfortunately the dry hot summer can lead to burned out patches in your lawn. Pugh's Earthworks can use the proper equipment to power seed those spots ensuring proper germination of the right type of grass. Hand seeding is not always successful and can be a waste of time and money.
Pest Control – Fall is a time when lawn insects like grub worms begin their winter dining on the roots of your grass. The licensed technicians at Pugh's Earthworks will know the proper pesticides to apply to address any insect problem that you may have.
Now is the time to reach out to Pugh's Earthworks to ensure that your property's lawn and landscape stay healthy and beautiful over the winter months!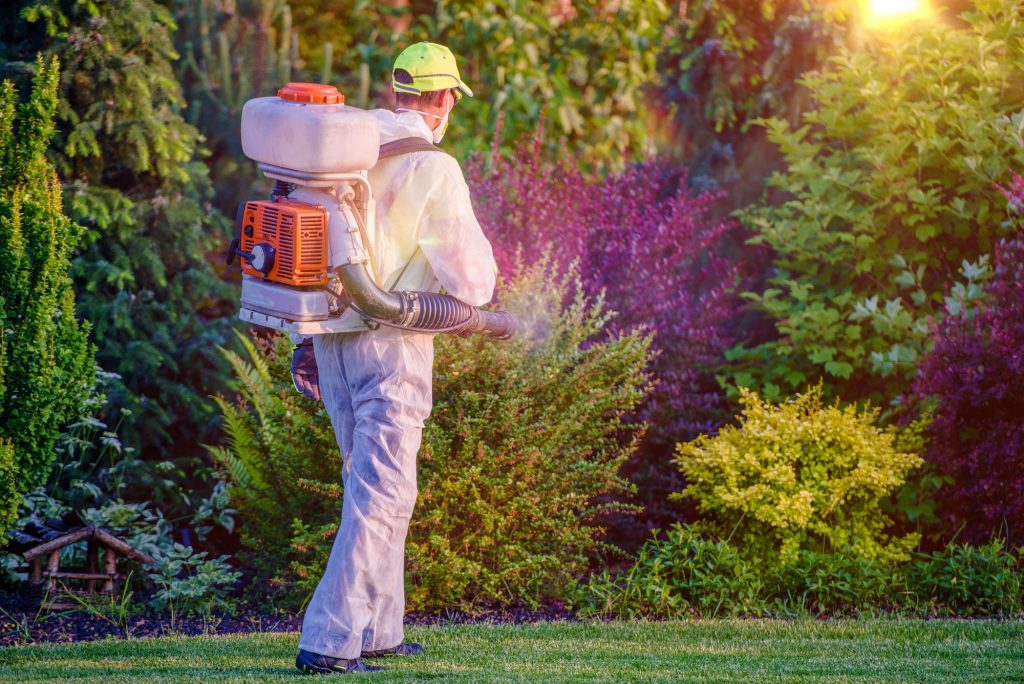 Lawn and Shrub Pest Control
Pugh's Earthworks Testimonial
"As you know, Mid-America Apartment Communities (MAC) directs a great deal of attention to the curb appeal and continued improvement of the landscaping on our properties. The success of these financial investments will only be fully appreciated with qualified and concerned service providers like you on the properties.
Our residents and third party organizations apparently think the same, because we have consistently won awards in this area. Nevertheless, we know that this could never occur without companies like yours continuing to improve the properties each week. The performance at River Trace, Gleneagles, Kirby Station, and Hickory Farm were some of the strongest in our company in 2001. In particular, River Trace had the highest scores (93% average) in the Central Region in the months of Jan-Dec 2001 was a year of growth for your company in MAC as you added Hickory Farm to your portfolio as well as several key leaders to you organization. 2002 places another set of challenges out in front of your company. We're confident that Pugh's Earthworks will rise to the challenge and beat last year's performance.
We would like to honor you, and your company, with the 2001 Landscape Vendor of the Year Award for the Central Region. We feel that your company has consistently gone beyond what was expected, further justifying Pugh's Earthworks as the best in 2001 for Mid-America. Congratulations and we thank you for this commitment!"
Bob Weaver, Regional Landscape Director – Central Region
Mid-America Apartment Communities, Memphis TN
Thank you for reading our blog!