Pugh's Earthworks Services Large Cemeteries in the Mid-South
There are an estimated 108 cemeteries in Memphis TN. Pugh's Earthworks is a Preferred and Trusted Commercial Landscaping Company in the Memphis market. Landscaping and Lawn Maintenance for Cemeteries is a very unique practice and requires additional training and skill. In order to design a functional and appealing cemetery, the design steps used in traditional Commercial Property Landscape Design, are quite different.
Pugh's Earthworks offers landscaping, lawn maintenance and grounds maintenance services for cemeteries and funeral homes. Some of the largest and best-managed cemeteries in the mid-south have hired Pugh's Earthworks. Our staff has the expertise and skill to professionally service these facilities.
The process begins with members of the Pugh's Earthwork's Design Team meeting with the property owners. Clearly this is a critical step. Issues regarding proper land utilization and how to ensure long term functionality are discussed.
As Cemetaries are places to visit loved ones, they need to be a place of serenity and calm. The Pugh's Earthworks team will work with the owners regarding the proper landscape and colors to be used for benches and fountains. Typically, colors that are more neutral are chosen. People generally do not prefer loud and bright colors.
Next there are numerous decisions to be agreed upon when it comes to plants, trees, hardscapes, softscapes and fences. Again, as a Cemetery is a place of reflection, much consideration must be given to the trees and plants that are native to the region. Then deciding on walkways, fountains, lighting and flower beds comes into play. The professionals at Pugh's Earthworks take every step in this joint partnership with the owners very seriously. In the end, our team delivers every time and exceeds expectations.
Signage is an important issue. Cemeteries especially large ones can be a maze to navigate. Without navigation signs, patrons can become frustrated. Of course, there are signs for multiple purposes like Directional, Information or even Temporary. Regardless of their purpose, each sign must be created to flow with the aesthetics of the Cemetery environment.
Pugh's Earthworks also has the expertise to properly establish drainage systems to keep the Cemetery Landscape healthy, functional and beautiful. In addition, our team will also work closely with the owners regarding the expected grave capacity of the property. This is a critical design component.
In modern times and in more populated parts of the world, land space has become a serious problem. Such things as Skyscraper Cemeteries that can house Urns of loved ones and Stacking of Coffins or burial in a vertical verses horizonal method are now being used. Land is a shrinking commodity.
To summarize, the Professionals at Pugh's Earthworks are the folks to call if you are needing a Cemetery Design and ongoing Landscape Maintenance.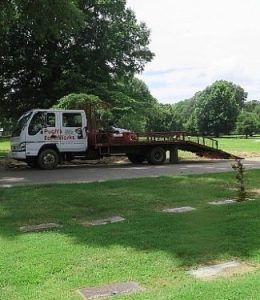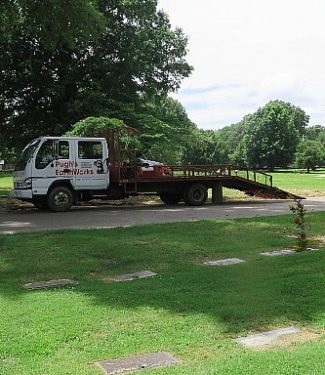 Pugh's Earthworks is a large landscape and lawn maintenance firm. We own and operate 5 landscape offices, located in Tennessee, Mississippi and Arkansas. Our firm has the precise equipment and personnel needed to deliver professional grounds maintenance services for all types of commercial customers. If you are seeking a professional firm to handle the landscape of a lawn maintenance project, we encourage you to give us a call. We do offer FREE consultations and provide price estimates upon request.
We offer year-round maintenance of all grounds by professionals who have been working with cemeteries for years and use great care and attention to detail. Pest Control, inside and out, can also be handled by Pugh's Earthworks for hassle-free property management.
Another thing that sets Pugh's Earthworks apart from competition is the commitment to customer satisfaction. When a Commercial Property owner makes the smart decision to sign up with Pugh's, they have made a great choice. From the very beginning of the relationship as the Pugh's team gets to know each new client and their dreams for their property, Pugh's Earthworks is on a mission to grant complete satisfaction.
Pugh's Earthworks offers an excellent quality assurance program. We are licensed and insured and stand behind all of the work that we perform with our quality assurance guarantee.
Management guarantees that ongoing support of this goal. We must never lose sight that customer satisfaction is a direct measure of our performance.
Working together as a team, making use of all our talents and expertise, we will accomplish our objective.
Pugh's Earthworks Landscaping and Lawn Maintenance for Cemeteries
Contact us today to find out what we can do for your commercial landscape!
Headquarters
Phone: (866) 207-4734