Pugh's Earthworks
Pugh's Earthworks provides commercial landscape design and maintenance services throughout Tennessee, including Memphis, Jackson, and Nashville. We have five commercial landscape service operations in three states, including landscapes and service lawns and landscaping in Little Rock, Arkansas. Our monthly services include landscape design and maintenance, customized to your needs, budget, and seasonal situation.
With offices in Memphis, Nashville, Jackson TN, Little Rock and Southaven MS, Pugh's Earthworks specializes in all aspects of commercial landscaping. One of the many elements of landscaping involves the important design and building of Hardscapes. Depending on the commercial property type, Hardscapes can be crafted to stay with the architecture of that building. For example if it is a very modern structure, concrete and stone may be more appropriate. Where as an older building may call for more traditional Hardscaping created from wood.
Each phase of commercial landscaping plays a valuable role in the over all aesthetic, environmental and value of the commercial property. Hardscaping is one of those critical elements. So what are some of the important parts Hardscaping plays in the property design. Below are a few of those:
Direction and Safety – A properly designed walkway serves to direct people to stay on the path. Often there are areas where you do not want foot traffic so by creating an attractive and safe pathway, typically people will use it as opposed to walking across the grass or other Soft Scaping. In addition, a properly designed pathway can keep employees, vendors and customers from falling and injuring themselves.
Better Employee Interaction – During times of great outdoor weather, employees can enjoy some much needed change of scenery from the breakroom. A beautiful outdoor design with a nice patio, benches and tables can be a place where employees can gather for lunch. The fresh air and sunshine makes for a more comforting and interactive environment. Happier employees that enjoy working together as a team naturally leads to better productivity.
Improved Property Utilization – Properties can vary in terms of sunlight verses shade or water collection verses dryness. Hardscapes will embrace the differences and make better use of the overall property.
Increased Value – Hardscaping can add value to your commercial property by displaying creative and functional design. Commercial property owners take pride in their property and beautiful hardscapes. Pugh's Earthworks professional landscape designers create some of most amazing hardscapes in the industry.
Property Appearance – A beautifully designed hardscape will leave visitors with the impression that you have a first class operation. You do not want people to visit the property and their first impression to be that you do not invest in the overall appearance and environmental effectiveness.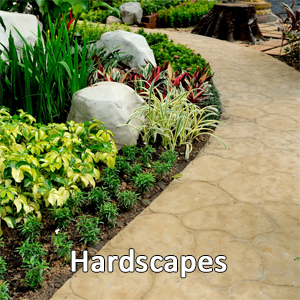 About Pugh's Earthworks
The success story of Pugh's Earthworks is special. Through the trials and challenges of running a business which was a new concept for the Pugh's brothers, these three close brothers found a way to make it work. Today they run a premier landscaping company with five offices in three states. Their success captured the attention of Lawn and Landscape Magazine which is the leading B2B publication serving the $70 Billion landscaping and lawn care industry.
When Bill Pugh died in 1987, Mark, president and owner, was only 16, Tim, vice president and owner was 19 and Michael, chief financial officer was 22. The older Pugh's helped deliver flowers for years. But Mark's busy sports schedule didn't allow him to work regular hours, so he landscaped around the neighborhood.
They had no idea they would  end up owning their father's business, spinning off several companies or expanding throughout the region.
"I actually took a leave of absence from my job for a few months to help dad's partner with some of dad's responsibilities because I thought we were going to sell the business," says Michael, who was managing a sporting goods store at the time. Instead, with their mom's help, Tim, bought out their father's business partner to keep the flower shops in the family.
"One day my brother is driving a delivery van, the next day he is the owner of the company," Michael says. "The employees were twice our age; they had known us since we were 10 or 12, and now we are their bosses.
Read more here: http://magazine.lawnandlandscape.com/article/august-2017/brotherly-love.aspx
The ownership and management team of Pugh's Earthworks is committed to providing the "best in breed" of landscape design and maintenance.  They focus on every aspect of delivery from employee training, equipment upkeep and follow through on all jobs.
Because of this strong commitment to excellence, Pugh's Earthworks is confident to offer an excellent quality assurance program. Our company is licensed and insured and we whole heartedly stand behind all of the work that we perform by offering our quality assurance guarantee.
Quality is everyone's responsibility.
Quality is conformance to the customer's requirements.
We believe every job can be improved.
Every idea is treated with the utmost respect.
We realize that improvement must be an on-the-job process.
QUALITY POLICY
It is the goal of Pugh's Earthworks to provide our customers, both internal and external, with services, which meet or exceed their expectations.
We recognize that one of the most important assets we possess, enabling us to achieve this goal, is our professional staff. We strongly encourage all of our people to take the pride of ownership in all the work they do.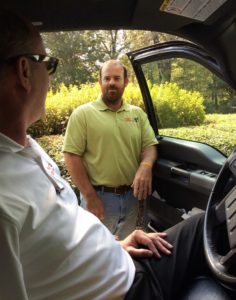 Contact Us
We operate 5 landscape centers, in 3 states. 
Our headquarters is in Memphis, Tennessee. We also operate landscape offices in Nashville, Jackson TN, Southaven MS and Little Rock AR. Our firm provides monthly grounds maintenance services for commercial clients. If you are seeking assistance with Landscaping or Lawn Maintenance services, please give us a call or send us a message via the contact form below. We do offer FREE Estimates. 
Headquarters
Phone: (866) 207-4734
Email: info@pughsearthworks.com