Pugh's Earthworks is a Mid-South Premiere Commercial Landscaping Company
We are just about done with our last days of freezing temperatures. Spring is near and in fact most of the USA will be Springing Forward this weekend for Daylights Savings Time. Fresh plant growth and watching things turn green again is so enjoyable. This is also the time of year when Commercial Property Owners start to consider their landscape design for the upcoming summer season. One very import facet of landscape care is Spring Lawn Fertilization. Now is the time to recruit the experts at Pugh's Earthworks!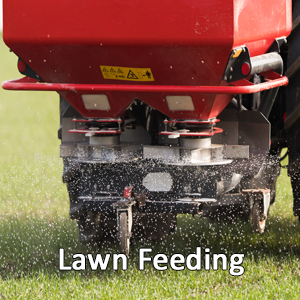 Absent the use of a professional Landscaping Company, below are all of the items a Commercial Property Owner would need to consider for proper Fertilization. It is much more effective to call in the professionals.
Lawns need fertilizer during the early spring when the grass begins to green up. Feeding the lawn, shrubs, flowers, and other aspects of your landscape promote growth while also strengthening the roots so the temperature changes aren't an issue.
There are several ways to apply lawn fertilizer during the spring season. A spreader ensures more even coverage than fertilizing by hand. Also, hand fertilizing may result in burns where the fertilizer is concentrated and pale areas that don't get as much fertilizer as they should.
Try a broadcast or rotary spreader because they are easy to use and do not cause striping like a drop spreader. However, a drop spreader ensures that there is no chance of overthrow causing fertilizer to land on streets, sidewalks, or driveways. At the same time, a drop spreader requires two trips over the lawn at right angles.
Apply the fertilizer and then thoroughly water the lawn. This rinses the fertilizer off the grass blades so they will not burn and lets the fertilizer sink into the soil to do its job. Keep people and pets off the lawn for 24 to 48 hours.
There are different types of fertilizer that can be used. Slow release doesn't have to be used as often, but these are more expensive. Fast-release offers quick results, but you have to apply it in smaller amounts and more often. Your risk of burning your lawn increases. Weed and feed is another fertilizer option.
You will need to be careful around trees, shrubs, and garden plants. You can use organic materials like compost and manure, but you will have to use a lot  Also, horse manure may contain weed seeds. Liquid fertilizers aren't recommended because they are difficult to apply evenly and require frequent applications.
Be sure to water the lawn a few days before you plan to fertilize. When you do apply the fertilizer, make sure the grass blades are completely dry to avoid burns.
If you would like help with fertilizing and maintaining your commercial landscape, contact us now to find out how a monthly plan can ensure you enjoy a beautiful commercial landscape throughout the year that welcomes your visitors.
Pugh's Earthworks Spring Lawn Fertilization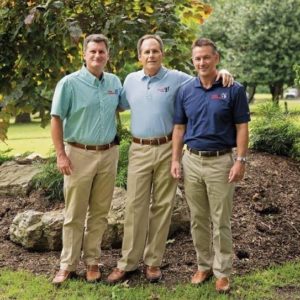 Pugh's Earthworks is a leading commercial landscape installation and maintenance company. We are considered a Midsouth company as the markets we serve are Memphis, Nashville, Littlerock, Jackson and Southaven. . Our company provides the very highest quality landscaping services available. We are home based in Memphis and considered to be the landscape maintenance experts. Our team is committed to acting with the utmost of integrity with our business operations and for clients and the communities we serve. Every job we do is backed by our 100% customer satisfaction guarantee.
We are one of the largest landscape design, installation and maintenance firms in the Mid South area. Our clients include some of the premier office buildings, hotels, hospitals, churches and cemeteries in the cities we operate. In addition to the commercial customers we serve, we also provide landscape services for Home Owners Associations, Condo Owners Associations and individual residential home owners as well. Our staff has years of experience and can handle projects of any size.
Pugh's Earthworks was originally started by Mark Pugh and then joined by his brothers Tim and Michael. Our firm has been in business since 1992. Over the past 25 years, we have grown rapidly. In all that time and throughout all that growth, we have remained true to our motto, Big Company Strength, Small Company Values! Regardless of the size of the client we are working for, our staff will deliver the best possible service, while treating each client with the utmost of respect. In a word, "We Love Our Customers" and "We Appreciate The Opportunity To Serve."
Headquarters for Pugh's Earthworks is located in Memphis, Tennessee. We also operate landscape offices in Nashville, Jackson TN, Southaven MS and Little Rock AR. Our firm provides monthly grounds maintenance services for commercial clients. If you are seeking assistance with Landscaping or Lawn Maintenance services, please give us a call or send us a message via the contact form below. We do offer FREE Estimates. 
Also, we offer commercial landscape maintenance services for mowing, trimming, fertilizing, and irrigating your landscape. Additionally, we have a pest control service to ensure no pests ruin that beautiful commercial landscape design.
Contact us today to find out what we can do for your commercial landscape!
Headquarters
Phone: (866) 207-4734
Email: info@pughsearthworks.com