Pugh's Earthworks
Often the effects of a long summer can take a severe toll on lawns. In these instances, sod application may be the best solution to help restore the landscape. The professionals at Pugh's Earthworks know when sodding is the most advantageous corrective measure for commercial property lawns.
Some of the clear and obvious benefits to sod is that it provides for an immediate lawn! Though there are arguments for sod application in the spring verses the fall, below are some things to consider when sodding appears to be the right solution.
Sod can burn easily under the scorching Summer Sun which is near by if sod is laid in the Spring. By applying sod in the Fall the temperatures are cooler allowing the root system to develop over the Fall, Winter and Spring months.
Sod will not require as much water to survive if applying in the Fall. The reason is because the grass is beginning the dormancy cycle and the roots will not require as much water.
When it comes to the actual laying of the sod, it is always best to use the services of a professional landscaping company like Pugh's Earthworks. Our experts will know the proper amount of compost and fertilizer to mix with the soil. This is very important for the sod to take hold and get off to a great start.
During the first few weeks, the Pugh's Earthworks certified technicians watch over the new sod. Proper amounts of water must be applied if the Fall season is dry and absent normal rain fall.
Taking root is the ultimate goal for the new sod. The landscape technicians will be viewing sections of the sod to make sure new root growth is starting.
Purchasing sod and having it installed is expensive. To ensure that your newly purchased sod has the best chance of success, hire the professionals at Pugh's Earthworks. We have the trained staff, the proper equipment and the burning desire to make sure our clients are satisfied.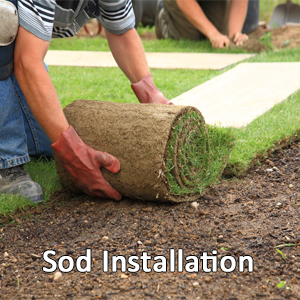 Pugh's Earthworks
Credentials/Affiliations/Degrees, Certifications
The Pugh's Earthworks team has all the proper credentials, degrees and certifications necessary to deliver top quality landscape and lawn maintenance design, installation and maintenance services. Our team is experienced, highly skilled. They all operate with a customer first attitude.
Our firm is one of the largest landscape and lawn maintenance companies in Tennessee. We have all the right equipment to handle commercial landscape and lawn maintenance projects. Our client base includes hotels, motels, business complexes, retail shopping centers, hospitals, schools, apartments, condominiums and other commercial accounts.
Tennessee Department of Agriculture Chartered/Licensed
Mississippi Bureau of Plant Industry licensed
Arkansas State Plant Board Licensed
Master of Business Administration
Bachelors of Science in Agronomy
Bachelors in Landscape Contracting Management
Associates of Applied Science in Landscape Management
Associates of Applied Science in Turf Grass Management
Dynascape Certified
Planet Professional Network
Landscape Industry Certified
We offer an excellent quality assurance program.  This is because we are licensed and insured and stand behind all of the work that we perform with our quality assurance guarantee.
Quality is everyone's responsibility.
Quality is conformance to the customer's requirements.
We believe every job can be improved.
Every idea is treated with the utmost respect.
We realize that improvement must be an on-the-job process.
QUALITY POLICY
It is the goal of Pugh's Earthworks to provide our customers, both internal and external, with services, which meet or exceed their expectations.
We recognize that one of the most important assets we possess, enabling us to achieve this goal, is our professional staff. We strongly encourage all of our people to take the pride of ownership in all the work they do.
To this end we commit ourselves to strive in all we do for total customer satisfaction.
TOTAL CUSTOMER SATISFACTION
Management guarantees that ongoing support of these goals is our highest priority. We must never lose sight that customer satisfaction is a direct measure of our performance.
Working together as a team, making use of all our talents and expertise, we will accomplish our objective.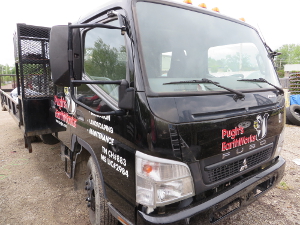 Pugh's Earthworks
We operate 5 landscape centers, in 3 states. 
Headquarters for Pugh's Earthworks is located in Memphis, Tennessee. We also operate landscape offices in Nashville, Jackson TN, Southaven MS and Little Rock AR. Our firm provides monthly grounds maintenance services for commercial clients. If you are seeking assistance with Landscaping or Lawn Maintenance services, please give us a call or send us a message via the contact form below. We do offer FREE Estimates. 
Also, we offer commercial landscape maintenance services for mowing, trimming, fertilizing, and irrigating your landscape. Additionally, we have a pest control service to ensure no pests ruin that beautiful commercial landscape design.
Contact us today to find out what we can do for your commercial landscape!
Headquarters
Phone: (866) 207-4734
Email: info@pughsearthworks.com