Pugh's Earthworks
Big Company Strength and Small Company Values!
Pugh's Earthworks is one of the Mid South' s leading commercial landscape installation and maintenance companies. Pugh's Earthworks provides the highest quality landscaping services available. We are Memphis landscape maintenance experts. Our team is committed to acting with the utmost of integrity with our business operations and for clients and the communities we serve. Every job we do is backed by our 100% customer satisfaction guarantee.
We are one of the largest landscape design, installation and maintenance firms in the Mid South area. Our clients include some of the premier office buildings, hotels, hospitals, churches and cemeteries in the cities we operate. In addition to the commercial customers we serve, we also provide landscape services for Home Owners Associations, Condo Owners Associations and individual residential home owners as well. Our staff has years of experience and can handle projects of any size.
Pugh's Earthworks was originally started by Mark Pugh. Our firm has been in business since 1992. Over the past 25 years, we have grown rapidly. In all that time and throughout all that growth, we have remained true to our motto, Big Company Strength, Small Company Values! Regardless of the size of the client we are working for, our staff will deliver the best possible service, while treating each client with the utmost of respect. In a word, "We Love Our Customers" and "We Appreciate The Opportunity To Serve."
Spring is in full swing. Hire Pugh's Earthworks to get your property ready to impress this summer!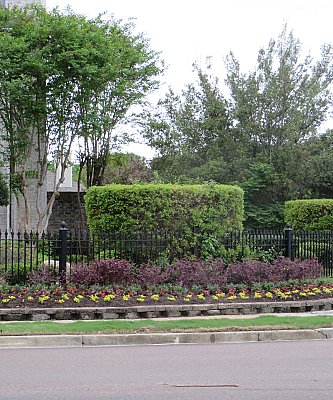 Attractively  Landscaped Gated Community
Benefits of Professional Landscaping
There is something about the gratification of a do it your self project. You can step back and behold your hard work with pride. However, sometimes unless you are a trained professional, landscaping projects can he overwhelming and the results disappointing. Pugh's Earthworks employs some of most skilled professionals in the industry. So let's take a look at some of the benefits you get when you hire a professional for your property.
Professionals are able to easily assess site issues. Many times what lies below the surface like complex root systems, pipes, rocks and cables are not visible to the untrained eye.
Professionals can come up with design ideas that will add beautify and equally important, add property value.
You will have a defined budget. Often with do it your self projects the expenses continue to mount.
With a professional landscaper you will have an agreed upon time frame for completion.
Professionals are experienced in dealing with any unforeseen set backs in the project.
You will receive surprise benefits not just in terms of property appearance but also financial.
Professionals are trained environmentalists and will keep the ecosystem in mind at all times.
The professional landscapers at Pugh's Earthworks embody all of these skills and will make your property elegant and environmentally friendly!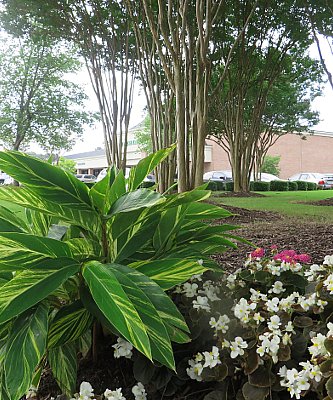 Elegantly Landscaped Retail Center
Pugh's Earthworks provides commercial landscape and maintenance services throughout Tennessee, including Memphis, Jackson, and Nashville. We have five commercial landscape service operations in three states, including landscapes and service lawns and landscaping in Little Rock, Arkansas. Our monthly services include landscape design and maintenance, customized to your needs, budget, and seasonal situation.
Now that winter is ending, it's time to think about planting for the spring time and adding more color and interest to your landscape. Shrubs are an ideal item to add because they add texture, depth, and scope to your landscape. They can be natural dividers, too, to create different sections to your commercial landscape or residential yard.
Start with looking at the type of shrub you might want to add. There are flowering and non-flowering shrubs that work well in different growing zones. As your landscape partner, we can recommend shrubs that work well for your environment, including considering how much shade or sun that area may offer.
Planting shrubs involves a specific process to make sure they can adapt and thrive where they are planted. Make the soil moist  before digging a hole for the shrub.  From there, dig a hole that is three or four times as wide as the container the shrub came in. However, the hole should be about the same size as the height of the containers.
Fill the hole with water and then let it drain out before putting the shrub in the hole you dug. Put half the soil back into the hole and pat it down. Now, add the rest of the soil and compact that lightly. Add water and mulch around the top of the soil. For the first two months after planting the shrub, water it at least once a week if it hasn't rained.
If this sounds like more work than you think you can do or you would prefer a professional to plant and manage your shrubs and landscape, then please contact us. We would love to work with you and design and maintain your commercial or residential landscape.
Thank you for reading our blog. We hope to have the opportunity to serve you!