Pugh's Earthworks
Big Company Strength and Small Company Values!
Pugh's Earthworks was originally started by Mark Pugh. Our firm has been in business since 1992. Over the past 25 years, we have grown rapidly. In all that time and throughout all that growth, we have remained true to our motto, Big Company Strength, Small Company Values! Regardless of the size of the client we are working for, our staff will deliver the best possible service, while treating each client with the utmost of respect. In a word, "We Love Our Customers" and "We Appreciate The Opportunity To Serve."
We are now one of the Mid South' s leading commercial landscape installation and maintenance companies. Pugh's Earthworks provides the highest quality landscaping services available. We are Memphis landscape maintenance experts. Our team is committed to acting with the utmost of integrity with our business operations and for clients and the communities we serve. Every job we do is backed by our 100% customer satisfaction guarantee.
Our Quality Assurance Guarantee
Pugh's Earthworks offers an excellent quality assurance program. We are licensed and insured and stand behind all of the work that we perform with our quality assurance guarantee.
Quality is everyone's responsibility.
Quality is conformance to the customer's requirements.
We believe every job can be improved.
Every idea is treated with the utmost respect.
We realize that improvement must be an on-the-job process.
QUALITY POLICY
It is the goal of Pugh's Earthworks to provide our customers, both internal and external, with services, which meet or exceed their expectations.
We recognize that one of the most important assets we possess, enabling us to achieve this goal, is our professional staff. We strongly encourage all of our people to take the pride of ownership in all the work they do.
To this end we commit ourselves to strive in all we do for total customer satisfaction.
TOTAL CUSTOMER SATISFACTION
Management guarantees that ongoing support of these goals is our highest priority. We must never lose sight that customer satisfaction is a direct measure of our performance.
Working together as a team, making use of all our talents and expertise, we will accomplish our objective.
The certified professionals at Pugh's Earthworks specialize in creating beautiful Retail Shopping Centers!

Landscaping & Lawn Maintenance For Retail Shopping Centers
Landscaping and lawn maintenance for retail shopping centers has always been one of our specialties. We have numerous shopping center accounts that we provide monthly grounds maintenance support for. Retail is a really prominent sector of the Memphis real estate market. The economy in Memphis is growing, and so are the number of shopping centers in the city. We have provided the landscape design, deployment and monthly maintenance for some of Memphis' best and most innovative properties.
These properties also suffer more daily traffic and everyday "wear and tear" than most other commercial properties. Thanks to our years of experience working with these properties, Pugh's earthworks is uniquely suited to provide a range of commercial landscape maintenance services.
Our prestigious list of commercial landscape maintenance clients includes some of Memphis' top properties and property management companies. We're honored to be part of keeping Memphis beautiful!
Retail Shopping Centers generate so much traffic from people. Having a center that is well landscaped will encourage shoppers to come back. The Pugh's Earthworks team understands that and addresses all the aspects that are crucial to a first class Retail Center. Patrons have to enjoy the surroundings and want to revisit.
Some of the main elements of a well landscaped Retail Shopping Center are:
Lighting – A well designed shopping center will always have good lighting. Families and individuals that go shopping at night want to feel safe. During the design process, Pugh's will carefully scope out parking lot and walk way lighting so that is aesthetically pleasing and creates a safer environment.
Conservation – Like all businesses, Retail Shopping Centers need to bring in profit in order to stay open for business. One of the crucial landscape design steps is the planning of sprinkler systems and drainage. Proper water conservation can save the business thousands in water costs and prevent infrastructure damage during times on heavy rains.
Plants – During the hot summer months, a properly landscaped center will include shade trees. This provides shelter for people to get out of the hot sun and can also lower costs of air conditioning for the Retail Center.
Cleanliness –  Shopping centers that are cluttered with trash, dead leaves and other unnecessary debris can pose unsightly surroundings. This detraction can lead to shoppers choosing a nicer center to go to. Pugh's Earthworks maintains lovely Retail Shopping Centers for our customers.
If you are looking for a talented landscape design and maintenance firm to keep your Retail Shopping Center looking and performing its best, Pugh's Earthworks is the firm to hire.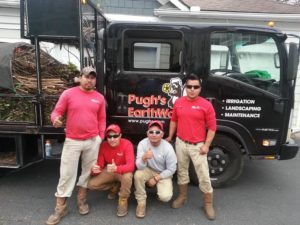 Pugh's Earthworks has all the proper credentials, degrees and certifications necessary to deliver top quality landscape and lawn maintenance design, installation and maintenance services. Our team is experienced, highly skilled. The all operate with a customer first attitude.
Our firm is one of the largest landscape and lawn maintenance companies in Tennessee. We have all the right equipment to handle commercial landscape and lawn maintenance projects. Our client base includes hotels, motels, business complexes, retail shopping centers, hospitals, schools, apartments, condominiums and other commercial accounts.
Contact Us
We operate 5 landscape centers, in 3 states. 
Our headquarters is in Memphis, Tennessee. We also operate landscape offices in Nashville, Jackson TN, Southaven MS and Little Rock AR. Our firm provides monthly grounds maintenance services for commercial clients. If you are seeking assistance with Landscaping or Lawn Maintenance services, please give us a call or send us a message via the contact form below. We do offer FREE Estimates. 
Headquarters
Phone: (866) 207-4734
Email: info@pughsearthworks.com      
Thank you for reading our blog.