Pugh's Earthworks
Big Company Strength and Small Company Values!
Pugh's Earthworks was originally started by Mark Pugh. Our firm has been in business since 1992. Over the past 25 years, we have grown rapidly. In all that time and throughout all that growth, we have remained true to our motto, Big Company Strength, Small Company Values! Regardless of the size of the client we are working for, our staff will deliver the best possible service, while treating each client with the utmost of respect. In a word, "We Love Our Customers" and "We Appreciate The Opportunity To Serve."
We are now one of the Mid South' s leading commercial landscape installation and maintenance companies. Pugh's Earthworks provides the highest quality landscaping services available. We are Memphis landscape maintenance experts. Our team is committed to acting with the utmost of integrity with our business operations and for clients and the communities we serve. Every job we do is backed by our 100% customer satisfaction guarantee.
Pugh's Earthworks utilizes the services of  Flyline Search Marketing to manage their online marketing and sales platform. The Flyline team customized the the Pugh's Earthworks website and made enhancements to floral product displays and ease of navigation.  Flyline has worked with florists throughout  the United States and produced tremendous sales growth for these florists.
Another great thing about Flyline is they bring a comprehensive approach to the table. They will help to develop lead streams while also reducing dependence on wire orders. They will manage social media, build brand recognition and enhance index information with the search engines. One of the greatest things customers have expressed about Flyline Search Marketing is their humble, dedicated and customer first approach. As the CEO Mark Lein likes to say, "we always put the customer first".
Pugh's Earthworks has the expertise to keep our commercial landscape customer's properties safe in icy conditions!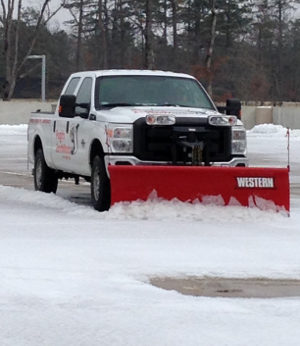 Pugh's Earthworks Snow and Ice Removal
Pugh's Earthworks
We Offer Snow & Ice Treatment
Winter brings it's own landscape challenges. In Memphis, one of those challenges is dealing with the periodic snow and ice we receive. Pugh's Earthworks offers snow and ice treatment. Our firm has years of experience and can customize a program for your firm to help keep your property safe and accessible.
Our snow and ice treatment plans include a multi-phase approach. First, we lay down a salt application, before the storm hits. Most of the time, that salt application really makes a huge difference. It helps to prevent the snow and ice from sticking to your roads. It also reduces the time period between when the snow and ice hits the roads and when that frozen participation starts to melt.
Once the snow and ice is actually on the ground, phase two of our programs kicks in. We have special trucks, equipped with snow plows. We use these trucks to help move snow, in emergency services. Pugh's Earthworks cannot move all the snow on your property, or leading to your property. What we can do is to help improve your ability to use your parking lots and the egress in and out of your facility. Our goal with clients who opt for a comprehensive landscape, lawn maintenance and Winter program is to make your campus beautiful and accessible all year long.
Affordable & Effective
Our winter snow and ice treatment program can be added to your monthly landscape and lawn maintenance program at any time. The program is effective and the cost is affordable. This service is provided through our Pugh's Earthworks landscape and lawn maintenance organization. We provide this service for numerous commercial clients we serve in, Tennessee, Mississippi and Arkansas. The service is also really helpful for our large institutional, retail and office complex clients. Many of our home owners associations (HOA) and our condominium owners associations (COA) have also opted to include the program in their monthly grounds maintenance programs.
Properly applied chemicals to ice and snow will keep commercial property sidewalks and parking lots safe for employees and customers. The certified experts at Pugh's Earthworks have the knowledge of which chemicals are the most effective and approved. Every year many people have a fall on a slippery surface. The injuries can be very serious and are painful at the least. To help keep your commercial property safe during the cold wet winter months, hire Pugh's Earthworks.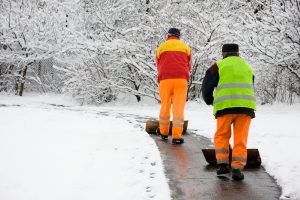 Sidewalk Ice and Snow Removal
Pugh's Earthworks
Credentials/Affiliations/Degrees, Certifications
The Pugh's Earthworks team has all the proper credentials, degrees and certifications necessary to deliver top quality landscape and lawn maintenance design, installation and maintenance services. Our team is experienced, highly skilled. They all operate with a customer first attitude.
Our firm is one of the largest landscape and lawn maintenance companies in Tennessee. We have all the right equipment to handle commercial landscape and lawn maintenance projects. Our client base includes hotels, motels, business complexes, retail shopping centers, hospitals, schools, apartments, condominiums and other commercial accounts.
Tennessee Department of Agriculture Chartered/Licensed
Mississippi Bureau of Plant Industry licensed
Arkansas State Plant Board Licensed
Master of Business Administration
Bachelors of Science in Agronomy
Bachelors in Landscape Contracting Management
Associates of Applied Science in Landscape Management
Associates of Applied Science in Turf Grass Management
Dynascape Certified
Planet Professional Network
Landscape Industry Certified
Contact Us
We operate 5 landscape centers, in 3 states. 
Our headquarters is in Memphis, Tennessee. We also operate landscape offices in Nashville, Jackson TN, Southaven MS and Little Rock AR. Our firm provides monthly grounds maintenance services for commercial clients. If you are seeking assistance with Landscaping or Lawn Maintenance services, please give us a call or send us a message via the contact form below. We do offer FREE Estimates. 
Headquarters
Phone: (866) 207-4734
Email: info@pughsearthworks.com      
Thank you for reading our blog. We hope to serve you for all of your landscaping needs!