Pugh's Earthworks
Big Company Strength and Small Company Values!
Pugh's Earthworks was originally started by Mark Pugh. Our firm has been in business since 1992. Over the past 25 years, we have grown rapidly. In all that time and throughout all that growth, we have remained true to our motto, Big Company Strength, Small Company Values! Regardless of the size of the client we are working for, our staff will deliver the best possible service, while treating each client with the utmost of respect. In a word, "We Love Our Customers" and "We Appreciate The Opportunity To Serve."
We are now one of the Mid South' s leading commercial landscape installation and maintenance companies. Pugh's Earthworks provides the highest quality landscaping services available. We are Memphis landscape maintenance experts. Our team is committed to acting with the utmost of integrity with our business operations and for clients and the communities we serve. Every job we do is backed by our 100% customer satisfaction guarantee.
Pugh's Earthworks Apartment properties are beautifully and professionally maintained!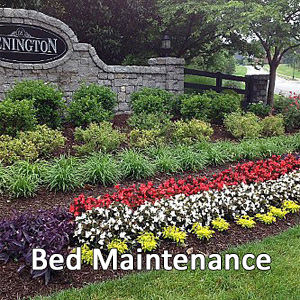 Apartment Landscaping
When people are looking for an apartment home, few will stop and visit a complex where the grass is overgrown or dying, standing water is visible and there is a lack of care for shrubs and trees. Conversely if the complex has freshly cut green lawns and beautifully landscaped shrubbery, people are more likely to stop and tour their potential new home.
The certified and professional landscapers at Pugh's Earthworks are experts in Apartment complex landscape design and ongoing maintenance. Our properties are well designed and well maintained. There are many elements to Apartment property landscape design and maintenance. Below are some of the major components to a beautiful complex that will attract new and keep existing residents.
Safe Walkways – Apartment residents enjoy taking walks with their family. If the sidewalks and pathways are not safe to walk on then the pleasure of being outdoors does not exist. Pugh's Earthworks incorporates safe and attractive walking trails into landscape design.
Green Grass – No one wants to look out of the window and see a brown dying lawn or one that is riddled with weeds. Good landscaping maintenance like that performed by Pugh's Earthworks yields a harvest of a beautiful lawn. Properly designed sprinklers that apply appropriate water to the lawn while not creating unnecessary standing water is crucial. In addition, the right amounts of fertilizer and weed prevention treatments applied at the correct times of the season will keep the lawn lush and green.
Parking Lot – Residents want a well designed and safe parking lot. In addition, the curb appeal of the parking lot in terms of plants and grass that surround it can be aesthetically pleasing as well as maintained to keep visibility high for safety reasons. Also, well designed drainage will keep the parking lot from having unsightly and dangerous standing water.
Lighting – People want to feel safe at night. Well designed lighting as part of the overall landscaping is important to create not only a safer environment but well lite pathways can make for a pleasant evening strolls around the property.
Pugh's Earthworks Landscaping & Lawn Maintenance For Apartments
We offer affordable monthly lawn maintenance and landscaping programs for multi-family apartments and condominium complexes. Pugh's Earthworks actually got our start serving multi-family properties in the Memphis area. Grounds maintenance for apartments and condominiums is one of our specialties. Our team understands the demands each property management firm faces and allows works to make every dollar used on every property go further.
Pugh's Earthworks will work with the property management teams and asset managers to create and customize a commercial landscape solution that helps to keep occupancy and resident satisfaction high.
We offer a variety of commercial landscape maintenance services and pest control options to our multi-family clients. Our year-round maintenance program is affordable and ensures that all grounds are professionally manicured to your specifications. We employ a team of landscape and lawn maintenance professionals who have been servicing apartments and condominiums for many years. Pugh's also offer pest control services as part of our program offerings.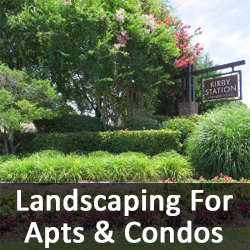 Pugh's Earthworks
Credentials/Affiliations/Degrees, Certifications
The Pugh's Earthworks team has all the proper credentials, degrees and certifications necessary to deliver top quality landscape and lawn maintenance design, installation and maintenance services. Our team is experienced, highly skilled. They all operate with a customer first attitude.
Our firm is one of the largest landscape and lawn maintenance companies in Tennessee. We have all the right equipment to handle commercial landscape and lawn maintenance projects. Our client base includes hotels, motels, business complexes, retail shopping centers, hospitals, schools, apartments, condominiums and other commercial accounts.
Tennessee Department of Agriculture Chartered/Licensed
Mississippi Bureau of Plant Industry licensed
Arkansas State Plant Board Licensed
Master of Business Administration
Bachelors of Science in Agronomy
Bachelors in Landscape Contracting Management
Associates of Applied Science in Landscape Management
Associates of Applied Science in Turf Grass Management
Dynascape Certified
Planet Professional Network
Landscape Industry Certified
Thank you for reading our blog. We hope to serve you for all of your landscaping needs!