Pugh's Earthworks
Big Company Strength and Small Company Values!
Professional Landscaping & Lawn Maintenance Services
We are one of the Mid South' s leading commercial landscape installation and maintenance companies. From its inception, our company has continued its commitment to quality, integrity and superior service. We provide the highest quality landscaping services and commercial grounds management for various commercial properties and HOA's common areas.
Mark Pugh started the lawn business in 1992 in a $500 truck with his phone number on it. Just 21 years later Pugh's Earthworks has expanded markets to include Nashville TN and Little Rock AR. We now operate 60 trucks, while still retaining the very first commercial account we ever contracted with. That customer is Memphis Hunt and Polo Club. An experienced commercial landscaping company of over 200 employees, with certification and educational degrees in horticulture as well as years of experience, Pugh's Earthworks caters to the landscaping needs of different commercial businesses and industrial properties as well as HOA's common areas.
Our Mission Statement:
We strive in all we do, to achieve total customer satisfaction. Our team works to not only meet, but, to exceed the expectations of those we serve.
Trust your landscaping to Pugh's Earthworks.  We have studied the industry!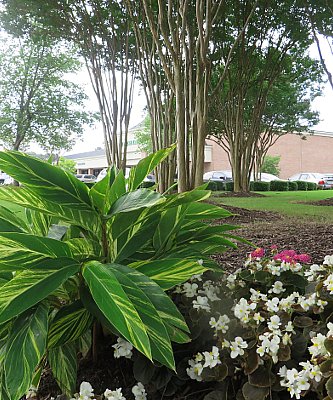 Pugh's Earthworks Landscaped Property
Agronomy
When you choose a professional for any type of service whether, medical, financial, home repair or landscaping, you are best served by using a business that has industry educated management and employees. At Pugh's Earthworks, we have numerous credentials held by our talented team of certified landscape technicians. One such credential and field of study is in Agronomy.
Agronomy is the inclusive science and technology of growing plants and land restoration. Originally this science was focused mostly on the agricultural aspect of plants as food and fuel source. Over the years it has evolved and is much more inclusive of all areas of plants and the environment. When a person studied the field of Agronomy they will be exposed to plant genetics, plant physiology, soil science and even meteorology.
One area that is important in any plant growing endeavor is soil science. Knowing how to analyze soil content is vital to the selection and continued fertilization of plants and grasses. Soil contains two basic types of nutrients. Those like in economics are macro and micro. Macronutrients found in different soil regions are things like nitrogen, phosphorus, potassium, calcium, magnesium and sulfur. Micronutrients are zinc and boron.
Another important and obvious responsibility of an agronomist and a landscape technician is soil conservation. Our planet has amazing resources but they have to be protected. Over time soil can be damaged and eroded by wind and water. Professionals in the landscaping field as well as agricultural have to be thoughtful in their planning in order to preserve the integrity of the soil in which plants are growing. For future generations to come, things like disposal of pesticide buildup and water pollution have to be managed properly.
In summary, when you look for a professional, certified and well studied landscape deign and maintenance company for your commercial or residential property, give Pugh's Earthworks a call. We are the best in the business.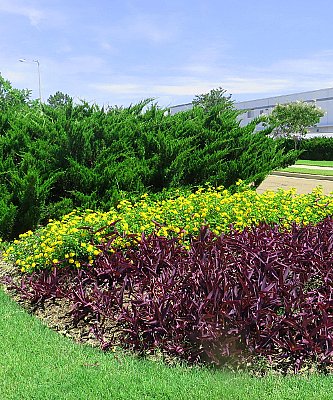 Pugh's Earthworks Landscaped Industrial Property
Pugh's Earthworks
Credentials/Affiliations/Degrees, Certifications
The Pugh's Earthworks has all the proper credentials, degrees and certifications necessary to deliver top quality landscape and lawn maintenance design, installation and maintenance services. Our team is experienced, highly skilled. The all operate with a customer first attitude.
Our firm is one of the largest landscape and lawn maintenance companies in Tennessee. We have all the right equipment to handle commercial landscape and lawn maintenance projects. Our client base includes hotels, motels, business complexes, retail shopping centers, hospitals, schools, apartments, condominiums and other commercial accounts.
Tennessee Department of Agriculture Chartered/Licensed
Mississippi Bureau of Plant Industry licensed
Arkansas State Plant Board Licensed
Master of Business Administration
Bachelors of Science in Agronomy
Bachelors in Landscape Contracting Management
Associates of Applied Science in Landscape Management
Associates of Applied Science in Turf Grass Management
Dynascape Certified
Planet Professional Network
Landscape Industry Certified
Contact Us
We operate 5 landscape centers, in 3 states. 
Our headquarters is in Memphis, Tennessee. We also operate landscape offices in Nashville, Jackson TN, Southaven MS and Little Rock AR. Our firm provides monthly grounds maintenance services for commercial clients. If you are seeking assistance with Landscaping or Lawn Maintenance services, please give us a call or send us a message via the contact form below. We do offer FREE Estimates. 
Headquarters
Phone: (866) 207-4734
Email: info@pughsearthworks.com      
Thank you for reading our blog.