Pugh's Earthworks
Landscaping & Lawn Maintenance For Institutional Clients
This broad sector of properties includes churches, hospitals, country clubs, colleges and government branches. Of the many Memphis commercial properties we've been proud to service for a decade or more, a large number of them are institutional facilities.
The key to our longevity: developing strong relationships, evolving with our clients' changing needs and helping them to continue to grow the value of the commercial properties they own, manage and occupy.
We provide landscape design and installation services, commercial landscape maintenance services and water management services for these institutional facilities to ensure they're running at peak performance at all times.
Pugh's Earthworks is a large landscape and lawn maintenance firm. We own and operate 5 landscape offices, located in Tennessee, Mississippi and Arkansas. Our firm has the precise equipment and personnel needed to deliver professional grounds maintenance services for all types of commercial customers. If you are seeking a professional firm to handle a landscape or lawn maintenance project, we encourage you to give us a call. We do offer FREE consultations and provide price estimates upon request.
Year-round maintenance of all grounds is done by professionals who have been working in cemeteries for years and use great care and attention to detail. Pest Control, inside and out, can also be handled by Pugh's Earthworks for hassle free property management.
Pugh's Earthworks offers Free consultations for Institutional Clients!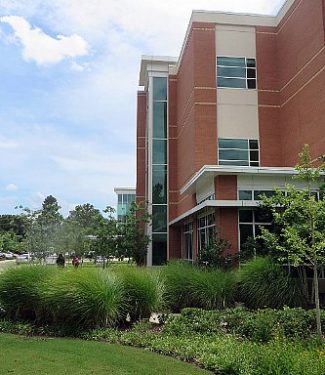 Considerations for Institutional Landscaping
Unless you are a trained and certified landscape technician as are the professionals at Pugh's Earthworks, the considerations for Institutional landscaping are probably foreign to you. Doing some research it was revealing to see just how much planing and thought goes into such a massive job. Not only for the initial plan design to optimize the aesthetic view of the property but equally important is the ongoing maintenance required to maintain that beauty. Below are some of the key considerations for Institutional landscape design and maintenance:
Entrance – We all know that first impressions are critical. The same holds true when someone walks up to an Office building for the first time.  Not only should the entrance be inviting for quests but it should also be a place the employees are proud of. The technicians at Pugh's Earthworks will know which plants and flowers will compliment the building and also which are native to the region.
Enhanced Signage – Companies spend large marketing dollars to design signage they feel best represents the company and will attract prospective customers. Naturally the owners do not want landscapes that obstruct the view of the sign. Instead a well trained landscaper will add flowers and plants that compliment the signage and bring more attention to it.
Outdoor Seating/Common Area – Everyone enjoys a nice place to take a break from work. Phone calls, emails, meetings and deadlines can weigh on you. Offices that have taken the extra step in creating an outdoor oasis for their employees will reap the benefits of increased productivity. Walk ways, picnic tables, benches and tasteful plants and flowers all make the outdoor experience one to recharge the employee's batteries.
Large Container Plants – Trees placed in large containers that line the walkways garner much attention and look amazing if you are in a large building. The certified technicians at Pugh's Earthworks will know when to use large trees in containers and when to use smaller plants for smaller office buildings.
Seasonal Color Rotation – It is important to add color to the landscape as most people enjoy and notice color variety. Of course as the seasons change so do the plants. That is a challenge for the landscape technicians to continually rotate the proper plants and flowers for each season.
The professionals at Pugh's Earthworks know all of these steps and many more to create and maintain magnificent properties in the markets we serve!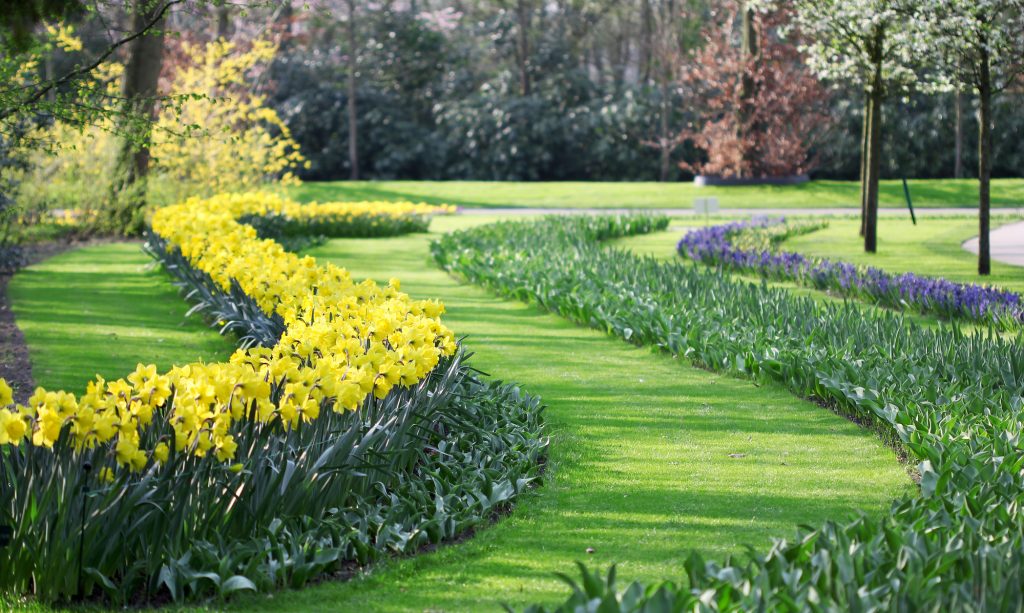 Yellow Narcissus
Pugh's Earthworks customers say it best:
"My husband, David, and I are Sterling Square Board members responsible for Building and Grounds in a 234, upscale Home Owners Association. David is a Senior Corporate Account Executive for FedEx Services and I am an Executive Assistant to the President and Chief Executive Officer of FedEx Express and as one may assume, our expectations and requirements are of a high standard.
"In September 2005, the Sterling Square Board members unanimously selected Pugh's Lawn Service (now Pugh's Earthworks) to be our lawn service provider (this was based on observance of their quality work on other properties). Pugh's Earthworks is an exceptional, very organized company that has produced high quality results for us. Pugh's began servicing our subdivision when the overall grounds were approaching poor conditions. We had several dead trees, many weeds in our grass, and the beds in the common areas and homes were severely neglected. We were amazed how quickly Pugh's was able to turn our negative situation into a remarkable transformation. Now our subdivision looks first class and our homeowners are very proud they live in Sterling Square. In fact, I believe the outstanding appearance of our subdivision has helped to 'promote' the selling of some of our homes recently. New buyers have literally made the comment of amazement in the landscapes' inviting appearance!
"In addition, we have been very pleased with Casey Hesser, Dave McDaniel, and Steve Williamson concerning the resolution of our breezeway drainage problems, replacement of dead trees and azaleas, and sprinkler system problems, superb fertilizing results on our grassy regions and (thank God) our flower beds are now worth boasting about. Specifically, these three gentlemen are very professional in their capacities and are always prompt in returning our association's phone calls. In addition, I have thoroughly enjoyed working with Pugh's 'Color Coordinator' Julie Issacs for her exceptional forte in flower plantings. She has been very accommodation and has been very receptive to new ideas the board has requested, while guiding us along the way.
"We are thankful for Pugh's partnering with Sterling Square and look forward to an extended relationship for many years to come. We are very happy to discuss any inquiries, in detail, regarding our (now 14 month) relationship with Pugh's Landscape and invite your call."
David and Karen Smith, Building and Grounds
Sterling Square, Collierville TN
Thank you for reading our blog!
Sincerely,
Pugh's Earthworks Team