Pugh's Earthworks
A well-kept lawn whether Residential or Commercial makes a statement about the property. That is one reason owners focus on Weed Control Services. The professional landscape technicians at Pugh's Earthworks are very good at all elements of Commercial Landscape Maintenance. This of course includes keeping the property free from unsightly weeds. First impressions as they say are important. Commercial Property Owners want customers and employees to get the impression that the property is well maintained.
The Summer season is wonderful. However, it seems to be a season when lawns are vulnerable to the introduction of destructive weeds.  Pugh's Earthworks will apply preemergent during the Spring to prevent the germination of all varieties of weeds. Even with this valuable preventive measure, weeds still find a way to reenter the lawn. This is why having an experienced Commercial Landscaping Company can make the difference in the appearance of the property year-round.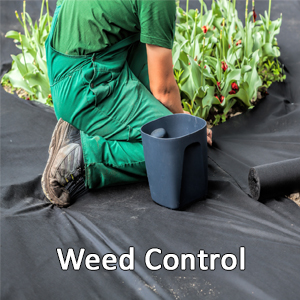 There are numerous varieties of harmful weeds. Below are few of the most common.
Crabgrass and Nutsedge – These are grassy type weeds. They tend to blend in better to the normal grass which is their secret to eventually dominating the lawn. A good technique that Pugh's Earthworks may employ is to aerate, water and fertilize the property in the proper quantities and application. This method tends to help the health of the grass you want to grow, and it can eventually overtake and smother out the crabgrass.
Broadleaf Weeds – There are several types of broadleaf weeds. They tend to stand out more and truly make any lawn appear unkept. They can also be difficult to eradicate. Some of the more common types of broadleaf weeds are Knotweed Spurge, Dandelion, Ground Ivy, and White Clover.  There is no mistaking these unsightly plants with their large leaves and often flowers. They clearly to not belong in the commercial landscape.
Treating broadleaf weeds can be more difficult. Sometimes if there is not a tremendous infestation you may be able to pull them by hand. Often times it requires the expertise of a trained landscape technician to come in with the proper herbicide and post-emergent control procedures. Handling of these chemicals can be hazardous and not effective if not used properly. That is where the Pugh's Earthworks professionals are experienced and are the best solution for complete Weed Control.
Pugh's Earthworks Weed Control Services
The headquarters for Pugh's Earthworks is in Memphis, Tennessee. However, the company has experienced wonderful growth over the years due to the fine work they perform and the quality of the customer service delivered. Due to their first class reputation, the company now operates landscape offices in Nashville, Jackson TN, Southaven MS and Little Rock AR.  The firm provides monthly grounds maintenance services for commercial clients.
If you are seeking assistance with Landscaping or Lawn Maintenance services, please give Pugh's Earthworks a call or send a message via the contact form below. We do offer FREE Estimates.
Pugh's Earthworks is the perfect example of a best – in – class landscaping company. All services performed are backed by 100% satisfaction guarantee. This family owned and operated company is a great example of dedication, cooperation and just good old fashioned hard work values. This attitude can be found at every level within the company and carries forward to customer service and satisfaction.
Our Quality Assurance Guarantee

Pugh's Earthworks offers an excellent quality assurance program. We are licensed and insured and stand behind all of the work that we perform with our quality assurance guarantee.

Quality is everyone's responsibility.
Quality is conformance to the customer's requirements.
We believe every job can be improved.
Every idea is treated with the utmost respect.
We realize that improvement must be an on-the-job process.

QUALITY POLICY

It is the goal of Pugh's Earthworks to provide our customers, both internal and external, with services, which meet or exceed their expectations.

We recognize that one of the most important assets we possess, enabling us to achieve this goal, is our professional staff. We strongly encourage all of our people to take the pride of ownership in all the work they do.

To this end we commit ourselves to strive in all we do for total customer satisfaction.

TOTAL CUSTOMER SATISFACTION

Management guarantees that ongoing support of these goals is our highest priority. We must never lose sight that customer satisfaction is a direct measure of our performance.
Working together as a team, making use of all our talents and expertise, we will accomplish our objective.
Pugh's Earthworks Serves Commercial Landscaping Customers with 5 landscape centers, in 3 states.
Headquarters
Phone: (866) 207-4734
Email: info@pughsearthworks.com