Pugh's Earthworks has Big Company Strength and Small Company Values!
Recently, I took a drive from Oklahoma to Georgia for a combination Business and Pleasure two week trip. As I drove, the hills, trees, lakes and rivers seemed to get more plentiful and beautiful. Culimanting by the time I got to Chattanoga TN, I was in a different world. Going through Littlerock AR, Memphis and Jackson TN, I paused for proud reflection on Pugh's Earthworks and the part they play in Commercial Landscaping Water Conservation. Then I thought about our fellow Americans out West where water supply reservoirs are at a cricitically low level and rationing is in place.
Pugh's Earthworks is one of the Mid South' s leading commercial landscape installation and maintenance companies. From its beginning, the company has continued its commitment to quality, integrity and superior service. The company provides the highest quality landscaping services and commercial grounds management for various commercial properties. Mark Pugh started the lawn business in 1992 in a $500 truck with his phone number on it. Just 21 years later Pugh's Earthworks has developed markets including Jackson, Memphis and Nashville TN. Plus Littlerock AR and Southaven MS.
Not only does Pugh's Earthworks focus on creating and maintaining amazing Commercial Property Landscapes for all customers, they also have a love for the environment. With this in mind, all chemical treatments for pesticides and fertizilzers are applied in compliance with industry safety standards. In addition, as landscapes are designed, things like soil errosion and water conservation are always top of mind. Pugh's is a member of the National Association of Landscape Professionals (NALP). Below is an article written by a member of that organization regarding water conservation efforts in CA.
Earlier this year, the State Water Resources Control Board voted unanimously to implement a statewide ban on the watering of nonfunctional turf in the commercial, industrial and institutional sectors in California that runs for one year.

The board also put regulations in place requiring local agencies to implement water use restrictions as water supplies may be up to 20 percent lower due to extreme drought.

In a webinar hosted on June 6 by the California Landscape Contractors Association, the Irrigation Association, NALP and Maureen Erbeznik & Associates, Warren Gorowitz with Hunter Industries, Peter Estournes with Gardenworks Inc. and Maureen Erbeznik discussed the nature of the restrictions and the options available to landscape professionals.

Erbeznik explains that nonfunctional turf refers to areas that are solely ornamental. If the turf is used for recreational purposes or community events, then it is considered functional. Exemptions to the ban include spaces that use non-potable water for irrigation or areas with trees. The ban does not apply to residential yards.

Stay on Top of Local Regulations
Local retail water agencies can expand regulations at their discretion to places like multi-family housing, golf courses, cemeteries and subsurface irrigation.

With more than 400 water agencies in the state, the fluidity of restrictions and regulations will vary on each area's water situation. In counties that are more heavily reliant on state water resources, their restrictions are more prohibitive.

For instance, Ventura water agencies have limited the watering to one day a week. The East Bay Municipal Utility District has a 10 percent mandatory water reduction, only allows three watering days per week and the watering can only be conducted between 6 p.m. and 9 a.m. They also have an 8 percent drought surcharge.

Because these regulations can vary greatly, landscape professionals are encouraged to find out who is the water provider for the properties they manage and to check that agency's website regularly for the most up-to-date water ordinances. Erbeznik advises forming a relationship with these water providers as well to have discussions about possible exemptions if you are already watering efficiently.

She says it's also important to communicate with your clients and let them know that you're on top of this matter.

"This isn't going away," Erbeznik says. "Get ahead of it with your clients."

Improving Water Efficiency
Estournes adds that you also should be educating your clients about the danger of overwatering. They should not be trying to water for an extended period of time during their allowed irrigation days.

He encourages checking your customers' meters and documenting them so you can pinpoint problem areas in the landscape. Estournes says establishing and irrigating with a water budget is key to cutting back on water waste.

He says prior to water budgeting they found they were still overwatering properties. Now they use software that lets them break down the necessary watering needed in a year, month and even a day.

"Every landscape has an amount of water that is needed," Estournes says. "If you take nothing else away from this, please look into water budgets."

Converting properties' irrigation systems to modern, water saving irrigation technology can also help significantly. There are a number of rebates currently available for switching to high efficiency irrigation equipment and smart controllers/timers.

"Irrigation manufacturers have done a stupendous job creating more water-efficient technology," Estournes says.

Landscapers should also strive to form relationships with water providers through associations such as CLCA, IA and NALP as this enables them to be at the table when they are making future regulation decisions.

Jill Odom
Jill Odom is the content manager for NALP.
Pugh's Earthworks Commercial Landscaping Water Conservation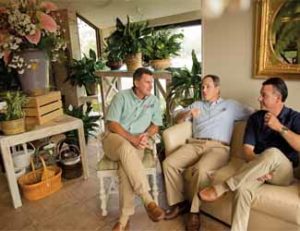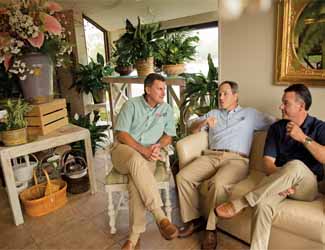 Pugh's Earthworks has been providing commercial landscaping services since 1992. We specialize is landscape and lawn maintenance for commercial customers. Currently we serve more than 300 commercial clients. Our firm is one of the largest landscape and lawn maintenance firms in Memphis.
We also operate similar operations in Nashville TN, Southaven MS, Jackson TN and Little Rock AR. Our award winning team services apartments, condominiums, shopping centers, office buildings and complexes, cemeteries, hospitals, hotels and motels and other commercial facilities.
The majority of our clients have opted into a comprehensive landscape and lawn maintenance program. Our programs can be tailored to meet the specific and unique needs to each property. They are affordable and ensure that the appearance of your property will always be fresh and beautiful.
Pugh's Earthworks would be be honored to earn your permanent business for your commercial landscaped design and ongoing seasonal maintenance. We invest in our people and our reputation for making our customer's needs the top priority.
Pugh's Earthworks
Contact us today to find out what we can do for your commercial landscape!
Headquarters
Phone: (866) 207-4734