Pugh's Earthworks
Big Company Strength and Small Company Values!
Pugh's Earthworks was originally started by Mark Pugh. Our firm has been in business since 1992. Over the past 25 years, we have grown rapidly. In all that time and throughout all that growth, we have remained true to our motto, Big Company Strength, Small Company Values! Regardless of the size of the client we are working for, our staff will deliver the best possible service, while treating each client with the utmost of respect. In a word, "We Love Our Customers" and "We Appreciate The Opportunity To Serve."
We are now one of the Mid South' s leading commercial landscape installation and maintenance companies. Pugh's Earthworks provides the highest quality landscaping services available. We are Memphis landscape maintenance experts. Our team is committed to acting with the utmost of integrity with our business operations and for clients and the communities we serve. Every job we do is backed by our 100% customer satisfaction guarantee.
Landscapes by Pugh's Earthworks add to the natural beauty of the Magnolia State!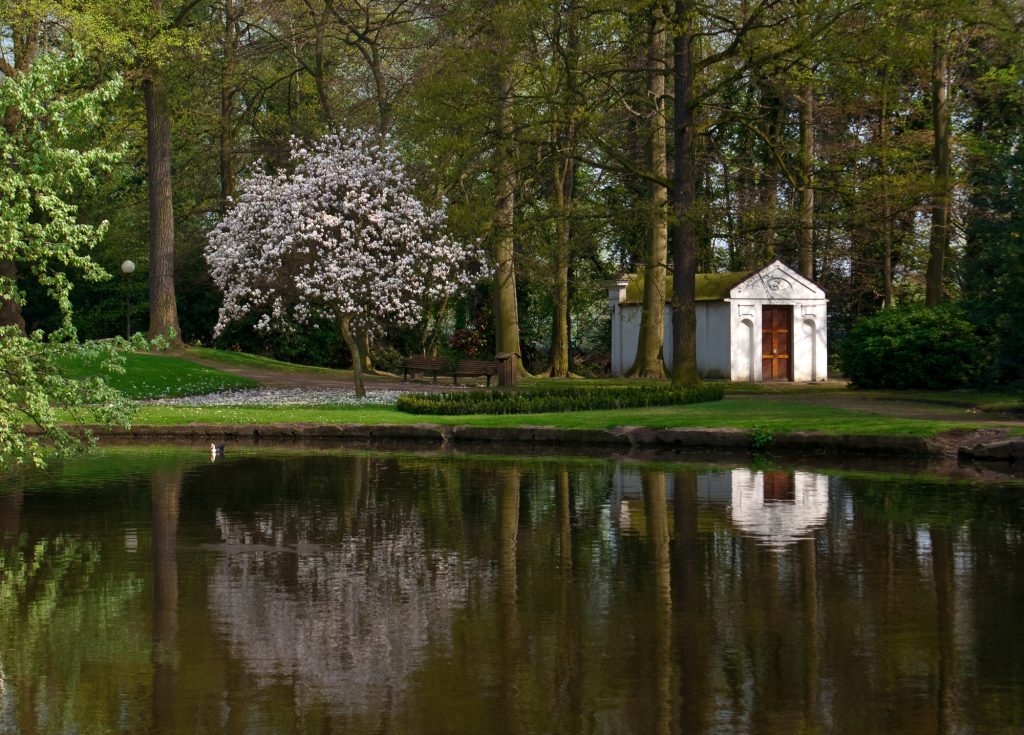 Southern Magnolia in Park
Serving The Southaven Mississippi Area
Pugh's Earthworks offers commercial and residential landscape design, installation and maintenance. We are one of the leading commercial landscape firms in the city of Southaven, Mississippi. You can call us at (662) 342-1832. We originally opened for business in 1992. Since that time, we have worked to demonstrate our commitment to quality, integrity and superior service.
Pugh's Earthworks specializes in commercial grounds management for office buildings, apartments, condominiums and HOA's common areas. We handle numerous commercial clients in the Memphis area, including some notable hotels, hospitals, churches, colleges and HOA managed properties. We are a large firm and can handle projects of any size. Even though our firm has grown quickly over the past 25 years, we have always worked to maintain the same great values we had, when we were just a small, up and coming landscape company.
Naturally since Mississippi is the Magnolia state, you will find beautiful Magnolia trees in a vast number of landscapes both commercial and residential. The Magnolia tree can come in the standard size which grow to heights of 80 feet and widths of 40 feet. They are amazingly large trees that produce large spectacular flowers that come on the colors of pink, purple, white and some yellow. They are also very heavily scented and attract pollinators.
The smaller version or Dwarf Magnolias grow to less heights and widths. Typically they get to be 25 feet tall and 15 feet across. There are numerous varieties of the Dwarf Magnolia and each displays sweet smelling and differently colored blooms. These smaller trees are often used in gardens and as a border plant.
Of course there are other native plants used for south Mississippi landscapes:
Pringles Japanese Yew –  This is a spreading plant that grows low to the ground. It is good for filler or as border. It is sun tolerant and has thin finely textured leaves.
Canna – The Canna thrives in wet humid Mississippi climate. They are extremely durable and produce large leaves and vividly colored blooms.
Carex Everillo – These are great border plants. They display bright yellow leaves year round and work great as ground cover in a landscaped garden or in containers.
Mondo Grass –  Sometimes called "monkey grass", this plant will eventually take over any landscape. It even thrives in the shade which makes it popular for ground cover in spots that get very little sunlight.
Wintergreen Boxwood – Great to line a garden or walk way, the Korean boxwood is hardy and full. Some think they add a calmness to the scenery.
Cherry Laurel – A native tree to MS the Cherry Laurel has fragrant white flowers in the spring and is an evergreen. It is a very versatile tree that grows in both full sun and shade. They are also easy on a tight budget.
Nandina – A favorite in south MS the Nandina is durable never needing water or tending to.
Palmetto – These are basically small palm trees. They are native to the deep south. Never requiring watering and grow in both the sun and the shade.
Iris – The Iris plants have lovely flowers but are used by many landscapers as an accent at the foot of larger shrubs.
Crape myrtle – In the deep south you will be hard pressed to not find a Crape Myrtle in most landscapes. It is a beautiful flowering tree that comes in a variety of brilliant colors.
If you are looking for the best landscaping company in the Memphis and Southaven area, look no further than Pugh's Earthworks. Our certified landscape technicians will make your commercial or residential property a stunning showcase!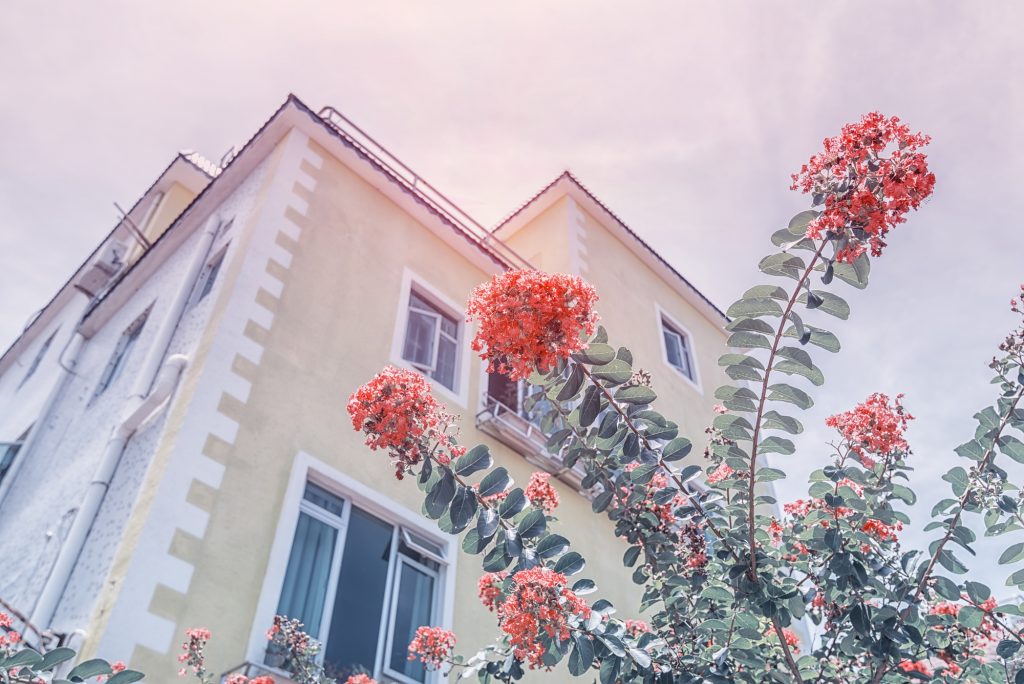 Colorful Crape Myrtle
Pugh's Earthworks
Credentials/Affiliations/Degrees, Certifications
The Pugh's Earthworks team has all the proper credentials, degrees and certifications necessary to deliver top quality landscape and lawn maintenance design, installation and maintenance services. Our team is experienced, highly skilled. They all operate with a customer first attitude.
Our firm is one of the largest landscape and lawn maintenance companies in Tennessee. We have all the right equipment to handle commercial landscape and lawn maintenance projects. Our client base includes hotels, motels, business complexes, retail shopping centers, hospitals, schools, apartments, condominiums and other commercial accounts.
Tennessee Department of Agriculture Chartered/Licensed
Mississippi Bureau of Plant Industry licensed
Arkansas State Plant Board Licensed
Master of Business Administration
Bachelors of Science in Agronomy
Bachelors in Landscape Contracting Management
Associates of Applied Science in Landscape Management
Associates of Applied Science in Turf Grass Management
Dynascape Certified
Planet Professional Network
Landscape Industry Certified
Thank you for reading our blog. We hope to serve you for all of your landscaping needs!