Pugh's Earthworks
Big Company Strength and Small Company Values!
Pugh's Earthworks was originally started by Mark Pugh. Our firm has been in business since 1992. Over the past 25 years, we have grown rapidly. In all that time and throughout all that growth, we have remained true to our motto, Big Company Strength, Small Company Values! Regardless of the size of the client we are working for, our staff will deliver the best possible service, while treating each client with the utmost of respect. In a word, "We Love Our Customers" and "We Appreciate The Opportunity To Serve."
We are now one of the Mid South' s leading commercial landscape installation and maintenance companies. Pugh's Earthworks provides the highest quality landscaping services available. We are Memphis landscape maintenance experts. Our team is committed to acting with the utmost of integrity with our business operations and for clients and the communities we serve. Every job we do is backed by our 100% customer satisfaction guarantee.
Our Quality Assurance Guarantee
Pugh's Earthworks offers an excellent quality assurance program. We are licensed and insured and stand behind all of the work that we perform with our quality assurance guarantee.
Quality is everyone's responsibility.
Quality is conformance to the customer's requirements.
We believe every job can be improved.
Every idea is treated with the utmost respect.
We realize that improvement must be an on-the-job process.
QUALITY POLICY
It is the goal of Pugh's Earthworks to provide our customers, both internal and external, with services, which meet or exceed their expectations.
We recognize that one of the most important assets we possess, enabling us to achieve this goal, is our professional staff. We strongly encourage all of our people to take the pride of ownership in all the work they do.
To this end we commit ourselves to strive in all we do for total customer satisfaction.
TOTAL CUSTOMER SATISFACTION
Management guarantees that ongoing support of these goals is our highest priority. We must never lose sight that customer satisfaction is a direct measure of our performance.
Working together as a team, making use of all our talents and expertise, we will accomplish our objective.
Pugh's Earthworks supports the local communities they serve!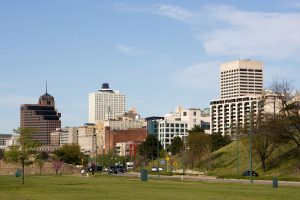 Memphis TN Pugh's Market
Community Involvement for Businesses
The importance of a business taking an active part in the community they serve is so important. Showing the citizens that not only are they producing revenue for their business by offering goods and services but they are also committed to making the community a better place for all goes a long way to building trust and respect.
There are many ways for businesses to get involved. Joining the local Chamber of Commerce is a great way to meet other business owners and leaders in the community. Networking is critical for developing new business and building strong relationships within the community. Naturally if residents and other businesses feel that your business is one that gives back, you will be well received and it will be healthy for your business and the community.
Communities are also devoted to their citizens in terms if job availability. Businesses that publish their job needs in local newspapers or attend job fairs are also bringing hope and security to those that live in the community. Not to mention increasing the chances to find local talent to help their business grow and increase profits.
Another great way to get involved is to find local non profits that are in need of corporate sponsors to help generate interest in their cause and revenue to support it. It is also a great way to stimulate employee good will and a sense of team work. When your business supports a local non profit, employees that are like minded about that particular cause can rally together and build a unified powerful force not just for the non profit but also create passion for the company they work for. There are so many causes from cleaning roads and trails to serving meals to the needy.
Pugh's Earthworks
Supports Local Community 5k Run
Press Release: April 7, 2017
For the eight consecutive year, Pugh's Earthworks has sponsored the Camp Good Grief 5K run in Memphis. This years Camp Good Grief 5K run was held on October 1st at Memorial Park Funeral Home. There was a great turn out by runners and their families as well. 15 Kids will get to go to camp this summer because of the efforts of this race.
Camp Good Grief is the Mid-South's first children's bereavement camp. The goal of the free annual bereavement camp is to give area children — ages 6 to 12 — an enjoyable, accepting and supportive environment in which they can freely express their feelings about the loss of a loved one. The camp is made possible through a grant from Baptist Memorial Health Care Foundation, individual donations and partnerships with local businesses like Pugh's Flowers, Pugh's Earthworks and Memorial Park Funeral Home and Cemetery.
Mark Pugh, president of Pugh's Earthworks and his brothers/partners in the business sponsored this race from the beginning. This race is 8 years old. The other sponsors that have been with this race since inception are Memorial Park and Pugh's Flowers. Moe's joined in as a sponsor 4 years ago. The Pugh family and staff are proud to be associated with this event and are instrumental in its success.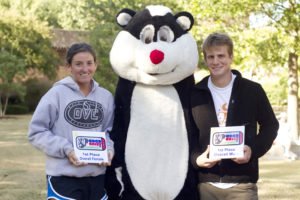 Camp Good Grief Run
Pugh's Earthworks has been providing commercial landscaping services since 1992. We specialize is landscape and lawn maintenance for commercial customers. Currently we serve more than 300 commercial clients. Our firm is one of the largest landscape and lawn maintenance firms in Memphis. We also operate similar operations in Nashville TN, Southaven MS, Jackson TN and Little Rock AR. Our award winning team services apartments, condominiums, shopping centers, office buildings and complexes, cemeteries, hospitals, hotels and motels and other commercial facilities.
The majority of our clients have opted into a comprehensive landscape and lawn maintenance program. Our programs can be tailored to meet the specific and unique needs to each property. They are affordable and ensure that the appearance of your property will always be fresh and beautiful.
Thank you for reading our blog. Please visit us and let Pugh's Earthworks handle all of your professional landscaping needs!