Pugh's Earthworks
Big Company Strength and Small Company Values!
Pugh's Earthworks was originally started by Mark Pugh. Our firm has been in business since 1992. Over the past 25 years, we have grown rapidly. In all that time and throughout all that growth, we have remained true to our motto, Big Company Strength, Small Company Values! Regardless of the size of the client we are working for, our staff will deliver the best possible service, while treating each client with the utmost of respect. In a word, "We Love Our Customers" and "We Appreciate The Opportunity To Serve."
We are now one of the Mid South' s leading commercial landscape installation and maintenance companies. Pugh's Earthworks provides the highest quality landscaping services available. We are Memphis landscape maintenance experts. Our team is committed to acting with the utmost of integrity with our business operations and for clients and the communities we serve. Every job we do is backed by our 100% customer satisfaction guarantee.
Pugh's Earthworks has studied Applied Science in Turf Grass Management!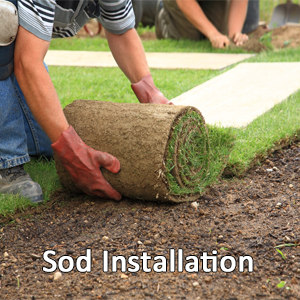 Turf Grass Management
Pugh's Earthworks maintains numerous credentials including an Associates Degree of Applied Science in Turf Grass Management.  This degree provides the lawn scape technicians at Pugh's Earthworks with the knowledge and skills required to be a leading landscape company in the area of all types of Turf grass Management.
This is an industry in high demand. Individuals that have invested in obtaining their certification are highly sought after. When you are seeking the expertise of a landscape company to keep the turf on your commercial or residential property looking beautiful, Pugh's Earthworks is that company. Our technicians are versed in all of the specific curriculum for the degree of Applied Science in Turf Grass Management. Most institutions cover the course topics listed below:
Turf Grass Pesticides – This class covers high level understanding of chemical toxicity, environmental fate, labels, calibration, safety, handling, storage and specific state regulations.
Turf Grass Types – Students learn the different species of grasses. Also an in-depth understanding of environmental adaptation, morphology and cultural requirements is covered.
Weed Control – A complete understanding or what proper chemicals and techniques are best for weed control is taught.
Disease Management – Like all grasses and plants, Turf Grass is susceptible to disease from fungus and other harmful diseases. The Applied Science in Turf Grass Management degree helps a student learn how to quickly detect early signs of grass disease and take appropriate corrective measures.
Insect Control – Obviously harmful insects are always a threat to healthy turf. The curriculum for the degree teaches students how to recognize an insect infestation and how to use the proper chemicals to quickly eradicate the issue.
Nutrition – Proper feeding is critical to a lush and beautiful turf. Students learn what chemicals are best and what seasons are best for their application.
Edaphology – This is the science of soil composition both and physical and chemical make up. This is  critical with sports turf and other applications so that root – zone construction and maintenance is designed correctly for maximum results.
Case Studies – Students obtaining the Applied Science in Turf Grass Management degree are introduced to numerous different case studies involving various turf management problems. This teaches the skills of problem analysis, principle application and decision – making.
Hiring Pugh's Earthworks ensures that your turf is receiving the best of the best in well trained experts!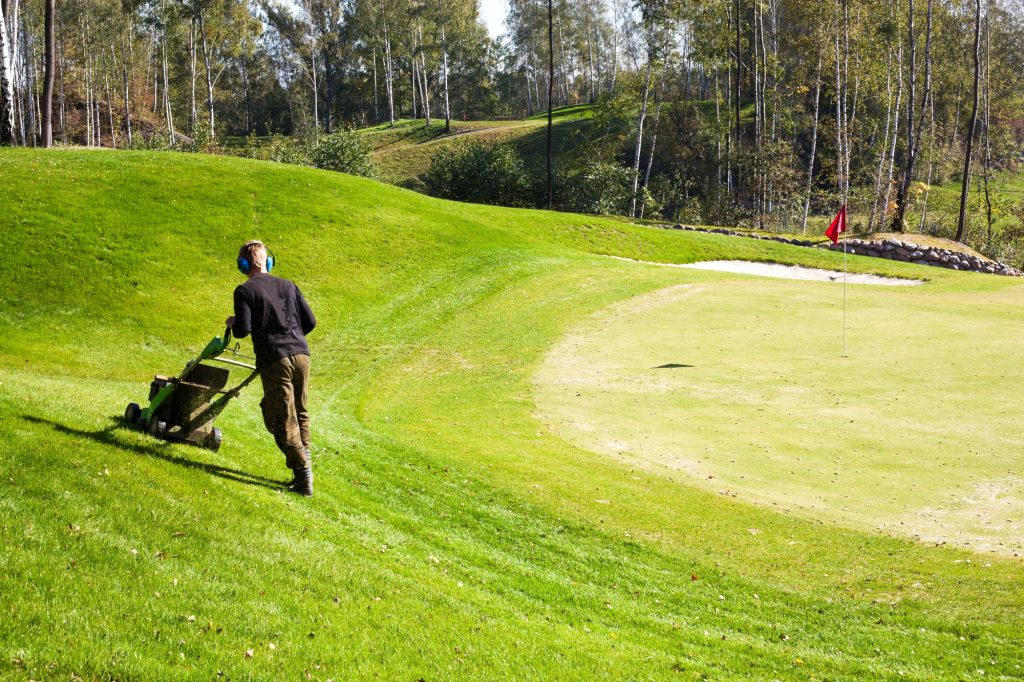 Golf Course Turf Maintenance
Pugh's Earthworks
Credentials/Affiliations/Degrees, Certifications
The Pugh's Earthworks team has all the proper credentials, degrees and certifications necessary to deliver top quality landscape and lawn maintenance design, installation and maintenance services. Our team is experienced, highly skilled. The all operate with a customer first attitude.
Our firm is one of the largest landscape and lawn maintenance companies in Tennessee. We have all the right equipment to handle commercial landscape and lawn maintenance projects. Our client base includes hotels, motels, business complexes, retail shopping centers, hospitals, schools, apartments, condominiums and other commercial accounts.
Tennessee Department of Agriculture Chartered/Licensed
Mississippi Bureau of Plant Industry licensed
Arkansas State Plant Board Licensed
Master of Business Administration
Bachelors of Science in Agronomy
Bachelors in Landscape Contracting Management
Associates of Applied Science in Landscape Management
Associates of Applied Science in Turf Grass Management
Dynascape Certified
Planet Professional Network
Landscape Industry Certified
Thank you for reading our blog. We would be honored to earn your business for all of your commercial landscaping needs!