Pugh's Earthworks
Pugh's Earthworks is a premier landscaping company that will enhance the appearance and value of your commercial property!
All commercial property owners want their property to generate revenue. Otherwise the investment is not of value. Hiring a professional and highly experienced company like Pugh's Earthworks ensures that you are headed the right direction for covering the main goals of proper landscape design and maintenance. A few of the major objectives for any property all below:
Creates an attractive look that matches your brand – First impressions are everything as a prospect drives up to your business. Whether it is in a retail center, office building, or standalone property, it has to look nice and well-maintained. That's because how it looks provides an impression of what the business might be like. You want them to stop, park, and come in and do business with you rather than keep on driving. A commercial landscape company knows how to create an inviting look to draw customers in.
Helps you become an eco-friendly business – You may not know how to change your landscape so it uses less water or takes advantage of eco-friendly practices. That's when it makes sense to leave it to the commercial landscape professional who understands how to use native plants and design an eco-friendly landscape that contributes to the environment rather than takes away precious natural resources.
Increases productivity – You can focus more on your business and less on the time-consuming activity of taking care of your landscape. Plus, will be inspired and motivated by the attractive landscape to get more done. Working with a commercial  landscape design professional, you can also add things like a patio and outdoor seating to encourage employees to go outside and enjoy their breaks, so they come back refreshed and ready to work. They may even enjoy working outside when weather permits and get more done by doing so.
Raises commercial property value – Similar to a residential property, the more attractive your commercial property is the more valuable it becomes should you go to sell it, lease it, or take out a loan. A commercial landscape company can help you add features like lighting, hardscape, and other features that do the most to raise value.
Attracts more customers – A professional commercial landscaping company can help you attract more customers that are drawn to your business just from the inviting fountain, lighting, seating, and array of flowers, greenery, and even lawn. This attractive and natural look is a way to draw people in who might have otherwise continued to walk on by.
For more information on how our commercial landscape company can help your business, please contact us.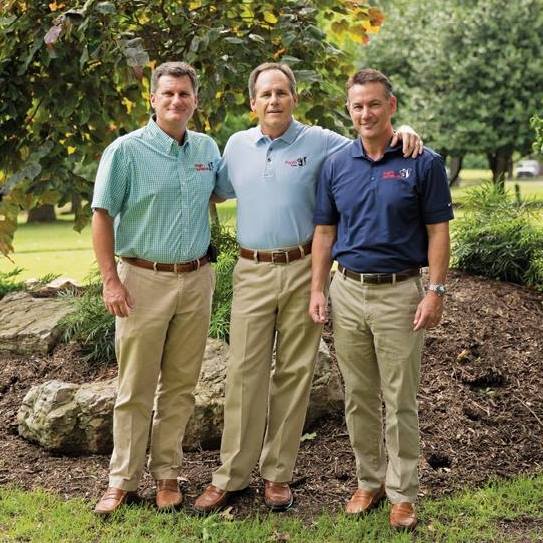 Pugh's Earthworks Owners
About Pugh's Earthworks
The company was started in 1992 and has grown by leaps and bounds over the years. One reason for that is hard work and much dedication but in addition the owner's commitment to their customers is outstanding. Their motto is , Big Company Strength, Small Company Values! Regardless of the size of the client we are working for, our staff will deliver the best possible service, while treating each client with the utmost of respect. In a word, "We Love Our Customers" and "We Appreciate The Opportunity To Serve."
With that kind of focus and commitment to the client, it is no wonder Pugh's Earthworks is a leading commercial landscape installation and maintenance companies in the markets they serve. Those markets are Memphis, Nashville, Jackson TN, Little Rock and Southaven MS.  Pugh's Earthworks provides the highest quality landscaping services available.  Our team is committed to acting with the utmost of integrity with our business operations and for clients. Every job we do is backed by our 100% customer satisfaction guarantee.
Our Quality Assurance Guarantee
Pugh's Earthworks offers an excellent quality assurance program. We are licensed and insured and stand behind all of the work that we perform with our quality assurance guarantee.
Quality is everyone's responsibility.
Quality is conformance to the customer's requirements.
We believe every job can be improved.
Every idea is treated with the utmost respect.
We realize that improvement must be an on-the-job process.
QUALITY POLICY
It is the goal of Pugh's Earthworks to provide our customers, both internal and external, with services, which meet or exceed their expectations.
We recognize that one of the most important assets we possess, enabling us to achieve this goal, is our professional staff. We strongly encourage all of our people to take the pride of ownership in all the work they do.
To this end we commit ourselves to strive in all we do for total customer satisfaction.
TOTAL CUSTOMER SATISFACTION
Management guarantees that ongoing support of these goals is our highest priority. We must never lose sight that customer satisfaction is a direct measure of our performance.
Working together as a team, making use of all our talents and expertise, we will accomplish our objective.